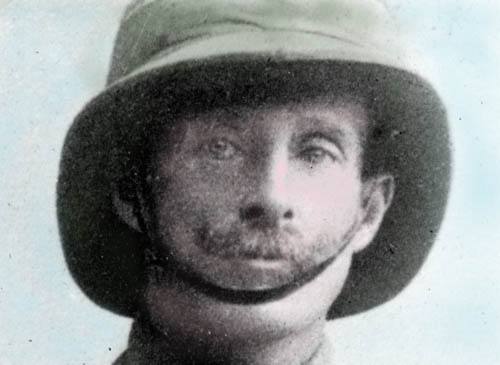 Sir Ian Hamiltons diary entry for 11 July 1915
… worked in my office from early morning till 12.45. The whole scheme for tomorrow's attack is cut and dried, according to our cloth: time tables fixed and every round counted. Freddy Stopford and his Staff turned up from Mudros. Stopford in very good form. The first thing he did was to deliver himself of a personal message from Lord K. He (Stopford) wrote it down, in the anteroom, the moment he left the presence and I may take it as being as good as verbatim. Here it is:
Lord Kitchener told me to tell you he had no wish to interfere with the man on the spot, but from closely watching our actions here, as well as those of General French in Flanders, he is certain that the only way to make a real success of an attack is by surprise. Also, that when the surprise ceases to be operative, in so far that the advance is checked and the enemy begin to collect from all sides to oppose the attackers, then, perseverance becomes merely a useless waste of life. In every attack there seems to be a moment when success is in the assailant's grasp. Both the French and ourselves at Arras and Neuve Chapelle lost the opportunity.
Well said! K. has made Stopford bring me in his pocket the very text for what I wanted to say to him. Only my grumbling thoughts find expression by my pen but I have plenty of others and my heart has its warm corner for K. whenever he cares to come in.
As I told Stopford, K. has not only anticipated my advice but has dived right down into this muddle of twentieth century war and finds lying at the bottom of it only the old original idea of war in the year 1. At our first landing the way was open to us for just so long as the 'surprise' to the Turks lasted. That period here, at the Dardanelles, might be taken as being perhaps twice as long as it would be on the Western front which gave us a great pull.
The reason was that land communications were bad and our troops on the sea could move thrice as fast as the Turks on their one or two bad roads. Yet, even so, there was no margin for dawdling. Hunter-Weston and d'Amade had tried their best to use their brief 'surprise' breathing space in seizing the Key to the opening of the Narrows, Achi Baba, and had failed through lack of small craft, lack of water, lack of means of bringing up supplies, lack of our 10 percent. reserves to fill casualties. At that crucial moment when we had beaten the local enemy troops and the enemy reinforcements had not yet come up, we could not get the men or the stuff quick enough to shore. Still, we had gained three or four miles and there were spots on the Peninsula where, to-day, three or four miles would be enough. Also, supposing he had to run a landing, his (Stopford's) action would take place under much easier conditions than Hunter-Weston's on April 25th.
First and foremost, in our "beetles" or barges, conveying 500 men under their own engines, we had an instrument which reduced the physical effort three quarters. This meant half the battle. When we made our original landing at Anzac we could only put 1,500 men ashore, per trip, at a speed of 2-1/2 miles per hour, in open cutters. Were a Commander to repeat that landing now, he would be able to run 5,000 men ashore, per trip, at a speed of five miles per hour with no trouble about oars, tows, etc., and with protection against shrapnel and rifle bullets. As to the actual landing on the beach, that could be done 'we had proved it' in less than one quarter of the time. Each beetle had a "brow" fixed on to her bows; a thing to be let down like a drawbridge over which the men could pour ashore by fours; the same with mules, guns, supplies, they could all be rushed on land as fast as they could be handled on the beaches.
Secondly, we had already been for some time at work to fix up the wherewithal to meet our chronic nightmare, the water trouble. Thirdly, the system of bringing up food and ammunition from the beaches to the firing line had now been practically worked out into a science at Helles and Anzac where Stopford would be given a chance of studying it at first hand.
As to place, date, command, and distribution of forces, these were still being considered; still undetermined; and I could say no more at present. Braithwaite was away at Helles but, if he would go over to the General Staff, he would find Aspinall, my G.S. (1), and the Q. Staff who would give him the hang of our methods and post him in matters which would be applicable to any date or place.
There was more in this message as taken down by Stopford. After going into some details of trench warfare, K.'s message went on:
It is not the wish of the Cabinet that Sir Ian Hamilton should make partial attacks. They (the Cabinet) consider it preferable that he should await the arrival of his reinforcements to make one great effort, which, if successful, will give them the ridge commanding the Narrows. It is not intended, however, that Sir Ian should do nothing in the meantime and if he gets a really good opportunity he is to seize it.
There is something in this reminds me of Kuropatkin's orders to Stakelberg, yet I am glad to find that our spontaneously generated scheme jumps with the views of the Cabinet, for, there is only one 'ridge commanding the Narrows' (Kilid Bahr is a plateau), and it is that ridge we mean to try for by 'one great effort.' In my reply I shall merely acknowledge. Sari Bair is my secret; my Open Sesame to the cave where the forty thieves of the Committee of Union and Progress have their Headquarters. It makes me uneasy to think the Cabinet are talking about Sari Bair.
A battle is a swirl of 'ifs' and 'ands.' The Commander who enters upon it possessed by some just and clear principle is like a sailing ship entering a typhoon on the right tack. After that he lives from hand to mouth. How far will wise saws cut ice? How much nearer do you get to shooting a snipe by being 'told' how not to take your aim? Well thought out plans and preparations deserve to win; order and punctuality on the part of subordinates tend to make the reality correspond to the General Staff conception; surprise, if the Commander can bring it off, is worth all K. can say of it; the energy and rapidity of the chosen troops will exploit that surprise for its full value bar, always, 'Luck' the 'Joker'; and Wish to Fight and Will to Win are the surest victory-getters in the pack. The more these factors are examined, the more sure it is that everything must in the last resort depend upon the executive Commander; and here, of course, I am referring to an enterprise, not to a huge, mechanically organized deadlock like the western front.
Stopford was away in G.H.Q. Staff tents all afternoon; afterwards both he and Adderley, his A.D.C., dined. Stopford likes Reed who is, indeed, a very pleasant fellow to work with. Still, I stick to what I wrote Wolfe Murray:
the combination of Stopford and Reed is not good; not for this sort of job.
… end of entry for 11 July 1915
Original text by Sir Ian Hamilton, posted by Parramatta Heritage Centre,