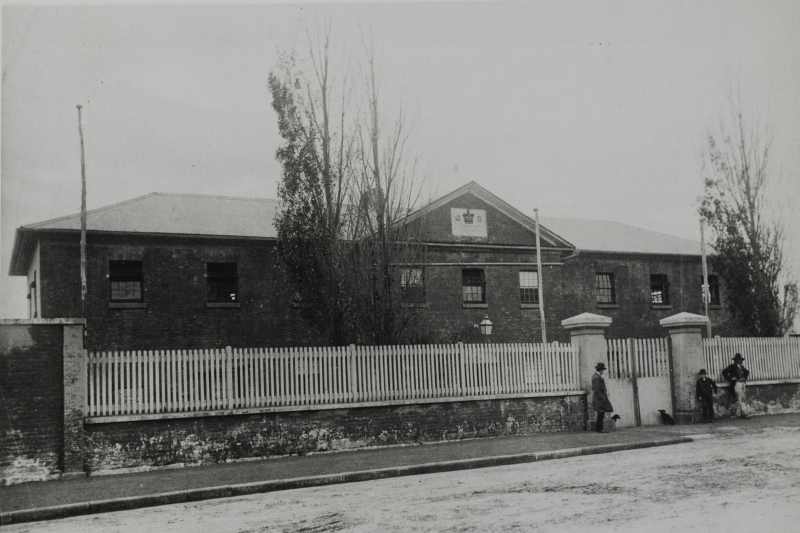 Macquarie Street Asylum, also known as Macquarie Barracks or Convict Barracks in Parramatta, circa 1910. Local Studies Photograph Collection LSOP 169.
This is part two of an earlier post on the Asylum, … the Asylum remained unpopular and in 1905 Parramatta Council organised a delegation which included prominent citizens to press the Premier to remove Macquarie Street Asylum from Parramatta. This did not occur for financial reasons but in 1913 the Asylum was renamed the 'State Hospital and Asylum for the Blind and Men of Defective Sight and Senility'. In February 1925 the Mayor Alderman W.P. Noller submitted the following motion:
That in the opinion of this Council the time is now opportune for the removal of the Macquarie Street Asylum from Parramatta, and with that object in view a deputation from this Council and other public bodies and citizens wait upon the Hon. The Chief Secretary in an endeavour to secure such object, and that the local members be asked to give their support thereto. full article
Moreover, the mayor added, it was inappropriate to have this type of institution so close to a large public school. He also considered it would also be preferable for the inmates themselves to be in more open surroundings.
In January 1935 the Asylum building was decreed unsatisfactory and too old for repair. Patients were transferred to Lidcombe State Hospital, also known as the 'Lidcombe Old Men's Home'. The Macquarie Street premises were finally closed on 13 February 1935, and the building demolished later that year.

Caroline Finlay, Regional Studies Facilitator, Parramatta City Council, Heritage Centre, 2015
References
Kass, T, Parramatta a Past Revealed, p.297.
Shift the Asylum! (1925, 20 February). The Cumberland Argus and Fruitgrowers' Advocate, p.13. http://nla.gov.au/nla.news-article103765566