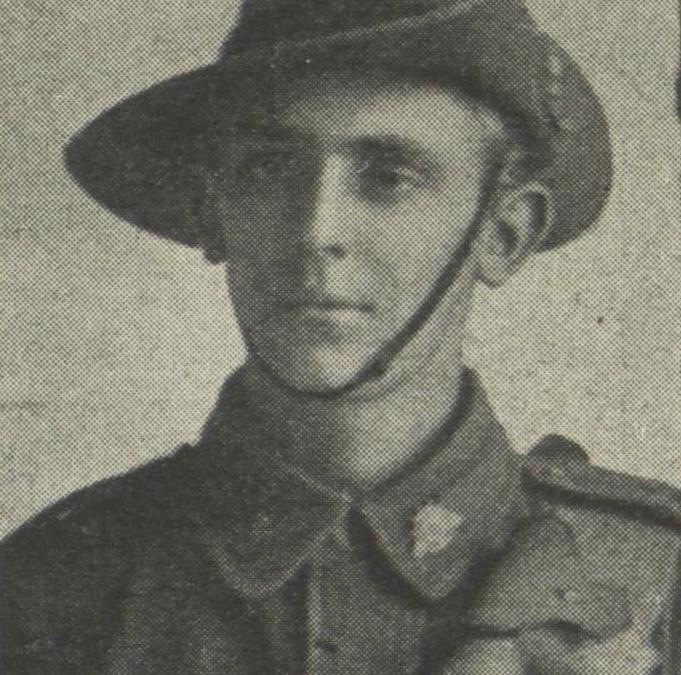 Private Ernest Horatio Currell was 21 years when he enlisted with his younger brother Alfred Herbert Currell, 18, at Warwick Farm, NSW on 27 August 1915. Prior to enlistment he had previously served in the Militia for 2 years and was working as a motor mechanic at Saunders Brothers.
He was born 17 July 1894 in Ashfield, the son of Mr Horatio John and Mrs Augusta Currell (nee Price), later stepson of Elizabeth Currell (nee Gallard). He was residing in Baulkham Hill, near Parramatta when on 23 October 1915 he embarked with Alfred from Sydney for overseas duties aboard HMAT SS Hawkes Bay. According to The Cumberland Argus and fruitgrowers Advocate (1915, October 23, p.12) 'Tropper E. Currell, on the eve of his departure for the front, the Cumberland Motor Cycle Club presented him with a silver wristlet watch and his late employers gave him a fountain pen.'
On 28 January 1916 he was diagnosed with the mumps and admitted to the 4th Auxiliary Hospital. After his recovery he was taken on strength and transferred with Alfred from the 1 Light Horse Reserve Regiment in Heliopolis on 1 March 1916 to the 2nd Divisional Ammunition Column (D.A.C.) in Zeitoun.
By 8 April 1919 he was returned to Australia per Trases Montes with Alfred.
Ernest went on to get married on 22 May 1920 to Mildred Booth and settled in Castle Hill, working as a motor mechanic and engineer. Sadly, in 1935 he lost his 13 year old son Roy Ernest when he was struck down by a car when riding his bicycle with a mate. In his later years, he lived in Toowoon Bay. He passed away on 8 January 1974 in Yass, aged 79 years old. He was survived by his wife and three remaining children and grandchildren.

Anne Tsang, Research Assistant, Parramatta City Council Heritage Centre, 2014
References
Advertising. (1928, October 2). The Sydney Morning Herald (NSW : 1842 – 1954), p. 9. Retrieved June 23, 2014, from http://nla.gov.au/nla.news-article16498811
B2455, Currell E H http://mappingouranzacs.naa.gov.au/file-view.html?b=3478370&s=B2455&c=CURRELL%20A%20H
BOY'S DEATH. (1935, January 21). The Cumberland Argus and Fruitgrowers Advocate (Parramatta, NSW : 1888 – 1950), p. 2. Retrieved June 23, 2014, from http://nla.gov.au/nla.news-article105101213
Currell, Ernest Horatio [death notice]. (1974, January 10). Sydney Morning Herald 1974, p. 24.
PARRAMATTA BROTHERS. (1916, March 4). The Cumberland Argus and Fruitgrowers Advocate, p. 4. Retrieved from http://nla.gov.au/nla.news-article86076007
The Ex-Mayor's Son Returns. (1915, October 23). The Cumberland Argus and Fruitgrowers Advocate, p. 12. Retrieved from http://nla.gov.au/nla.news-article86104591