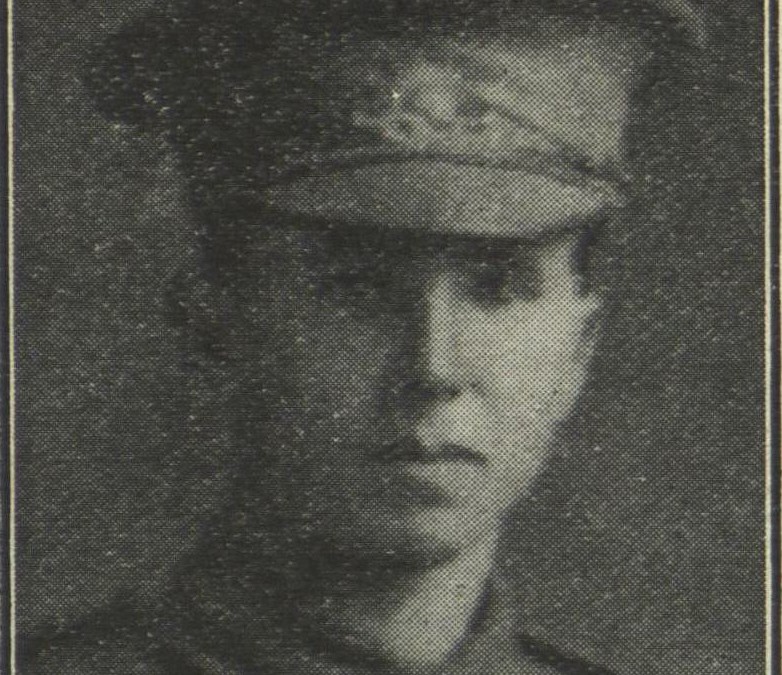 4198 Private Richard (Dick) William Fairweather, copy from Parramatta Soldiers, Cumberland Argus, 1920
Richard (Dick) Fairweather was born on 24 March 1885 at Parramatta. He was the third son of William Horace (1862-1926) and Ethel Annie Fairweather (nee Vosper, 1865-1959) who were originally from Travistock, Devonshire, England and had settled in Parramatta in 1890.[1,2,3]
Dick was a member of the 'Granville Magpies' first grade soccer team and enlisted with the 13 Reinforcements of the 1 Infantry Battalion on 15 August 1915  at Warwick Farm. At this time he was working as a shop assistant at 'John Hunter and Sons' in Redfern, Sydney. His family however lived in  Good Street, Mays Hill, Parramatta before later moving to "Paisley", The Trongate Street, Granville.[4]
He embarked on 20 December 1915 aboard HMAT Aeneas A60 from Sydney for Egypt arriving on 16 February 1916. Once there he was redirected to the newly formed 54 Battalion which also included survivors of the Gallipoli campaign and new recruits from Australia. His unit arrived in France in June 1916 and was engaged in the Battle of Fromelles on 19 July 1916.
Dick Fairweather was reported "missing" after a battle (21/07/1916) and his family used the International Red Cross to discover he was a "prisoner of war" in Germany in August 1916.[5] His last letter as a free man was dated "At Sea, June 28" and was published in the Cumberland Argus and Fruitgrowers Advocate.[6]
He spent two and a half years in the German prison camp and was repatriated to England on 19 December 1918. Returning from England he arrived in Sydney on 24 April 1919 and after quarantine in Manly, he returned to civilian life in June 1919 and back with his old "Magpie" Club. Sadly, in an accident in September 1919, he sustained a badly-smashed arm while travelling by train between Clyde and Parramatta and this ended his soccer career.[7,8,9]
In 1930 Dick married Alice Irene Stanton and together they settled in Auburn. According to Dick's electoral roll records, he held a number of jobs after being married. In 1930 he was working as a plumber and driver, between 1931 to 1937 he was a drainer living in both Ashfield and Castle Hill, and was a machinist from 1943-63. At this time he had moved back to the Parramatta area and was living at 164 Blaxcell Street, Granville.[10] Dick also worked in the 1950s and 1960s at Clyde Engineering and later at the 'Rydalmere Mental Hospital'.
On 1 July 1964 he died after suffering a heart attack at the age of 69 years. His wife (1900-1959) and daughter Irene Dawn (1931-1953) had died before him and his only son John (born in 1939) still lives in Sydney.[11,12,13]

Contributed by John Richard Fairweather & edited by 

Anne Tsang, Research Assistant, Parramatta Council, Heritage Centre, 2015
References
National Archives of Australia. Fairweather, Richard William (service number 4198A)

Discovering Our Anzacs.

http://discoveringanzacs.naa.gov.au/browse/records/73191/

(NAA arcode: 3547214)

Fairweather, William Horace [Funerals notice]. (1926, December 15).

Sydney Morning Herald

, p. 15 ; Fairweather,  William Horace [Deaths notice]. (1926, December 18).

Sydney Morning Herald

, p. 14

Fairweather, Ethel Annie [Deaths notice]. (1959, September 2).

Sydney Morning Herald

, p.44

Australian War Memorial. First World War embarkation rolls: Richard William Fairweather

https://www.awm.gov.au/people/rolls/R1811451/

Australian War Memorial. Red Cross Wounded and Missing: Richard William Fairweather 

https://www.awm.gov.au/people/rolls/R1489143/

Parramatta and Granville Boys. (1916, September 2).

The Cumberland Argus and Fruitgrowers Advocate

, p. 4. Retrieved September 21, 2015, from

http://nla.gov.au/nla.news-article86069239

Back from Captivity. Old "Magpie" player returns. (1919, May 7).

The Cumberland Argus and Fruitgrowers Advocate

, p. 2. Retrieved September 21, 2015, from

http://nla.gov.au/nla.news-article86117642

SOLDIER'S MISFORTUNE. (1919, September 6).

The Cumberland Argus and Fruitgrowers Advocate

, p. 6. Retrieved September 21, 2015, from

http://nla.gov.au/nla.news-article86109638

Strong or Weak, the Magpies Have Had Good Left-Half. (1937, June 21).

The Cumberland Argus and Fruitgrowers Advocate

, p. 3. Retrieved September 21, 2015, from

http://nla.gov.au/nla.news-article106164041

Australian Electoral Commission.

[Electoral roll].

Fairweather, Richard William [Deaths notice]. (1964, July 2).

Sydney Morning Herald

, p.20

Fairweather, Irene Dawn [Deaths notice]. (1953, June 1).

Sydney Morning Herald

, p. 12

Fairweather, Alice Irene [Deaths notice]. (1959, January 26).

Sydney Morning Herald,

p.22