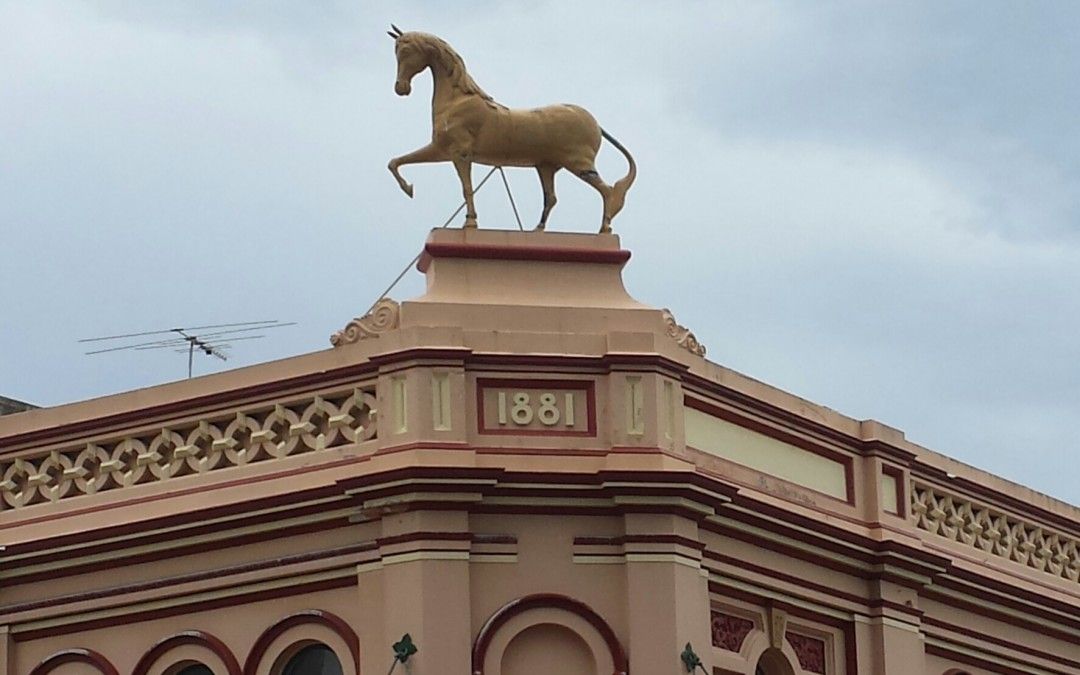 A question often asked of the Heritage Centre research team is what is the significance of the horse statues that grace the parapets of the building on the corner of Church and Macquarie Streets, Parramatta. Two horses sit atop the building, one on the Macquarie Street side, the other on the corner. Both statues appear to be Arabian horses and hold their right foreleg high in a "Spanish walk" style pose. Many mistakenly assume that the building is the former White Horse Hotel. In fact the White Horse Hotel was located on the north-west corner of George and Church Streets.
The Horse Parapet building was constructed in 1881 for Cyrus Edgar Fuller owner of the Cumberland Mercury newspaper. In 1871 Fuller married Sarah Mason, daughter of Edward Mason, the founder of  the Parramatta Chronicle, one of Parramatta's earliest newspapers. Fuller purchased the Parramatta Mercury from William Mason, son of Edward Mason, around 1875 and renamed the paper the Cumberland Mercury.[1] Fuller also ran a stationery, publishing and printing business in Parramatta. After the building was constructed Fuller moved his business to the new premises in July 1881. According to a number of early newspaper reports Fuller was considered a "progressive businessman" but by 1892 was declared bankrupt. During the bankruptcy proceedings Fuller's affection for horses and horse racing, in particular trotting, became evident and it may be this connection to horses that inspired Fuller to add the horse statues to the building.
It appears that Fuller never recovered from the bankruptcy and in 1911 he was found dead in a 'humpy' in Berowra – living alone, separated from his wife and children. The coroner attributed the death to natural causes.
We would like to hear from others who may have a theory of the relevance of the horses.
References
The History of the Press in Parramatta. (1890, November 8).The Cumberland Argus and Fruitgrowers Advocate p. 4.  http://nla.gov.au/nla.news-article86268590

Peter Arfanis, Archivist, Parramatta City Council, Heritage Centre, 2015