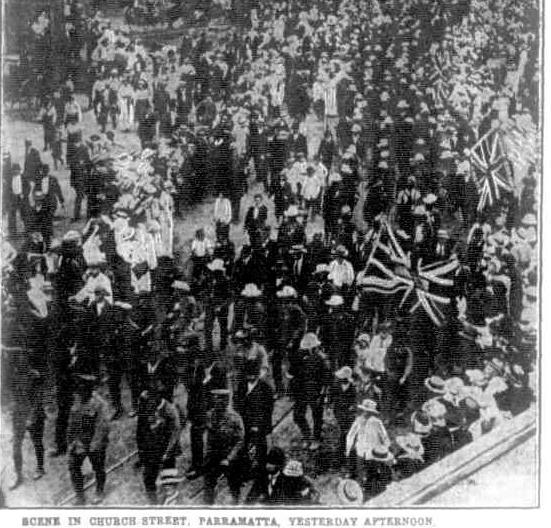 The 'Coo-ee March' arrived in Parramatta, 10 – 11 November, 1915, where the marchers were greeted by thousands of local well-wishers.
The preparation had started some time earlier and on Sat 20 October 1915 a large meeting was held in Parramatta Council Chambers presided over by the Mayor. At this meeting the Parramatta recruiting committee read out an advertisement in the Argus which was issued by the Mayor to convene the meeting and announce Parramatta's intention to welcome "The Coo-ees" on their march from Gilgandra to the sea.
The Mayor went on to say "… by the time the lads got to Parramatta their ranks would be swelled considerably. In fact we might have to prepare for 300 soldiers bound for the front then."
He also stated that the town of Parramatta would not be behind in making them comfortable and the details in reference to the reception of the boys would be fixed up if left in the hands of a committee formed of local townspeople. The Hon. Joseph Cook also addressed the meeting, and congratulated Parramatta on her preparations for the visit. He also expressed the hope that by the time the marchers arrived in town some local boys would be ready to join them.
On Wednesday, 10 November, thousands of people turned out to meet the recruits and both sides of the road were lined for miles. They halted at the Town Hall and then marched to the Park where they bathed in the Parramatta River.
A large dinner was later held for the around 350 guests in the Town Hall which was presided over by Mayor Graham. According to the Argus … "Then Mayor Graham called upon the Parramatta men, and other visitors from hereabouts (and these included a fine body of returned soldiers whose seats at the table faced those of the visiting guests of honour) to 'drink to the 'Coo-ees.' He congratulated the Gilgandra men upon their patriotism in taking up their world-famed march, and he 'offered them in that civic hall the most sincere of enthusiastic welcomes as from the old town of Parramatta. The toast was drunk: in bumpers, (all 'following the King;' however); and it was coupled with' the honoured name of Captain W. T. Hitchen, the originator of the Gilgandra boys' march".
In the evening a recruiting meeting was held in Parramatta Park and about 10,000 people attended. As a result 41 men joined the march. Unfortunately identifying all these was extremely difficult as they were not named in the articles we located. If anyone can help out we will happily add their names to this post.

Geoff Barker, Research and Collection Services Coordinator, Parramatta City Council Heritage Centre, 2015.