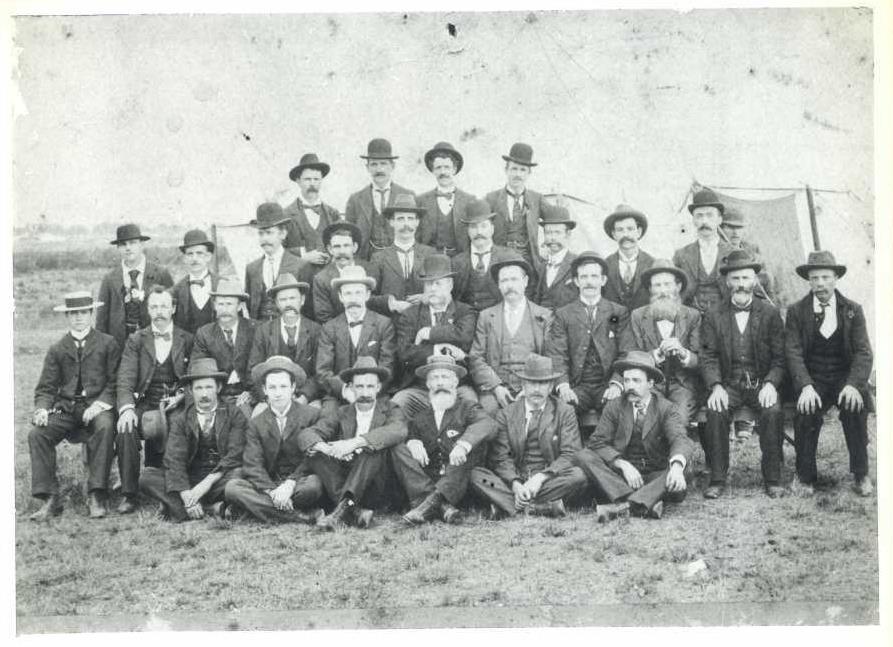 Granville District Soccer and Football Club Foundation Committee [ACC171.001.029] Source: Parramatta Heritage Centre
The Parramatta Archives, Research, and Cultural Collections have just catalogued an extensive collection of items related to the Granville District Soccer Football Association (GDSFA). Included in the collection are historical photographs dating from the late 1880s to the 1970s, as well as cloth badges, lapel pins, premiership caps, and a collection of ephemera that includes newspaper clippings, scorecards, dinner programs, and team publications.
Eddie Billett, a management Committee Member of the GDSFA, compiled a history of the Association and its constituent clubs in 2002, which identified the Club's pivotal role within the community:
In the beginning there were no clubhouses, canteens, change rooms car parks or floodlights… However, I believe that the people who started the club would not have had it any other way. They had a love for the sport.
The Granville District Soccer Football Association has been referred to as the 'birthplace of soccer in Australia'. Its first club was founded in 1882, making it  the oldest Association of its type in the Southern hemisphere.
The first Sydney football club, formed in 1880, was the Parramatta-based Wanderers Club, which was followed soon after by the Granville Club in 1882. Workers from the Hudson Bros Engineering Works, which later became Clyde Engineering, founded this team.  The Granville team identified themselves with a black and white stripe, which led to them being affectionately known as the Magpies, which was later adopted as the official team name, and used in the GDSFA's emblem.
From 1883 to 1884, there were no official competitions, only social games. However, the number of teams grew and a loose 'league-type competition or badge matches were inaugurated."
In 1902, the Granville District Soccer Football Association, as it is still known today, was officially inaugurated. Despite various disruptions throughout the First and Second World Wars, the Association has continuously supported a growing number of local clubs, including the Granville Kewpies, Lidcombe Waratahs, Holroyd Rangers, and the Parramatta Eagles.

Catherine Thompson, Research Assistant, Parramatta City Council Heritage Centre, 2015