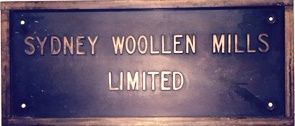 Sydney Woollen Mills sign, donated by Clive Hanna 2015
A recent donation from a local resident renewed our interest in an industry crucial to Parramatta and Australia in the early 1800s. Parramatta is well-known as the site of the early Australian wool industry as John Macarthur and Samuel Marsden were strong advocates for the promotion of the fledgling industry in England.
In 1803, John Macarthur visited England and at a meeting of interested businessmen stated that Australia would be able to supply all England's woollen requirements within 20 years.  The Reverend Samuel Marsden also went to England, taking wool with him from the backs of his own sheep.  In England he had the wool woven into black cloth, a suit of clothes made for the King and another for himself.[1]
While it is known that shortly after European settlement, convict women were spinning and weaving wool in Parramatta, and early wool experiments had begun, it wasn't until 1803 that any organised production of cloth began.[2]  In August of that year, Governor King entered into an agreement with a Scottish convict weaver named George Mealmaker to manage the manufacture of woollen material in exchange for a house, garden, rations and one convict servant for his household, plus a salary of £50 pounds a year.  He was also promised £20 when four looms were at work on flax and two on wool. [3] He was granted a conditional pardon when he achieved this.
While Mealmaker didn't live very long after that, the growth of the Parramatta woollen industry continued to flourish.  In 1825, Darling Mills was established by John Raine, and it operated initially as a steam flour mill.  He sold it at auction to Horton James in 1833 who rented it to John Hamilton from 1838 and it continued as a flour mill.  John Hamilton also owned the Cumberland Steam Flour Mill which later became the Cumberland Woollen Mill.
Between 1840 and 1868, Darling Mills had various owners and operated as a tannery, fellmongery and a candle making operation.
In 1869, John French bought Darling Mills and began manufacturing tweed cloth before it was purchased by Murray Bros in 1887.  They started operations as the Parramatta Woollen Mills with William Houston as the Manager.
During the following ten years, Murray Brothers bought Cumberland Mill and the machinery from Byrne's Australian Mill at Clyde to further invest in the company.  In the late 1890s, Parramatta Woollen Mills were awarded a series of gold medals at the Sydney Royal Agricultural Show for their rugs and blankets.  In 1899, they opened a warehouse in King St, Sydney and had sales representatives operating in WA and QLD.  The business was very successful during these years and extensive alterations to the mills were undertaken in 1900.  At the opening ceremony, the State Premier Sir William Lyne addressed a large crowd of prominent citizens.  During this period, the company sent a display of uniforms made by the Parramatta Woollen Mills to the Franco-British exhibition in London.  They were awarded the Grand Prix, a gold medal.
Referring to the exhibit, the Secretary of the NSW Commission wrote:-The Jurors were greatly taken with the exhibit of uniforms from the Parramatta Woollen Mills and spoke very highly of them.  One of the Jurors, Mr Godwin a Bradford manufacturer said the clothes were excellent and he had no idea that cloths of such good quality were made in Australia." [4]
The company continued to prosper and in 1901, the Parramatta Woollen Mills were busy preparing Australian soldiers for their contribution to the Boer War in South Africa.
"At the Parramatta Woollen Mills, business is especially brisk just now. An order for 500 khaki uniforms for the soldiers leaving for South Africa has just been completed, and another similar order is in hand. The material used in making up these uniforms is manufactured at the Parramatta Woollen Mills, and we understand that no other firm in the colony makes up clothing out of material of its own manufacture. A big contract, extending over two years, is also in hand for clothing the Water Police and hospital attendants, and the ordinary general business of the establishment is most satisfactorily abundant."[5]
In 1911 the Parramatta Woollen Mills was taken over by the Sydney Woollen Mills and continued to successfully operate, expanding into new areas of business such as women's clothing and carpet manufacture.
"In March 1939 the machinery at Sydney Woollen Mills comprised of 53 Dabcross looms and 18 automatic looms, 15 sets of carding machines and 17 sets of self-acting spinning mules.  The number of hands employed was 225.  The output was 8,500 yards weekly and in addition to the cloth, 20,000 pounds of yarn was turned out per week, this yarn was supplied to carpet makers, knitting mills etc. Cloth manufactured included rugs, blankets, flannels, government military cloth, tweeds, dress stuffs etc."[6]
For the twenty years between 1954 and 1974, the Sydney Woollen Mills were very successful.  They kept abreast of new technology and management techniques, and it was a period of significant productivity.
The new machinery installed during this period enabled the company to process raw material (predominately wool) from clean fibre to finished fabric.  Processes involved were: fibre dying, blending, carding, spinning, winding, warping, weaving, mending, fabric scouring, fabric milling, fabric dyeing, plus numerous fabric finishing processes such as raising, pressing, shrinking, decatising and cropping etc."[7]
The principal goods produced by the Sydney Woollen Mills were women's dress materials and travelling rugs.  They were also involved in making tennis ball cloth for a while, some of which was used in the Davis Cup; and manufacture of carpet yarn.  In fact, the manufacture of carpet yarn became an integral division of the company, and although the yarn was initially made for a company called Carpet Manufactures Ltd, they were invited to become part owners of Sydney Woollen Mills and operated it jointly.
In late 1974, the Directors of the Sydney Woollen Mills decided to sell the company assets which effectively closed the business in 1975.  The wholesale division continued to operate on a national basis under the Tissus Michels name.

Alison Lykissas, Cultural Collections Officer, Parramatta City Council Heritage Centre, 2015
References:
[1] Parramatta's 150 years of wool manufacture, The World News, 10 October 1953 Trove http://trove.nla.gov.au/ndp/del/article/131644828?searchTerm=early%20settlers%20parramatta%20woollen%20mills&searchLimits.  Retrieved from TROVE, March 2015
[2] Women Transported, Exhibition catalogue published by Parramatta Heritage Centre, 2008, page 8
[3] Parramatta's 150 years of wool manufacture, 1953, op cit
[4] Harding, J  The History of Textile Manufacture, 1997, (published by Dennis Gosper), page 31
[5] Parramatta Woollen Mills, The Cumberland Argus and Fruitgrowers Advocate, Parramatta NSW 1888-1950, 20 Feb 1901
[6] Harding, op cit, page 32
[7] Blay, Rosslyn A Living History of Parramatta 1992, (published by Soroptimist International of Parramatta), page 65
Lorraine
An interesting read! I recently bought a lovely fringed travel rug from my local Salvation Army. The tag reads 'Claymore' 100% All Wool
Made in Australia A Product of Sydney Woollen Mills Ltd Australia
Macbeth (in red). The travel rug is in very good condition and I'm going to gift it this Christmas along with the information above. Thankyou