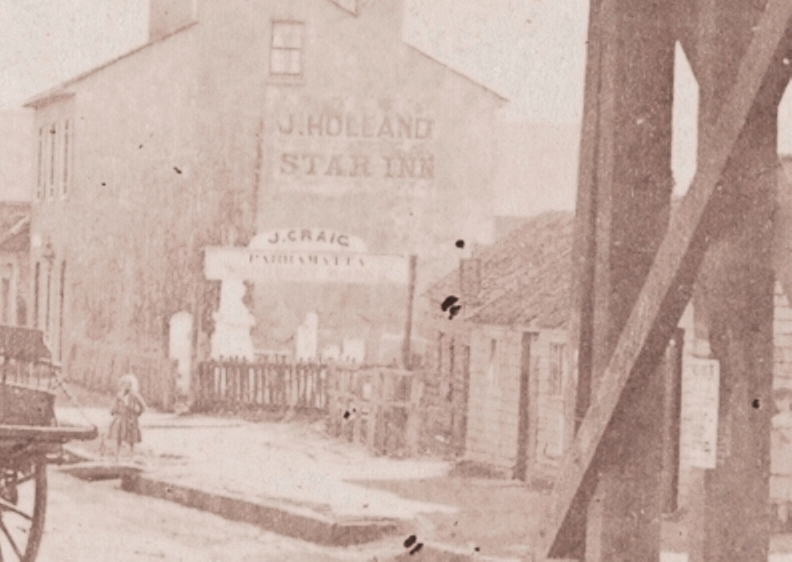 In the photo above you can see the tombstones and sign at the front of J. Craig's stone-masonry yard on Church Street.Anne Craig, wife to Joesph Craig, was a well-known personality in the district and was closely associated with the area around today's Parramatta Square where she both lived and ran her businesses. She was the daughter of Mr. Stone who in the mid 1850s was the toll keeper on the Great Western Road. The gate was eventually removed to the bridge near the railway crossing of Duck Creek and Mr. Stone became landlord of the Vauxhall Hotel in Granville.
Joseph was her second husband and when her first husband, Mr Watters, died about 1875 she had opened a 'fancy-goods' shop opposite the old courthouse in Church Street. After marring Joseph she continued with this business while her husband ran the stone masons business from a yard next to the Star Hotel, run at that time by Mr. Holland, and near to where Darcy Street would eventually be built.
Mr. Craig had died in 1880 and his wife carried on running her business for most of her remaining 46 years. She died aged 98. Her last shop near Lennox Bridge apparently did very well.

Geoff Barker, Research and Collection Services Coordinator, Parramatta City Council Heritage Centre, 2015