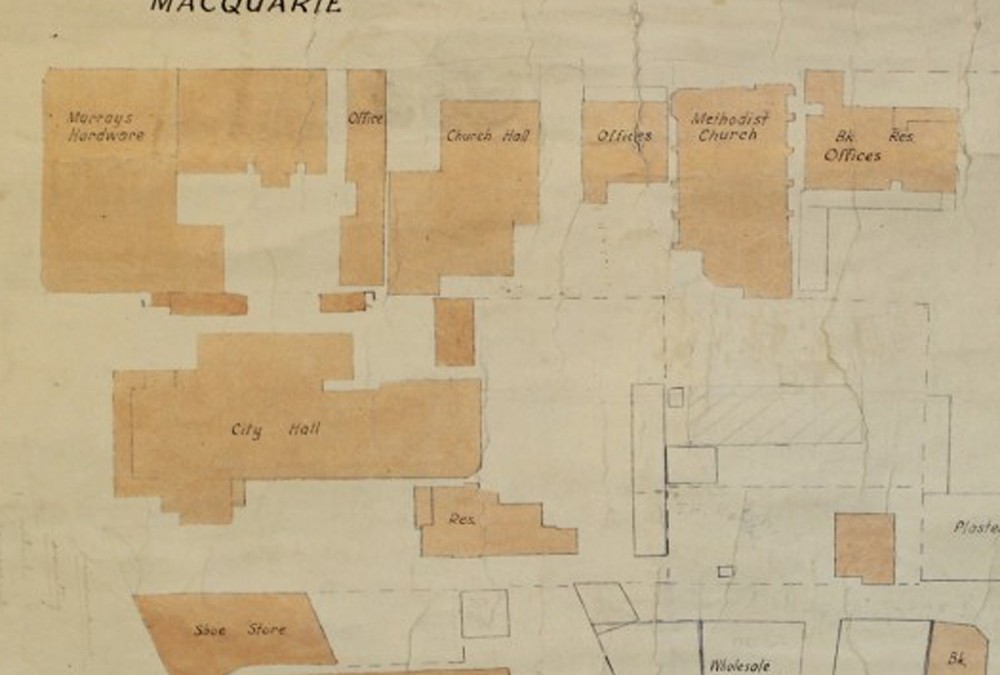 Sydney Wickham was Parramatta Council's Town Clerk for 33 years from 1872 to 1905 and died in June 1919 aged 87 years.[1]
He was a long-term resident, having been born on-board the ship that brought him to Australia and later christened in St. Philips Church, Sydney. In a recorded chat with Mr. Wickham he stated:
I am not a native of Parramatta…My parents came from England about 73 years ago, and I was christened in St. Philip's Church, Sydney.[2]
His father, George Wickham, was a painter, chemist and druggist and he came to Parramatta soon after arriving in the colony. Sydney himself ended up living in Parramatta for 73 years and went to school at Mr. J. Mills School when it stood on the site later occupied by the Wesleyan's Macquarie Hall.
He was apprenticed to the saddle-maker Samuel Burge in George Street but left to seek his fortune on the Turon gold-fields. Like many others he had no success and after he returned he became an assistant to his mother who was at the time post-mistress, and in 1872 applied for the position of town clerk. The Town Clerks Cottage was built at the same time as the Town Hall. Wickham occupied the cottage and was probably this house which is mentioned in the Cumberland Argus article about the drain problems on the site of the old market, pound and stockyards.[3]
At that time he says 'Experiment Cottage' stood practically alone in Harris Park, and the Globe Hotel was situated at the top of a hill between Parramatta and Granville:
… that hill has since been cut down. It really was a hill in those days. You went through the entrance of the hotel to the race-course, which was a 1.5 mile course, taking in part of Boundary Street and extending all the way to Clay Cliff Creek.[4]
A keen bowler and angler he also had a passion for horticulture and was a prominent supporter of the horticultural societies. By 1905 he was living in a house in Church Street South, where he spent much of his time tending his gardens.
The cottage served as residence for the Town Clerk until the 1930s when it became the residence of the Town Hall caretaker. The cottage was pulled down in 1956 to build the Council Administrative building.

Geoff Barker, Research and Collection Services Coordinator, Peter Arfanis, Archvist, Parramatta City Council Heritage Centre, 2015. [Updated 2018].
References
[1]  Mr. Sydney Wickham, Cumberland Argus and Fruitgrowers Advocate, 28 June, 1919, http://trove.nla.gov.au/ndp/del/article/86109484
[2] A Chat with Mr. Wickham, Cumberland Argus and Fruitgrowers Advocate, 18 November, 1905, http://trove.nla.gov.au/ndp/del/article/86177243
[3] Drain at the rear of Town Hall, Cumberland Argus and Fruitgrowers Advocate, 21 February 1891, http://trove.nla.gov.au/ndp/del/article/86270689
[4] A Chat with Mr. Wickham, Cumberland Argus and Fruitgrowers Advocate, 18 November, 1905, http://trove.nla.gov.au/ndp/del/article/86177243