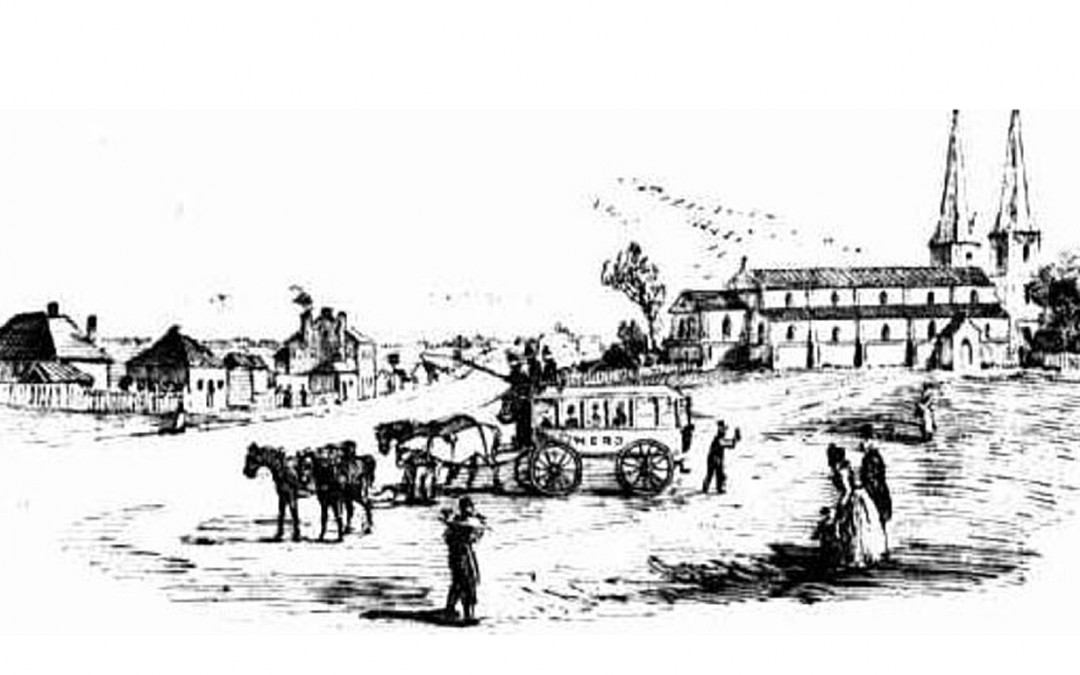 On Macquarie Street close to the corner of Smith Street previously stood a public house belonging to the coachman John Hilt. John and his father, James, were both considered great whips. The site is now taken up by the new Western Sydney University building forming part of Parramatta Square.
Previous to John Hilt purchasing the property in 1851 it was the site of the first White Horse Inn in Parramatta (this later moved to the corner of George and Church Street). John Hilt ran his Parramatta to Sydney coach business and hostelry from here. There was also an area known locally as 'Hilt's Paddock' which apparently ran all the way back to the southern side, near Darcy Street. While this area was used to graze the horses the reminiscences of a local resident noted that some of the original stage coaches remained under the old sheds in Hilt's yard for many years after the coach service was abandoned.
Some 30 years ago the coaches and other old lumber on the property were said to have been sold to Mr. W. Ward, who then had a coach factory where The Mercury Building now stands. He then burnt the the frame-work, and took away the ironwork, and the writer recollects seeing a well-known stagecoach called the  'Hero' being eaten away by the flames. (1896)
John passed away in November 1866 aged 64. Catherine Hilt, his wife, who lived in Rosehill Street, continued to operate the hostelry from the old White horse Inn, which  appears to have been torn down around 1882 and it was replaced with a new duel occupancy, two storey brick house. Catherine passed away in 1908. The property remained in the hands of the Hilt family until circa 1925 when it was purchased by Thomas Lucas Stoney. He named the house Macquarie Flats.
1848 – John Hilt accepts tender for the conveyance of mail items Sydney, Parramatta, St Marys and Penrith daily, by four horse coaches with guards and from and to Parramatta and Windsor by two or more horse coaches for 400 pounds
References
In Equity, (1929, April 20). The Sydney Morning Herald (NSW : 1842 – 1954), p. 14. Retrieved September 26, 2014, from http://nla.gov.au/nla.news-article16554553
The Illustration. (1896, December 26). The Cumberland Argus and Fruitgrowers Advocate (Parramatta, NSW : 1888 – 1950), p. 10. Retrieved September 25, 2014, from http://nla.gov.au/nla.news-article85763399
In Radiance Drest. (1913, August 30). The Cumberland Argus and Fruitgrowers Advocate (Parramatta, NSW : 1888 – 1950), p. 11. Retrieved September 25, 2014, from http://nla.gov.au/nla.news-article85968970
Current News. (1908, January 4). The Cumberland Argus and Fruitgrowers Advocate (Parramatta, NSW : 1888 – 1950), p. 4. Retrieved September 25, 2014, from http://nla.gov.au/nla.news-article85983621

Peter Arfanis, Council Archivist, Parramatta City Council Heritage Centre, 2015