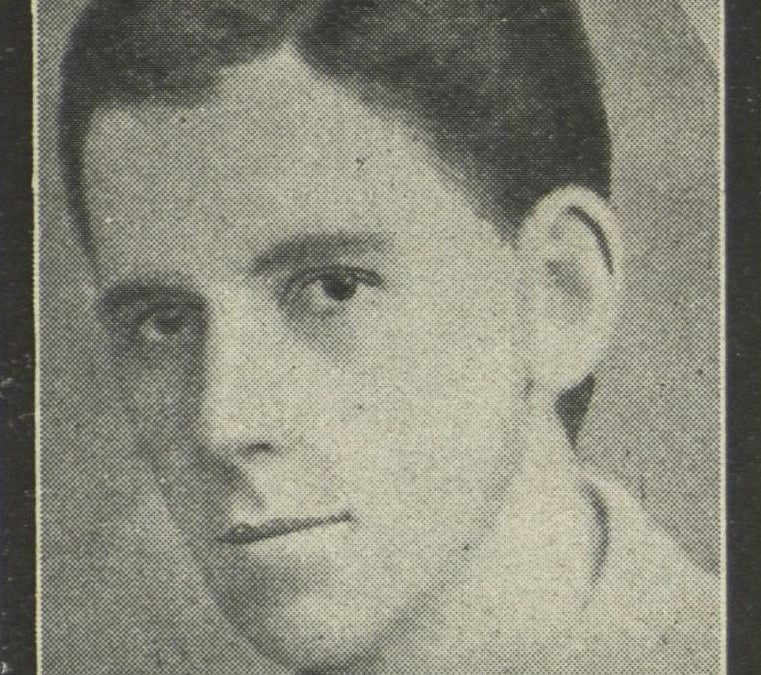 Private Arthur John Ormes, 20th (later 2nd) Battalion of Summer Hill, New South Wales. A photo engraver prior to enlisting, he embarked from Sydney aboard the HMAT Aeneas on 20 December 1915. He died, aged 22, on 12 August 1916 at the St Johns Ambulance Brigade, Etaples, France, from gunshot wounds received in action at Pozieres, France on 23 July 1916. He is buried in the Etaples Military Cemetery, France.
A Clever Parramatta Hero. The Late Private Arthur John Ormes.
Private Arthur John Ormes, whose death from wounds in France was recently reported in 'The Argus," was a promising young Parramatta native. Both his parents are also natives of the old town, and his grandfather, the late Jonathan Ormes, was a resident for more than half a century. Private Ormes was in his 24th year, and a process engraver by trade. Most of his schooling was received under Mr. S. C. Byrnes (headmaster of Summer Hill Superior Public School), who is also a Parramatta man, and to whose tuition the young soldier owed much for the promise of a bright career in life. Private Ormes had natural artistic gifts, and painting in oils and water colors and pen-and-ink sketching were some of his hobbies. Indeed, the best pictures in his parents home at Summer Hill today are his handiwork. Two or three are worthy of mention, namely, "Sunset on the Parramatta River"; a view from Abbotsford, looking westward alone the championship course, with the hills of Ryde, etc., in the background; and a view of Abbotsford from Gladesvllle. Another good picture is Kurnell, from La Perouse"; as is also one of Sorrento Beach, Victoria, which he painted for his uncle, Mr. Jack Ormes, of Elsternwick, who was once Parramatta's champion walker, and whose son, Victor, has been through Gallipoli and is now in France. While billeted at the front Private Ormes also did some good pen-and-ink sketches as souvenir letter-heads. He said in one letter; " I have done quite a lot of these for the boys, and others are asking when I will do theirs." A special sketch for his sister shown the clock-tower of an old abbey in France, ruined by the Huns, and is full of fine detail. Besides fake-photography, another hobby was the construction of neat mechanical models of different types of aeroplanes, and the Flying of these in a paddock near his parents' residence often attracted a crowd of interested spectators. The motive power was derived from twisted strands of special rubber to work the propellers. In conjunction with Reggie Williams, of Bexley, now at the Richmond Aviation School, the late Private Ormes constructed a biplane glider 30 ft. in width, which was taken by the two lads to North Menangle, where, every weekend some three years ago, short flights were obtained from the tops of the steep hills. 
While at the front Private Ormes wrote some verses entitled "Der Strafe," and, although he Intended those to be satirical only of 'Bellerive's" (a "Bulletin" poet's style), he developed a serious tone combined with some fine sentiment. Sadly enough it was not for the author to realise the last verse.
 
DER STRAFE ! 
Behold! the sound of distant guns 
Bursts on the silent night beneath the stars; 
And so the whisper goes from every tongue — 
"Ye gods!" another strafe begun.
"Ah, yes! 'Us spreading north and south 
And whizz-bangs burst and knock our trenches in; 
They scatter earth and sand-bags all about, 
To say naught of the "little bits of skin!" 
And now the strafe is at its height — 
The air is thick with bumming bits of lead,  
For miles the star-shells throw their gleaming light, 
And bombs and mortars "wake the sleeping dead." 
But yet the only man who over sleeps 
Is he who rests beneath the verdant soil:
For Fritz, you know he always "plays for keeps," 
And now is out for all "the decent spoil." 
Spoil that lured the Caesars on 
To perish in the blood that they had spilt; 
And so, when Wilhelm's day hath duly come, 
Twill find his trembling hands stained red with guilt. 
But here's to days when strafes are o'er,
And battle-fields are pastures once again; 
When we return to home, sweet home, once more,  
We shall not want to talk about it then. 
— A.J.O.
Cumberland Argus 20 September 1916

Peter Arfanis, Archivist, Parramatta Council, Heritage Centre, 2014