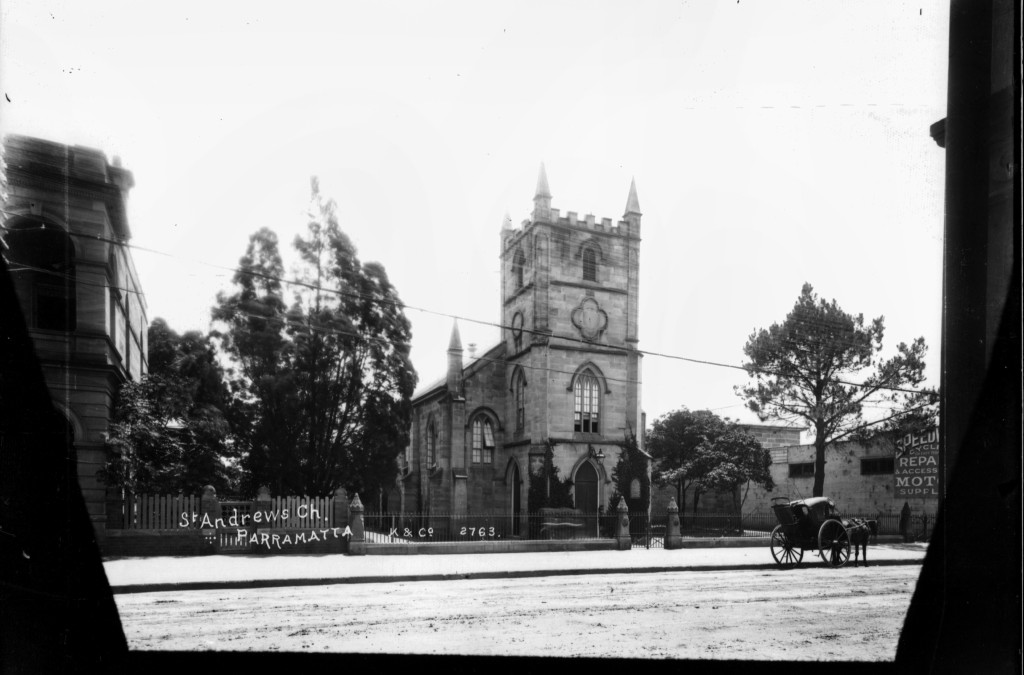 Until recently, whenever I came across old images showing St Andrew's Church, located in Church Street, Parramatta, just north of the old Post Office building, I wondered why this historic Church, one of the oldest in Parramatta, was demolished. During a little research about the Church I discovered that the Church actually continues to stand in Wentworthville. There are probably many people in the area that know this already, but for me it was a great surprise.
According to a paper by Pam Trimmer,[1] James Hume was the architect of the church with some contribution made by Parramatta's "forgotten architect" James Houison. Built by Thomas Orr with the masonry work reportedly designed by David Lennox, construction of this Victorian Gothic styled church began in 1840.[2] Trimmer and others believe the church was eventually completed in 1849 although there are theories that services may have been held as early as 1843.[3]  By the 1920's the St Andrew's Presbyterian Church was too small to accommodate Parramatta's growing congregation. A new larger church was built on the corner of Phillip and Marsden Streets  in 1926. After the new church was built demolition work began on the old church, so long a landmark of Parramatta. It seemed that the church would be lost until Presbyterians in Wentworthville, in need of a Church, put forward the idea of reassembling the old Parramatta church in Wentworthville. [4]
Demolition of 'The Auld Kirk', as it was referred to, began in 1925 and on Saturday 24 November 1928 the reassembled church was opened and dedicated.[5]  So to my pleasure I have found the church survives and still stands at McKern St, Wentworthville.

Peter Arfanis, Archivist, Parramatta Council, Heritage Centre, 2015
References
[1] Trimmer, Pam. St Andrew's Church, Wentworthville. Church heritage, 18, 3 (March 2014), pp.143-148
[2] The Centenary Souvenir of St Andrew's Presbyterian Church Parramatta states that building began in 1840 while other reports say 1836.
[3] The Auld Kirk. (1925, November 17). The Cumberland Argus and Fruitgrowers Advocate (Parramatta, NSW : 1888 – 1950), p. 4. http://nla.gov.au/nla.news-article103763481
[4] Old Landmark Going. (1926, September 3). The Cumberland Argus and Fruitgrowers Advocate (Parramatta, NSW : 1888 – 1950), p. 4. http://nla.gov.au/nla.news-article104956922
[5] St. Andrew's Church. (1928, November 29). The Cumberland Argus and Fruitgrowers Advocate (Parramatta, NSW : 1888 – 1950), p. 12. http://nla.gov.au/nla.news-article107103998