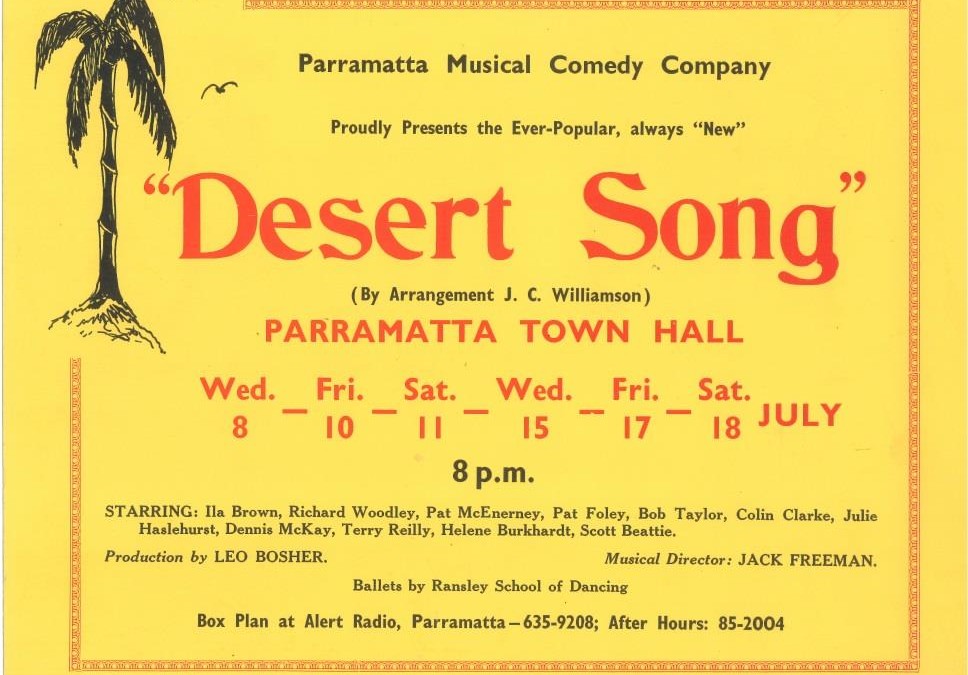 Mr. Arthur J. Brown, a local identity and businessman, as well as the owner of AJ Brown Tiles, founded
the Parramatta Musical Comedy Company with his wife Renee in 1950.
Mr John Freeney, recalls how the company was a family affair for the Browns, with sisters Betty, Lola, Vicki, and Ila often taking leading roles in a number of productions. Brown's eldest daughter Ila was also the company secretary, while his brother Terry often lent his voice to the chorus.
Mr. Brown was widely considered to be a generous company president. He guaranteed a number of small operational loans and bank overdrafts. One particular loan related to the 1961 production of The King and I, with Mr. Feeney recalling that:
He [A. J. Brown] guaranteed a bank overdraft of two thousand pounds… this was an astronomical amount for an amateur group in these days. His faith was rewarded with a sell-out extended season.
Aside from adhering to a tri-annual performance schedule, members of the society regularly entertained residents in local nursing homes and residences. The company also provided actors for various historical re-enactments at Hambledon Cottage, Old Government House, as well as the 1963 re-enactment of the landing of Governor Captain Arthur Phillip.
Mr. Freeney recalled his participation in the event, where he himself played Captain Arthur Phillip;
…the landing party were rowed ashore in a naval whaler manned by four sailors to a landing point near Queens Wharf, where they were greeted by Mayor Alderman R. W. Van Nooten. After a speech and flag raising the entire party then proceeded to the Lancer Barracks to be greeted by Sir John Northcott and Sir Garfield and Lady Barwick, and a large crowd.
Logistically, most seasons for a production ran for two weeks (with performance from Wednesday to Sunday) at the Parramatta Town Hall and relied heavily on the voluntary service and skills of the dedicated 40–60 Company members. Funds were generally raised from ticket sales with major production costs defrayed by a number of fundraising balls, concerts and dinners throughout the year.
Mr. Freeney, reflecting on his time as part of the company, remembered that members came from all walks of life, sharing a love of the stage, singing, and social gatherings. Many meeting and marrying future partners and forming life[long] friendships.
The company performed a number of popular musicals including South Pacific, Kiss Me Kate and HMS Pinafore. The high qualities of these performance was frequently noted in local articles and reviews , and was largely due to the recruitment of a number of professional singers, who took leading roles. One such performer, Gina Zocanaro, who joined the Company to sing the lead role in the 1959 Production of The Student Prince, later took up a position with Opera Australia as a principal tenor.
Similarly, the company's regular leading lady, Ila Brown, was in 1960 invited by theatrical entrepreneur Garnnett H Carroll to appear in a high-profile production of The Sound of Music as Baroness Schraeder.
Reference:
The Desert Song window card featured at the top of the post was designed by John Feeney and donated to Parramatta Heritage Centre, 2015.

Catherine Thompson, Research Assistant, Parramatta City Council, Heritage Centre, 2015