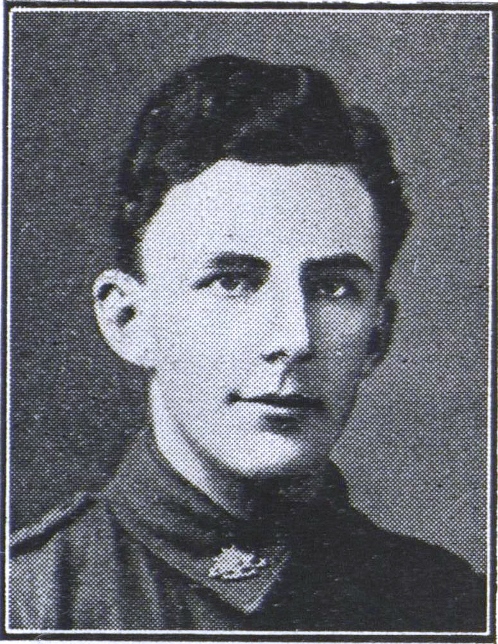 Corporal George E. Aspinall, was the son of; Mr Alf E. Aspinall, of Parramatta North and joined the army 10 April, 1916. He was an electrician and supporter of the Salvation Army before he was signed up as a stretcher bearer with the 33 Infantry Battalion (Service No. 2028) and left Australia on 24 August, 1916. At the end of October he was lying wounded at a casualty station in France when a German aviator bombed the hospital killing several men and wounding 20 or 30 others. A part of the bomb wounded Corporal Aspinall in the leg, tearing away the flesh and grazing the shin bone. By this time he had been on active service for over 12 months, and had taken part in some of the biggest battles with his squad of stretcher-bearers working from 3 a.m. to 10 p.m. in the firing-line, and after that instructing new men in the work of bearers.
His last squad comprised of 62 men, and he lost 20 of the in his last engagement alone. On another occasion he went out to gather a man in who had got entangled in barbed wire on the opposite side of a big shell hole that was full of water. The bearers had to wade through up to their waists, but they got their man safe to the lines. In the same engagement an English officer was bringing in a German officer prisoner when a Hun shell blew the German to pieces and dazed the Britisher, who brought in as prisoner the left arm of the German.
However the following joke sent by Aspinall to the ;'Argus' makes it clear he and his mates maintained a sense of humour, and the old Sydney/Melbourne rivalry, even in the bleakest of circumstances …
A WAR-FRONT JOKE: Sent along to "The Argus" by Corporal Geo. Aspinall (A.I.F.), of Parramatta North:
The old controversy in a new place. A Sydney Aussie having a bath in a large shell-hole. Melbourne Aussie approaches along duck board track.
Melbourne Aussie: Ay, Digger, what d'yer think yer doin' there, surf bathing at Coogee? Sydney Aussie: No; from the smell of it I guess I'm having a dip in the blanky Yarra.

Geoff Barker, Research and Collection Services Coordinator, Parramatta City Council Heritage Centre, 2014
References
Cumberland Argus and Fruit Growers Advocate, 12 October, 1917, http://trove.nla.gov.au/ndp/del/printArticlePdf/99667601/3?print=n Cumberland Argus and Fruit Growers Advocate, 15 June, 1918