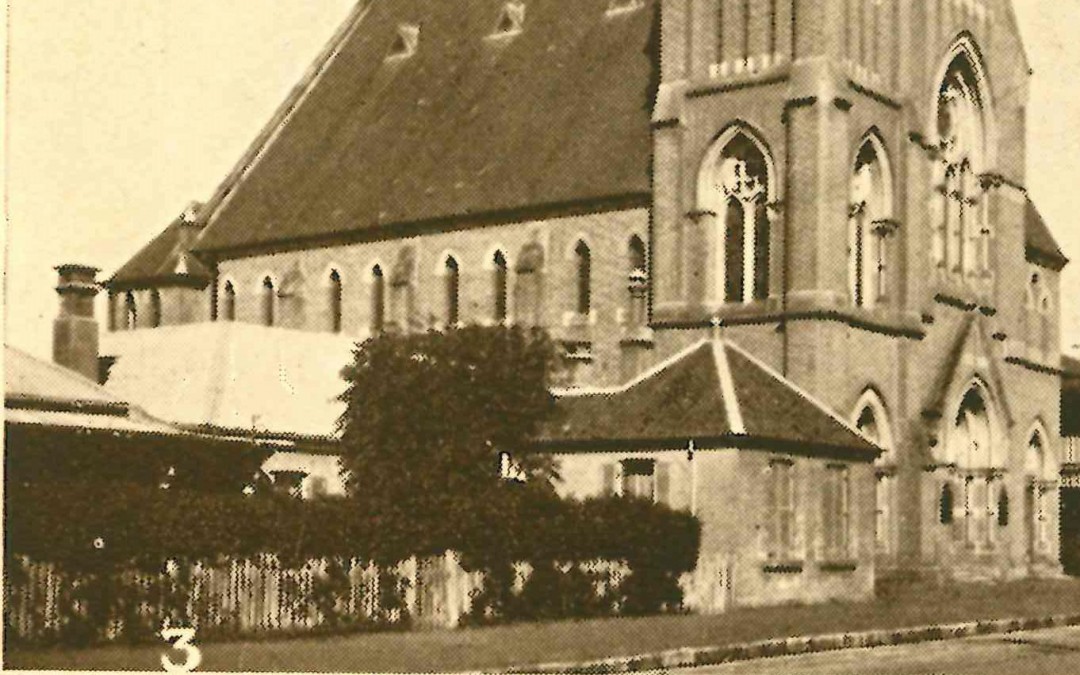 Dr. Johnson's house next to Leigh Memorial Church, from Parramatta's 145th Anniversary publication, 1933
Dr Charles Johnson, born in Dublin and educated at Trinity College, Dublin, began practicing medicine in Goulbourn in 1870.[1] In around 1882 Johnson (sometimes spelt Johnstone) purchased the brick home on the east side of Leigh Memorial Church from Thomas Flynn. A well respected member of the community Charles was also a warden for St John's Church and lived in this house up until his death on 10 April 1902.
His next-door-neighbour was another doctor, Dr. Smith. However, Smith moved across the street around 1882, to live in Dr. Rutter's old House (also once Mrs. Houison's old residence) and Smith's property appears to have been purchased by Harriet Holland, wife of the publican of the 'Star Hotel', John Holland.[2]
In 1917 Johnson's property was offered up for auction by W. F. Jago who described the house as a commodious family home with a 132 foot frontage onto Macquarie Street and around 240 feet back to the lane at the rear.[3]
In 1961 the property was taken over by Methodists who owned Leigh Memorial Church next door. Three years later, in March 1964,  the Leigh Fellowship Worship Centre was opened on this site by Sir Garfield Barwick.[4]

Geoff Barker, Research and Collection Services Coordinator, Peter Arfanis, Archivist. Parramatta City Council Heritage Centre, 2015
References
[1] Death of Dr. Johnson. (1902, April 12). The Cumberland Argus and Fruitgrowers Advocate (Parramatta, NSW : 1888 – 1950), p. 4. Retrieved December 2, 2015, from http://nla.gov.au/nla.news-article86196730
[2]The Cumberland Argus and Fruitgrowers Advocate, 12 April, 1902, http://trove.nla.gov.au/ndp/del/article/86196687
[3] The Cumberland Argus and Fruitgrowers Advocate, 28 July, 1917, http://trove.nla.gov.au/ndp/del/article/86090922
[4]  From Small Beginnings; Parramatta regional mission, Gloster S. Udy, 1988, Parramatta City Council, Ls.283.9441