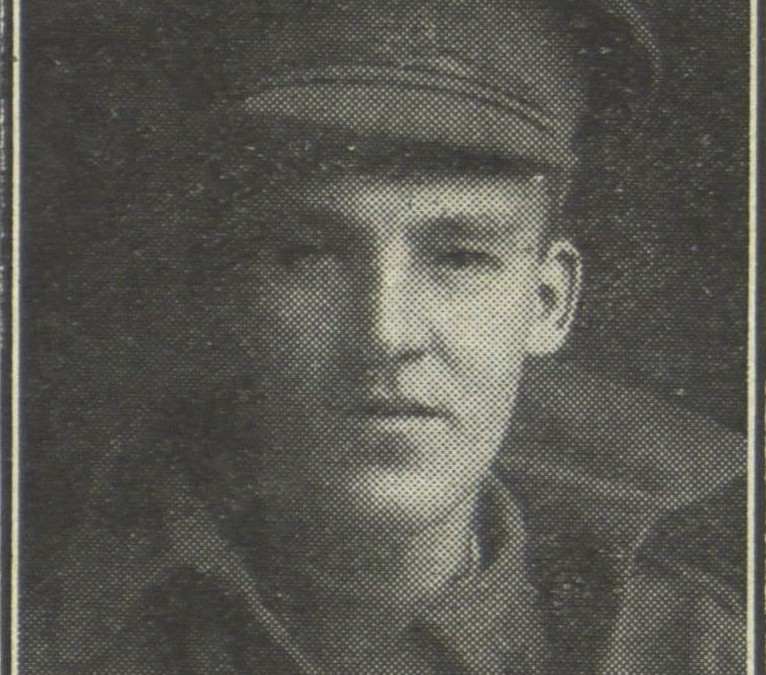 11964  Private Wilfred Garnet Gates, copy from Parramatta Soldiers, Cumberland Argus, 1920
Local Parramatta tailor and artist Wilfred (Dick) Garnet Gates was 25 when he signed up to join the Great War effort abroad. He joined on 25 July 1915 in Warwick Farm and officially embarked from Sydney aboard HMAT Hororata A20 on 2 May 1916 with the 9 Field Ambulance, Australian Medical Corps (A.M.C) – 'B" section. He served as a stretcher-bearer in Egypt and France, and suffered gunshot wounds on 2 occasions. For his bravery he was awarded a Military Medal. [1, 2]
Born on 14 June 1890 in Parramatta to Francis 'Frank' and Phoebe Ann Gates (nee Nicholson), the family lived at 245 Church Street, North Parramatta. He had four brothers, including Walter who also enlisted (service number 709). They were raised members of the Congregational Church.
As a young man, he joined the Royal Art Society of New South Wales in Sydney and established friendships with other young artists including Jim Bancks, the creator of Ginger Meggs. He also studied under Julian Ashton. It is said that he sketched extensively around the battlefields of World War I and was Parramatta's first newspaper cartoonist before World War I. [3, 4]
Upon returning to Australia per 'Marathon' on 19 April 1919, he was discharged on 25 July 1919 and received a warm welcome home despite having to use a walking stick to aid him getting around. Life after the war saw Gates resume his artistic career and go on to become a commercial artist and water-colourist, known mainly for his landscapes. Some of his work is represented in the Art Gallery of New South Wales.
He married Edith Barnett Tunks in Granville in 1926 and they lived at 82 Victoria Street, Parramatta. He was a member to the Parramatta Park Trust and would also work as a tailor, taking over the family business his father established.
After WWII, he was made a Fellow of the Royal Art Society of New South Wales. Sadly he passed away on 9 May 1967, aged 76. He was survived by his wife, son Colin and grandchildren. [7, 8]

Anne Tsang, Research Assistant, Parramatta City Council Heritage Centre, 2014
References
[1] "DICK" GATES, M.M. (1918, July 20). Cumberland Argus and Fruitgrowers Advocate, p. 10. Retrieved fromhttp://nla.gov.au/nla.news-article86208619
[2] Our Brave Boys on the Battle Fields . (1918, September 21). Cumberland Argus and Fruitgrowers Advocate, p. 10. http://nla.gov.au/nla.news-article86214060
[3] Wilfred G. Gates. Australian Art Auction Records.http://www.artrecord.com/index.cfm/artist/12396-gates-wilfred-g/
[4] Sidelights on People You Know. (1938, May 25). Cumberland Argus and Fruitgrowers Advocate, p. 6. http://nla.gov.au/nla.news-article104972142
[5] "OF THE BOYS". (1919, June 14). Cumberland Argus and Fruitgrowers Advocate, p. 13. http://nla.gov.au/nla.news-article86108646
[6] Mr. and Mrs. "Dick" Gates of Parramatta North. (1928, June 8). Cumberland Argus and Fruitgrowers Advocate, p. 12.http://nla.gov.au/nla.news-article107100450
[7] [Death notice] (1967, May 10). Sydney Morning Herald, p. 54
[8] [Funeral notice] (1967, May 11) Sydney Morning Herald, p. 22