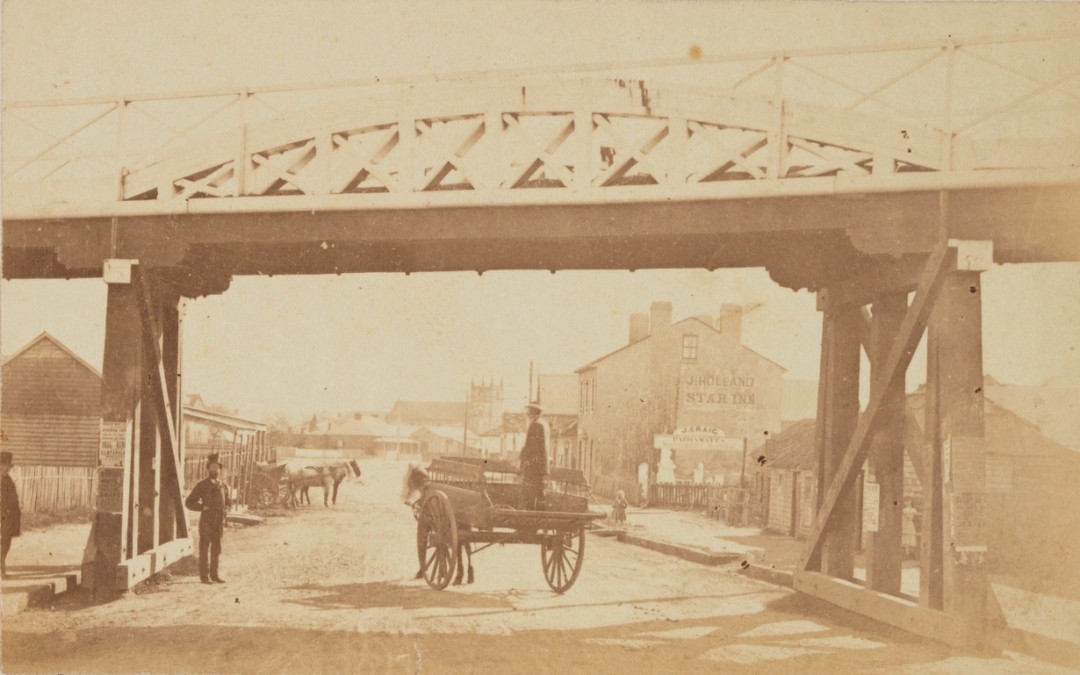 Sam Crouch was for many years caretaker of Auburn Town Hall and in 1933 published the following memories of the shops and personalities in the vicinity of what is now Parramatta and Centenary Square.
Coming under the railway bridge at Church Street, there was no Darcy Street. There was a creek running through Hilt's paddock to the back of the Methodist Church. During heavy rain this creek became flooded, and Church Street was impassable except by wading through. This caused people going to and from trains a good deal of inconvenience.

At the corner was a stone masons yard kept by a man named Craig, and a sculptor called Jones worked for him. Jones did a great job of representing a sheep being torn by a dog which was much admired, and, I believe, was afterwards presented to the park.

Next was a blacksmith's shop kept by a man named Byrne, who was the grandfather of Joe Byrne, the late member for Parramatta. Then came a wheelwright's shop, conducted by a man named Butcher, and then followed the Star Hotel, run by Mr Holland, assisted by Darby, his right hand man, and next a boarding house kept by Bolton.

The Town Hall site was once a hay market, with a pound at the rear. There was a stand with a bell, which was rung every morning and evening at six o'clock to indicate the collection of toll dues and hawking frees. The bell was afterwards shifted to a paddock at the rear of the baths. A cottage was built there and Mr. Garlick, father of the late Civic Commissioner lived there.

Next to the Town Hall was an old fashioned two storey building, and, and Mr. Peters, father of the Auburn timber merchant, had a stonemason's yard there. On the corner was a watchmakers shop, kept by Mr. Haig, who also made fireworks.

Turning down Macquarie Street in an easterly direction, we came to Parsons, 'Carriers'. Parsons was the drummer in the regimental band, and also filled that position in the Town Volunteer band for many years. Next to the Church was Dr. Johnson's and Dr. Smith's, who afterwards moved across the street to a place once occupied by Dr. Rutter [NOTE: this also appears to have once been the house owned by Miss Houison's and the move was made by the 1882 according to the account of Joe Button in the CA, 30 January, 1933.]

Nearby was the residence of Mr. Little, father of Tom Little, of Argus fame. Further on lived Mr. Hilt, owner of the paddock which ran right back to Darcy Street. At the corner lived Mr. Neale, and across the road, where the school now stands, the School of Arts was built. The next house was occupied by James Byrnes, late member for Parramatta and Minister for the Crown for many years.

Compiled by Geoff Barker, Research and Collection Services Coordinator, Parramatta City Council Heritage Centre, 2015
References
[1] Cumberland Argus and Fruitgrowers Advocate, 26 October, 1933, http://trove.nla.gov.au/ndp/del/article/107801040