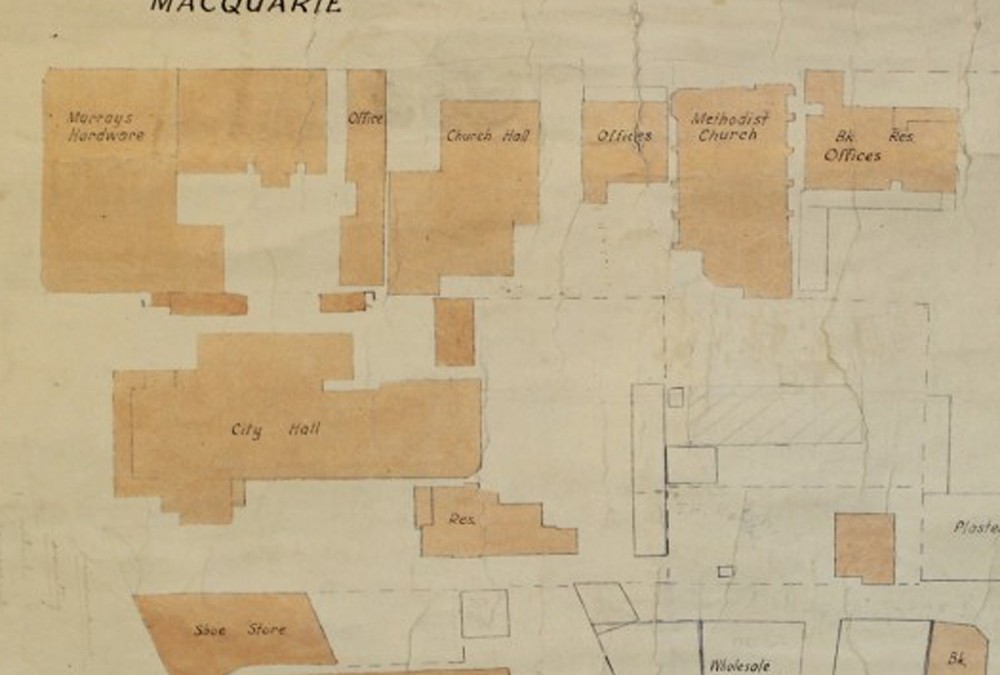 According to Sam Crouch's early recollections the Town Hall site:
… was once a hay market, with a pound at the rear. There was a stand with a bell, which was rung every morning and evening at six o'clock to indicate the collection of toll dues and hawking frees. The bell was afterwards shifted to a paddock at the rear of the baths.[1]
By May 1862 the newly incorporated Parramatta Borough Council decided to move the pound. According to the mayor
much sickness having prevailed in two families in the immediate vicinity of the public pound in the town of Parramatta and medical men having given as their opinion that it arises in a great measure from the collection of filth, and a pool of stagnant water in the pound, immediately in the rear of the two premises, in which low fever develops itself, it is desirable that the attention of this council should be immediately directed to the removal of the pound to some locality in which it will be less likely to become a nuisance.[2]
The pound land was granted to the Wesleyan Church in 1870 despite Council's attempt to secure ownership. [3] However, in about 1958 a land swap between Council and the Church saw this land return to Council.
The old pound might have been relocated to south Parramatta until 1869 when Council made moves to have the pound relocated to Pennant Hills Road. This location ended up being inconvenient for Council and the pound-keeper and by 1872, the pound was moved again, this time to the western end of Market Reserve on Market Street.
Henry Garlick appears to have been appointed pound-keeper in 1873 and at this time apparently lived in a cottage next to the pound.[4] With the opening of the Baths Building next to the Market Reserve in 1888 the public pound had to relocate once again, returning to Pennant Hills Road at the junction of Belmore and Sorrell Streets. Garlick resigned as pound-keeper in 1889 and the exact position of the cottage remains unclear.[5]
The following year, 1890, Garlick was a witness at the inquest investigating the tragic death of Emily Chant's three and a half year-old daughter who was run over by a cart on Church Street. In the coverage Garlick was referred to as the 'Nightman' for Parramatta.[5] Later he appears developed health problems and on 13 November 1899, he made an application for two months leave on full pay.[7]
When he died 2 March, 1900 the Order of Odd-fellows gave him … the solemn and impressive service for the dead authorised in the ritual of the Odd-fellows Order.[8]

Peter Arfanis, Archivist, Parramatta City Council Heritage Centre, 2015
References
[1] Cumberland Argus and Fruitgrowers Advocate, 26 October, 1933, http://trove.nla.gov.au/ndp/del/article/107801040
[2] Minutes to the Meetings of Parramatta Council, May 1862. PRS21 Parramatta Heritage Centre
[3] Minutes to the Meetings of Parramatta Council, July 1870. PRS21 Parramatta Heritage Centre
[4] Cumberland Argus and Fruitgrowers Advocate, 26 October, 1933, http://trove.nla.gov.au/ndp/del/article/107801040
[5] Cumberland Argus and Fruitgrowers Advocate, 18 May, 1889, http://trove.nla.gov.au/ndp/del/article/86275113
[6] Cumberland Argus and Fruitgrowers Advocate, 20 December, 1890, http://trove.nla.gov.au/ndp/del/article/86275018
[7] Cumberland Argus and Fruitgrowers Advocate, 24 February, 1900, http://trove.nla.gov.au/ndp/del/article/85825055
[8] Cumberland Argus and Fruitgrowers Advocate, 7 March, 1900, http://trove.nla.gov.au/ndp/del/article/85825229