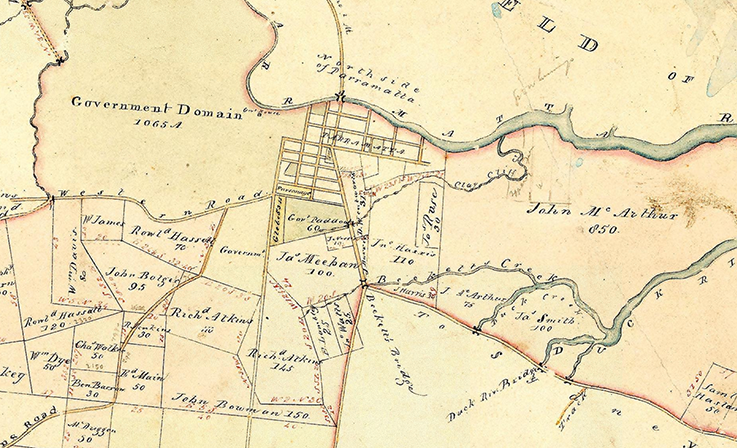 Have you ever wanted to find out the history of a building or a particular property and wondered where to begin? What follows is a useful guide prepared by the Parramatta Heritage Centre may get you started on your journey.
Whether you are researching a family property or interested in the history of a particular place, this guide describes the process of land title research using the resources of New South Wales Land and Property Information as well as explaining key terms and events in the history of land acquisition in NSW.
The first system of land ownership used in the colony of New South Wales depended on the creation of a new deed for each transfer of title. These documents had to be kept together and passed on to the next purchaser in order to prove ownership. Documents were often lost and this cumbersome system was replaced by Torrens Title introduced into New South Wales in January 1863.
Originated in South Australia by Robert Torrens, the Torrens Title certificate shows the first holder and the subsequent transaction on the one piece of paper until the page was full or a new deed was issued due to subdivision. It was now much easier to prove the chain of ownership from one person to another.
It is a good idea to commence your research by finding out who has owned the property over the years either by beginning with the first owner and tracing forwards to the present day or, commencing with recent history and working backwards through time.
Sometimes the exact location of your family's property is not known. Several surname indexes are available online from NSW Land and Property Information which may allow you to pinpoint the particular property you wish to research.
Parish Maps and Crown Plans can also be very useful for family research. The Parish Map generally shows the first holder of a particular portion of land. Although this information doesn't change from one edition of the map to the next, the map is not static. It is annotated and changed until the map becomes so cluttered with notes that a new map is drawn up and the old one is put away. Roads may be added, Crown Land released for sale, land resumed by the government for different purposes etc.
Using a timeline of names and dates gathered from your land title research many other sources can be consulted such as government archives, local history collections and historical societies. The collections of the Parramatta Heritage Centre include maps and plans, photographs, rate and rate assessment books, cemetery transcripts, newspapers and local and family history material. Click Here to see the full Library Guide.

Cathy McHardy, research Assistant, Parramatta City Council heritage centre, 2016
Images:
Excerpt from Parish of St John County of Cumberland Parish Map (no date), (source NSW Land & Property Information)
Harris Park Subdivision Sales Plan 1882 (source National Library of Australia map LFSP1026-e)