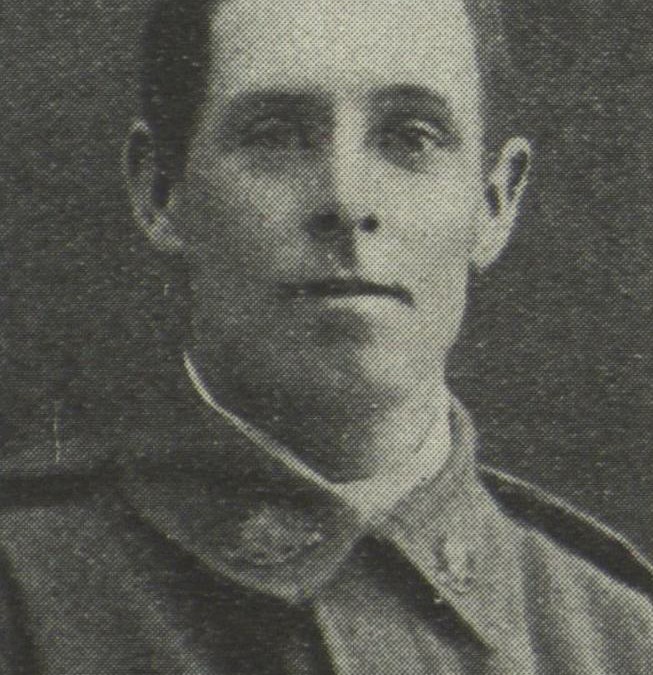 4578 Private Walter Potter, copy from Parramatta Soldiers, Cumberland Argus, 1920
Walter Arthur Potter (service no. 4578) was born in 1885 in Bathurst, New South Wales (NSW). and was the son of Mr Benjamin George and Mrs Rachel Potter, of "Benray," Good Street, Granville. He and his adopted brother George Mathew Lukeen (sevice no 4537), enlisted 16 August 1915 at Holsworthy with the 13 Infantry Battalion but later was transferred to the 54 Battalion. Prior to enlistment he was a carpenter and raised a member of the Church of England.
On 12 August 1916, it was reported in the Cumberland Argus and Fruitgrowers Advocate (p.4) that Walter was killed in action in Palestine on either the 19 or 20 July 1916 and his brother George was missing:
PRIV. WALTER ARTHUR POTTER, son of Mr. and Mrs. B. G. Potter, of 'Benray,' Good-street, Granville, killed in action July 19 or 20, 1916, supposedly in recent fighting with the Turks on Sinai Peninsula. Private Walter Arthur Potter was 32 years' of age. His father was formerly stationmaster at Woy Woy, and more recently at Harris Park, which position he resigned on account of ill-health. The deceased soldier enlisted in August, 1915, and went into camp at Liverpool, being attached to the 14th Reinforcements, 13th Battalion, 4th Brigade.

He was in camp with his adopted brother, Private George Lukeen (who also sailed with him) when the big riot broke out at Liverpool Camp, and because they would not join in with the rioters they were both threatened that they would be "done for." They were to have sailed that day, but it was not till two days afterwards that the contingent was taken quietly to the transport and sent silently and quietly away to do their bit to uphold the flag which still protects those rioting rotters.

In subsequent letters both expressed their keen grief at having to leave without the usual parade and public farewell demonstrations. Private Potter duly arrived in Egypt, and was there transferred to the 54th Battalion, 14th Brigade. After a stay of 10 days in Cairo, his battalion was ordered to the desert, whence he wrote his letter home on June 10. Rev. A. E. J. Ross conveyed the sad and suddenly tragic news of his death in action to his parents on Monday night, per medium of a telegram received from Colonel Luscombe at Victoria Barracks, Sydney.

No particulars were given, so it is presumed that Private Potter met his death in the recent lighting against the Turks on the Sinai Peninsula. The date of death was given as " between the 19th and 20th July." No news has been received recently of Private Lukeen. The late Private Potter, though a carpenter (he having worked on numerous buildings in this and other suburbs) was never a robust man, and friends of the family have repeatedly expressed their surprise at his success in passing the tests. Early in life he fractured his right arm, and the bone was never straight afterwards, with the result that he always carried the limb in almost the same position as it is shown in the photo, resting on the chair. After entering camp he contracted laryngitis, and was for three months under specialists.

Soon after his recovery he was sent away. He is described by his acquaintances as having been a most upright man, a very straight goer, and a genial and popular companion. He was a single man.[1]
Two years later, on 12 August 1918 came the good news that Walter was actually alive but was a prisoner of war in Germany. [2]
Group of Australian Prisoners in Germany. 
The first prisoner sitting on the left is Private Walter Arthur Potter, oldest son of Mr and Mrs Benjamin George Potter, of 'Benray,' Good-street, Granville. He was taken prisoner on 20th July, 1911, and at first was reported killed in action. He was eventually repatriated to London, England, where he landed on 14th April last. The third prisoner on the left, in the back row, is 'Wid' Brown, whose people reside in Wigram-street, Harris Park. [3]
After the war, Walter was repatriated to England before returning home and a quick check on the New South Wales Registry of Births, Deaths and Marriages website reveals Private Walter Arthur Potter died in 1945 in Sutherland, NSW. He was 60 years old.[4]

Anne Tsang, Research Assistant, Parramatta City Council Heritage Centre, 2014
[4] NSW Government. 
Registry of Births, Deaths and Marriages
. Birth registration number of Potter, Walter Arthur (12826/1945). Retrieved from 
www.bdm.nsw.gov.au