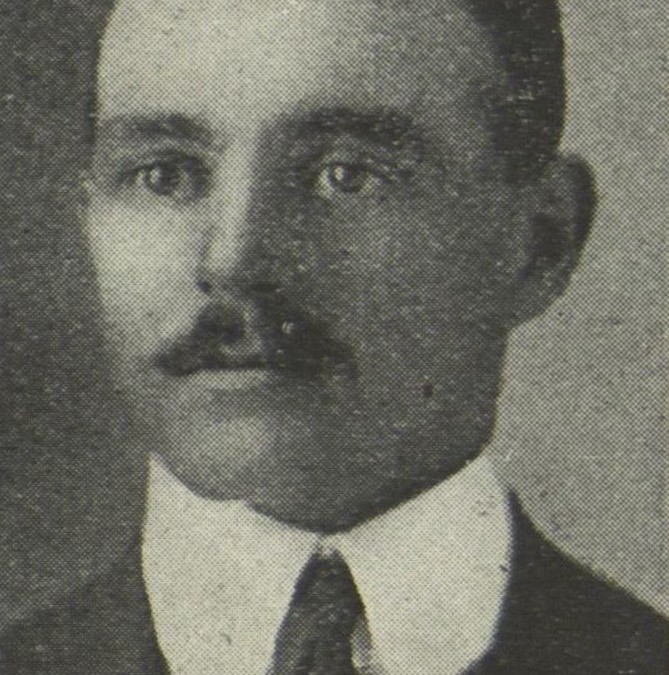 Samuel Jude, copy from Parramatta Soldiers, Cumberland Argus, 1920 
Samuel Jude was an English lad who found love in Australia and moved from his native home in Cambridgeshire, England, to marry local girl Adeitha Beatrice Hare (4/12/1889 – 24/10/1911). She was the daughter of John George and Martha Alice (nee Tame) Hare and they married on 14 December 1910.[1] Unfortunately, not long after the birth of their first born son Samuel John Jude (b. 1911 in Granville) Adeitha died [2], leaving Jude a widower.[3]
On 19 August 1915, at Holsworthy, New South Wales, Jude enlisted in the 18th Battalion (service number 2866). On 2 November 1915 he boarded the HMAT Euripides A14 in Sydney. He was at this time a 28 year old labourer and a member of the Church of England residing at Rawson-road, Fairfield. When he left, little Samuel was placed in the care of his in-laws at Orchardleigh-road, Old Guildford.
Sadly on the 20 July 1916, Private Jude died of wounds in Brook War Hospital, England. His wounds were the result of 'carrying out specially dangerous work for which volunteers were called by his superior officer' in France on 14 May 1916. He left behind a five-years-old orphan son[4] and is buried at Wisbech, Municipal Borough, in the United Kingdom.[5]Below is an extract published in the Cumberland Argus and Fruitgrowers Advocate detailing the tragic death of a brave soldier and the little boy left behind…
" What German Killed My Father?". THE GUILDFORD HERO.
This was the question asked by the five years-old orphan son of a brave soldier, Private Samuel Jude, of Old Guildford, when his grandmother told him last week that his father had died in England as the result of wounds received in France. Private Jude was as fine as man in the flesh as he looks in the picture, he was 28 years of age, and before the war broke out had been working for about six years along the pipeline at Guildford, and was a very popular man with his work-mates and all with whom he came into contact. 
He was an Englishman and was married about six years ago, by Rev. A. E. J. Ross, in Christ Church, Old Guildford, to Miss Adeitha Hare, daughter or Mr. and Mrs. J. G. Hare, of Orchardleigh-road, Old Guildford. 
They resided for some time at Bolton-street, Granville, where Mrs. Jude died when her first child (the one who asked the above significant question) was but five days old. The bereaved husband then took his child to the latter's grandmother's home, where they resided until September of last year, when the father enlisted. He sailed on November 2 with the 5th Reinforcements of the 18th Battalion, 5th Brigade, for Egypt and was very soon afterwards transferred to France. He was there wounded, on May 11, whilst carrying out some heroic mission for which his superior officer called for volunteers, and he was one of the braves who answered that call. He received a gunshot wound in the face, and was taken to the Brook War Hospital at Woolwich, England, where he arrived on May 30. 
Ever since that time various messages have come through as to his condition be being reported sometimes as progressing favorably, at others as seriously, and still at others as critically ill. But at last the poor, brave fellow, whose wounds must have been of an awful nature, surrendered to the Great God of Battles, and Mrs. Hare received a message from Victoria Barracks stating that Private Jude had succumbed to his wounds on July 20. A cable message, dated, August 1, however, stated that death had occurred on July 20. The unfortunate hero could not, of course, write during all this time, but a few particulars of his wounds were received by Mrs. Hare in a letter written by Private Jude's sister in England, and dated June 25. 
This stated that they had been to see him in hospital and that the hero would not be able to write for some time. "He is getting up a little in the day-time now. One of his poor eyes is very bad. They are trying hard to get it well but are afraid they will have to take it out. He can now begin to feed himself. He has no roof to his mouth. He has got to have an artificial one put in, also an artificial jaw. He will be a patched-up poor boy. He says he would, not mind getting back home." The now dead soldier sent New Year's greetings, to his little son when in Egypt on a post-card taken with some mates at the Pyramids.
[6]

Anne Tsang, Research Assistant, Parramatta City Council Heritage Centre, 2014
References
Priv. Samuel Jude. (1916, August 12). Cumberland Argus and Fruitgrowers Advocate, p.4 Retrieved from http://nla.gov.au/nla.news-page8963599
[1] Family Search
[2] BDM – NSW
[3] (1911, October 25)Sydney Morning Herald, p.17. Retrieved from http://nla.gov.au/nla.news-page1295834; CA 04/11/1911 p.5 http://nla.gov.au/nla.news-article85993099
[4] LETTER FROM HIS CAPTAIN. (1916, August 12). Cumberland Argus and Fruitgrowers Advocate, p.4 Retrieved from http://nla.gov.au/nla.news-article86075240
[5] Australian War Memorial
[6] " What German Killed My Father?": The Guildford hero. (1916, August 12). Cumberland Argus and Fruitgrowers Advocate, p.4 Retrieved from http://nla.gov.au/nla.news-article86075246