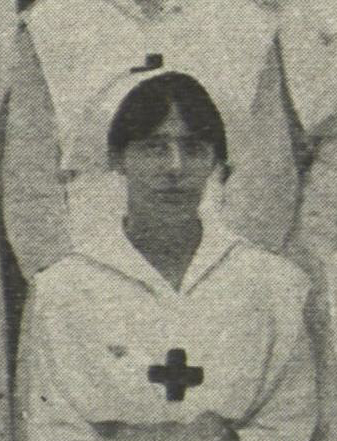 Miss Dulce Davies Little, who lived at Alice Street Harris Park, Sydney, was born in Parramatta on the 11 April 1894 to Thomas and Mary Little. Her baptism was registered at Saint John's Church, Parramatta, on the 21 April 1894.[i]

Miss Little became the Commandant of the Voluntary Aid Detachment (which was the second detachment formed in New South Wales). It was an organisation which helped with cooking, sewing, mending and fund raising for invalid soldiers. Many Voluntary Aid Detachments worked in hospitals, hospital ships and blood banks. They received first aid and home nursing training from Saint John Ambulance Association but many of their primary duties were unskilled work such as domestic duties and washing patients.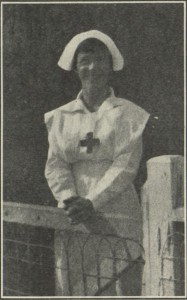 Miss Dulce Little, copy from Parramatta Soldiers, Cumberland Argus, 1920
On the 12 April 1919, Miss Little wrote a letter to the editor of The Cumberland Argus and Fruitgrowers Advocate, defending the work of the Parramatta Voluntary Aid Detachment workers. The accusation was that not enough work had been done to help influenza patients in Granville during the epidemic after the war. She responds in her letter by explaining that her staff was already overwhelmed by the work required in Parramatta and in their own homes:
I, as commandant, was asked indirectly to undertake 'flu work in Granville'. My reply was that owing to, having so many girls on duty this month, and already having been requisitioned for the Red Cross Hospital, as well as for Parramatta, that as a body I could not undertake any duties in Granville for the detachment, but if any aids are residing in Granville (there are three, two of whom are business girls) would do anything locally they could do it, unless required at Parramatta. Though we fully realise the need for assistance during this epidemic, they must also remember that our first duty lies with the Red Cross, of whom we are one section, and that our ordinary work has to go on just the same, and this month more Parramatta girls are on duty, that is monthly or longer, than on any previous occasion in its history …Then several girls' have influenza in their own homes, and a very large per cent are business girls, and as much as we would like to help wherever, required, we cannot be in two places at once.[ii]
In May of that year Miss Little fell ill to the flu whilst caring for patients at the Dame Eadith Walker Hospital, in Concord West, Sydney. Her work was commented on by Miss Gladys Owen, joint honorary secretary of the Red Cross:
On behalf of the Red Cross executive I am instructed to thank you very much indeed for your splendid voluntary services at the Walker Hospital during the time it was used as an influenza hospital. The wonderful services of the V.A.'s [Voluntary Aid Detachments] undoubtedly contributed to the success of the hospital, and we wish to thank all those who volunteered for the work and carried it out so efficiently.[iii]
On the 17 November 1923 Miss Little married Arthur Raeburn Sharp, an engineer, at Saint John's Church, Parramatta, and this was reported in The Cumberland Argus and Fruitgrowers Advocate.[iv]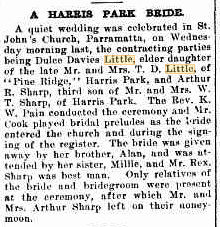 Dulce Davies Sharp died on the 23 June 1982 at the age of 88. She was living at the time in the Northern Beaches, Sydney.

Caroline Finlay, Research Facilitator Regional Studies, City of Parramatta, Parramatta Heritage Centre, 2016
References:
Ancestry.com.New South Wales, Australia, St. John's Parramatta, Baptisms, 1790-1916 [database on-line]. Provo, UT, USA: Ancestry.com Operations, Inc., 2015.
Defending the V.A.D's. (1919, April 12) The Cumberland Argus and Fruitgrowers Advocate (Parramatta, NSW : 1888 – 1950), 12  http://nla.gov.au/nla.news-article86118664
More appreciation. (1919, May 31) The Cumberland Argus and Fruitgrowers Advocate (Parramatta, NSW : 1888 – 1950), p. 6. http://nla.gov.au/nla.news-article86113200
A Harris Park Bride. (1923, November 17) The Cumberland Argus and Fruitgrowers Advocate (Parramatta, NSW : 1888 – 1950), 14. http://nla.gov.au/nla.news-article105922699