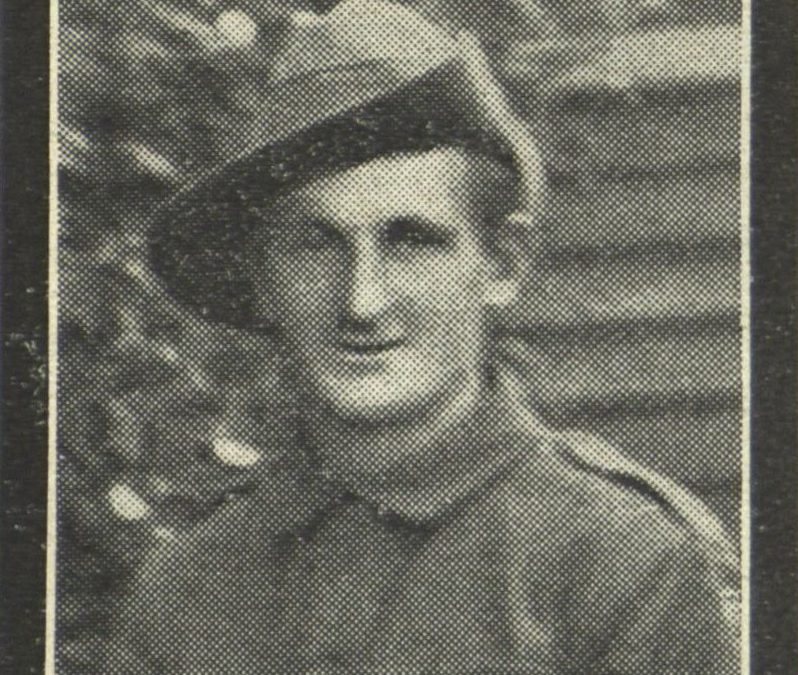 Private Francis Bede Kennedy, copy from Parramatta Soldiers, Cumberland Argus, 1920
Francis Bede Kennedy or 'Ken' to his friends enlisted on 16 November 1917 at Parramatta. He was 27 years old bachelor when he joined the Australian Forces. His service number was 7772. Prior to enlisting he had previously been granted an exemption by the Parramatta Military Exemption Court on Wednesday 25 October 1916. He had also been working as a labourer at Messrs. J. Granger and Sons for the past 4 years earlier [1].
Kennedy was born in 1889 in Bombala, New South Wales, the only son to Francis Kennedy and Mary (nee Brownlie) and the younger brother of Mrs. Mary Frances Algie. The Kennedy family later moved to North Parramatta where they resided at 'Maharatta House', 414 Church Street, North Parramatta. The young Kennedys' were educated at Parramatta North School and raised in the Roman Catholic faith. According to the Cumberland Argus (9 November 1918, page 10), Kennedy was a "promising cyclist, having won the district championship 1917 and numerous road events"[2].
On 28 February 1918 he embarked at Melbourne on board HMAT Nestor A72 as part of the 26 Reinforcements for the 4 Infantry Battalion. He disembarked at Liverpool, England on 20 April 1918, and was transferred to the 45 Infantry Battalion on 5 June 1918. On 10 July 1918, he arrived in France from Folkstone and the next day he was transferred to 35 Infantry Battalion. On the 13 July he marched into Rouelles for active service. On 22 August 1918, he received a sever gunshot wound to the chest and was taken to the 1 Australian General Hospital in Rouen dangerously ill. After 8 months of active service, he died of his wounds on 12 October 1918 and was buried at Saint Sever Cemetery, Rouen, France. His mother, Mrs Mary Kennedy, wrote upon receiving his Memorial Scroll
"It is nice to know my dear boy is not forgotten, thank you kindly, his mother".
He was only 29 years old.

Noela Vranic, Volunteer Research Assistant, City of Parramatta, Parramatta Heritage Centre, 2016
References
The Young Men who Don't Go Forth to war. (1916, October 28). The Cumberland Argus and Fruitgrowers Advocate (Parramatta, NSW : 1888 – 1950), p. 11.
Private Frank Kennedy. (1918, November 9). The Cumberland Argus and Fruitgrowers Advocate, p. 10.