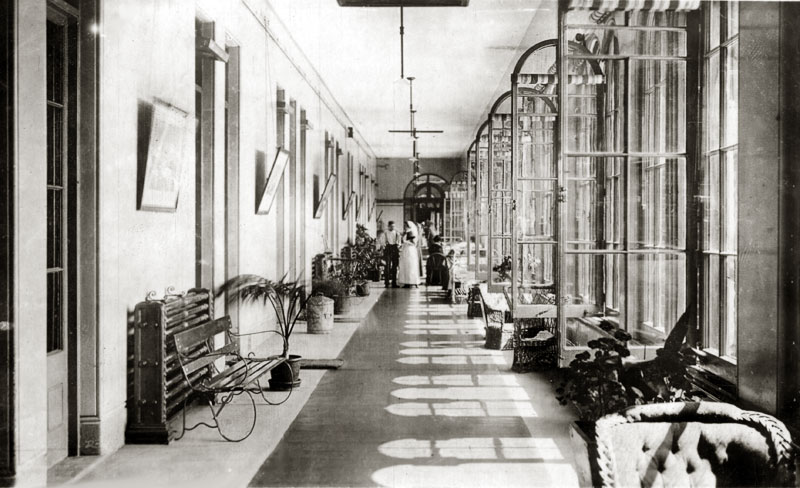 Netley Hospital, c. 1915, http://www.lymington.org/historypic2/822.html
Corporal Gilbert Anschau, whose father was Postmaster at Parramatta gives the following account of the amazing work done by Australian women to support ANZAC troops in London.  After contracting 'enteric' fever Gilbert was moved to a hospital at Malta and from there to a hospital at Southampton and eventually he was shipped back to Sydney in 1916 where he told the following story to the Sunday Times.
The first little incident which made him realise later the tremendous part Australian women were playing occurred after he had come in from a walk in the grounds of Netley Hospital, Southampton. This was when Mrs. Chirnside, paying her usual Sunday visit to Australians in the hospital brought with her a number of Australian women. According to Anschau; 
It was so good to see a bright, cheerful Australian woman, and, somehow, Australia did not seem so far away after all. A stir was made towards the motor-car, and from it baskets of cake and sandwiches, etc., were brought to light, and off we walked to the Y.M.C.A. hut to have our tea. After accepting an invitation for a day's outing, 20 of us just lived till the following Tuesday.
On that day a drag called for us, and the party, consisting of not less than 20, were taken for a delightful drive into Southampton to Mrs. Chirnside's home, where the talk and laughter of really happy Australians seemed to make the time pass all too quickly. Before leaving we all inspected the tall, thin gum tree, the pride of the home, and each was given a leaf, which was crumpled and sweet, and quickly our thoughts went back to the dear old Australian bush. And, putting our crumpled gum leaves away, we were quiet as we arranged ourselves again in the car. But tne drive through the long avenue of trees, whose leaves had turned a deep yellow, tinted with red, soon brought the laughter and talk back again.
After dinner — and the dinner was a real Australian one, having been carefully thought out and ordered some days before — we were taken to the pictures. All too soon the time came for us to return to hospital, for the order was rigidly enforced to be back at 5.30. So,bidding good-bye, we sang and whistled as we drove back, feeling deeply thankful and grateful to one Australian woman who had let a ray of sunshine into our monotonous, and, to some of us, weary life in hospital. Even the clank of the gate closing in failed to take from us the feeling that this, indeed, had been an Australian day. And Mrs. Chirnside is doing this every week — Sunday at the hospital cheering the boys up, and on Tuesday taking out a party of them for a drive and dinner. Every one of us Australians who have been to Netley Hospital wish we could make Mrs. Chirnside and the Captain understand how much we appreciate it all. We think they have more than done 'their bit' by girding us with fresh hopes and vigor more than ever to do our best to uphold the love and loyalty of our own Australian folk.
And in London. But London is an Immense place, and there are Australians everywhere helping the Australian boys. But I shall tell you of "Anzac Buffet", Horseferry Road, Westminster, the Mecca of Australian soldiers in London. I cannot describe the kind of feeling which takes possession of us, and instinctively makes us set our feet towards the Anzac Buffet, and there sit and be with our own folk again. The Buffet is so cheerful and bright, the girls — every one Australian-born — are so jolly and pleased to do anything, that it is one of the greatest pleasures in London for us to get round to the Buffet, and be once more in Australia.
I could almost imagine being in Sydney again, when going into the Buffet, to find Mrs. Phipps and her sister, Miss Johnson, – there, and Mrs. Hughes, Miss Manning, and Mrs. Sinclair Ross, Miss Everett, and Miss Allen, a Quecnslander. But there are 300 of them, so it's impossible to name them all. They all work so hard, and are so cheerful about it, that the boys are always there. There are many English girls, I am told, who would like to help in the Buffet but it is only Australian-born who help the Anzac to his coffee.
Another Australian who has done much is Miss May Baxter, a former matron of the Tamworth Hospital, and now in charge of the Coulter Hospital, Grosvenor Square. In France, at the College of Juilly, transformed into a Military Hospital, will be found Miss Perry Handley, another Australian, who is one of the directing factors helping in the American Military Hospital for French and English soldiers, and now for our own boys in France. Miss Handley, it will be remembered, was in one of our big Sydney hospitals. She cannot do too much for the wounded and sick under her care.
Sir George Reid, too, has, indeed been a father to the Australian soldier, and too much cannot be said or written of the assistance he has given and the manner in which he has made easy the ways for them. Of course, with Sir George Reid must be associated Lady Reid. So, when, the cheers are being raised, let a loud noise be made to reach the ears of those in England, who, though far away from Australia, are deserving of our best praise and gratitude for all they have done for us Australian soldiers.
Sunday Times (Sydney, NSW : 1895 – 1930), Sunday 8 October 1916, p. 26