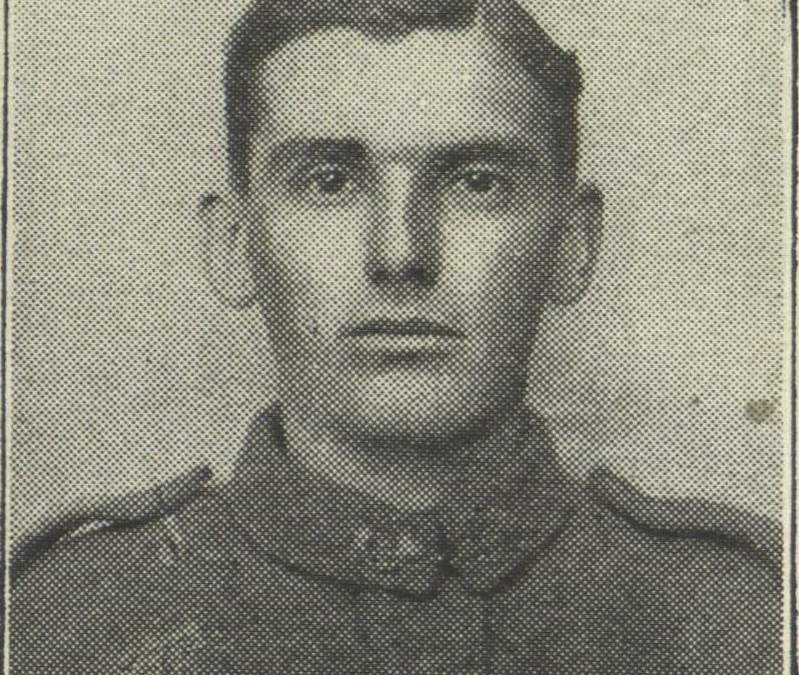 7488 Private Walter Leslie Halligan, copy from Parramatta Soldiers, Cumberland Argus, 1920
Walter Leslie Halligan was 23 years old when he joined the Australian Infantry Force (A.I.F.) 5 Infantry Battalion, 25 Reinforcements on Monday 6 November 1916, at the Royal Showgrounds in Sydney.
Born in 1893 in Bathurst, New South Wales (NSW), he was the son of Arthur Clifton and Louisa M. Halligan and belonged to the Church of England. While working as a dairyman and residing at Waratah Street, Granville, Sydney he decided to join and at the time he had already completed 3 weeks training with the Citizen Military Forces (C.M.F.).
His Unit embarked from Melbourne, Victoria, on board HMAT A32 Themistocles on 4 August 1917 and landed in Glasgow, England on 2 October 1917.
During his time on the front he suffered from influenza, concussion, shell shock (or as recorded in his papers 'NYDN', that is 'Not Yet Diagnosed Nervous'), and by the 12 October 1918 had been wounded twice through being gassed [1]. Taken on strength, he was transferred to the 5 Battalion in  February 1918 and by 15 March 1919 was promoted to Lance Corporal.
Medically discharged, he returned to Australia 22 August 1919. Upon his return he worked at Beecroft, NSW and was involved in an assault and robbery in Parramatta Park in 1920 after 'keeping with some bad company and having one too many drinks'[2].
By late 1921, he married Ruby I. King in Granville and settled in Willoughby Street, Carlingford. Tragedy struck when his little 5 year old son Walter Clifton passed away from diphtheria at the residence of his grandmother at Alfred Street, Granville on Monday 6 December 1926.
On Wednesday 8 November 1967, at the age of 74, Halligan suddenly passed away. At the time he was a resident of Merrylands and was survived by his dear wife Ruby, children Veneta and Malcolm, 3 grandchildren and a great-grandchild[3].

Anne Tsang, Research Assistant, Parramatta City Council Heritage Centre, 2015
References