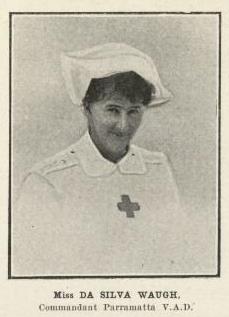 I have always been so enthusiastic about the Red Cross training for girls; for not only do
they learn such vitally important subjects as first aid and home nursing; but their training includes a certain amount of discipline.
The Sydney Morning Herald, 23 August 1937, p.3.
Commandant Julian Da Silva Waugh was born in Balmain in 1880 to John and Julian Waugh. Her father was Mayor of Parramatta from 1909-1910. As Mayoress Mrs Julian Waugh organised the embroidering of the flag presented to the Captain of the HMAS Parramatta when it arrived on the Parramatta River in 1911.
Miss Julian da Silva Waugh was one of the best known Red Cross workers who rose to the position of Commandant of Voluntary Aid Detachments in NSW. The VAD was an organisation which helped with cooking, sewing, mending and fund raising for invalid soldiers. Many VADS worked in hospitals, hospital ships and blood banks. They received first aid and home nursing training from St. John Ambulance Association but many of their primary duties were unskilled work such as domestic duties and washing patients.
Miss Da Silva Waugh joined the Red Cross Voluntary Aid Detachment in 1915 in Parramatta and worked and was a voluntary cook at the Red Cross home The Mills at Moss Vale.  Miss De Silva Waugh was appointed Commandant of the Parramatta Branch in 1916. She was in this position for two years before she was sent to Egypt. Some of her experiences a related here:
She was in Egypt for two years. After returning home she took up her position and in 1937 becoming.  Senior Commandant of the New South Wales Voluntary Aid Detachment. She continued her work for and support of the Red Cross during the Second World War and as a service that she saw to be very important for girls to be part of. Miss Da Silva Waugh spent a great deal of time travelling New South Wales giving talks to girls who wished to join the Red Cross, telling them many details of life as a member of the Detachment at home and abroad.
"There are lots of things girls can do in detachments. Quite apart from first aid and home nursing, there are all sorts of odd jobs. The training is a tremendous asset to you, even in your own home" (1918)
"Miss Waugh: Sister Relf has asked if there is anything else I can tell you. I just want you girls to realize that in the event of any hostilities arising here you may get a message at any time to do all manner of things. For instance, get beds, ready – say, 200 or 300- and it is your job to do it. ….you might be called upon to take over a school or a show ground and covert it into a hospital. Various people in the country during the last war offered their homes The Mill at Moss Vale, was offered, .the girls set to work and cleaned it out, collected beds, chairs and linen from all over the countryside, and in no time it was ready for occupation by twenty men and a staff. Such things as these you may be call upon to do." (1940)
She died on the 5 Dec 1942 after a short illness. Her funeral was held at St Thomas's church in North Sydney. Miss Da Silva Waugh is buried in Rookwood Cemetery.
References
Cooking in Cairo. (1919, September 10). The Cumberland Argus and Fruitgrowers Advocate (Parramatta, NSW : 1888 – 1950), p.2. http://nla.gov.au/nla.news-article86113361
WAR WORKER FOR EGYPT (1918, May 5). The Sun (Sydney, NSW : 1910 – 1954),  p. 5. http://nla.gov.au/nla.news-article221941280
Miss da Silva Waugh (1941, November 5). The Macleay Chronicle (Kempsey, NSW : 1899 – 1952), , p. 6. http://nla.gov.au/nla.news-article173025454
FOR WOMEN (1937, August 23). The Sydney Morning Herald (NSW : 1842 – 1954), , p. 3. http://nla.gov.au/nla.news-article17373427
Scone VAD Miss Waughs Addresses: SCONE V.A.D. (1940, April 30). The Scone Advocate (NSW : 1887 – 1954), p. 2.http://nla.gov.au/nla.news-page17229961
V.A.D., SCONE (1940, May 3). The Scone Advocate (NSW : 1887 – 1954), p. 3. http://nla.gov.au/nla.news-article158981853
MISS DA SILVA WAUGH (1942, December 9). Daily Advertiser (Wagga Wagga, NSW : 1911 – 1954), p. 2. http://nla.gov.au/nla.news-article144201605

Emma Stockburn, Research Facilitator, Parramatta Heritage Centre, City of Parramatta, 2016.