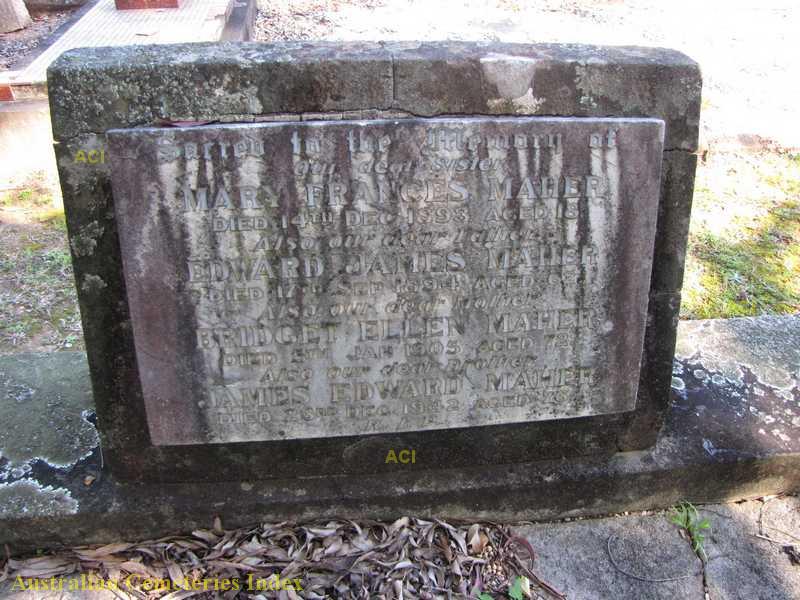 The North Rocks Catholic Cemetery was established through the generosity of orchardist Edward James Maher. Born in the colony in 1830, Maher was the son of Mary Allen and James Maher. He married Brigid Ellen Porter of Turramurra in 1851 and the couple produced a large family of fourteen children. Initially Maher and his wife ran a small hotel in Church Street Parramatta. Maher became a prosperous landholder in the Pennant Hills district owning a portion of the Mount Wilberforce estate formerly the property of Samuel Marsden. He later acquired Hollister's Farm of 32 acres at North Rocks from William Mobbs where he established a bountiful orchard. The tragic accidental death in 1888 of Edward's granddaughter Eva Maud, daughter of his son Richard James and his wife Julia, prompted Maher to donate four acres of land of his North Rocks estate to the Catholic Church for the establishment of a cemetery.
An early burial was also that that of Maher's sister Mary Frances who dies as a result of accidental burns and was buried in December 1893 aged 18 years. Since establishment over thirty members of the Maher family have been buried in this cemetery including Edward who died in September 1894 at his home Mount Wilberforce, Pennant Hills aged 63 years and his wife Brigid Ellen in January 1905 aged 72 years.
For many years a portion of the cemetery was also the final resting place of patients from NSW government hospitals including Lidcombe, Newington and Rydalmere Asylum. Persons who were subject to the provisions of the Master in Lunacy of NSW whose jurisdiction included the general care, protection, management or supervision of the assets and estates of all insane persons and patients in NSW were also interred there.
Another section of the cemetery is devoted to the burial of nuns from the Catholic order of the Sisters of Mercy who founded their Parramatta convent in 1888. The order established many primary and secondary schools in the district. Sister Martha Mary Hunt was the first of over 200 now buried on the site. Nuns from the Benedictine order are also buried within this cemetery.
A notable burial was that of Catholic priest and prolific author Father Patrick Joseph Hartigan who was born to Irish Catholic parents in 1878 at Yass, NSW. Hartigan produced a body of work including historical research, poetry and prose written with humour and pathos about the daily lives of everyday citizens in the bush. The Australian classic 'Around the Boree Log and other verses' was published in 1921 under the pseudonym 'John O'Brien'. Hartigan died in 1952 and was buried beside his parents.
Parma Place situated on the eastern side of the cemetery was named after a town in northern Italy and was given as a public roadway by members of the Delfino family.
North Rocks Catholic Cemetery contains nearly 3,000 marked graves and is one of a number of cemeteries administered by the Catholic Cemeteries Board, on behalf of the Catholic Archdiocese of Sydney.
References:
Cumberland Argus and Fruitgrowers Advocate 3 March 1888 p 6
Carlingford Connections, Alex McAndrew (2002), p 306, Local History Library LS 994.41 MACA
http://www.bchg.org.au/index.php/en/people/individuals/l-r/77-james-maher
http://adb.anu.edu.au/biography/hartigan-patrick-joseph-6593
http://www.stagatha.org.au/7802250/st-agathas-catholic-parish-parish-history.htm
http://www.parramattamercy.org.au/about/our-parramatta-story
http://www.catholiccemeteries.com.au/cemeteries/north-rocks/

Cathy McHardy, Research Assistant, Parramatta Heritage Centre, City of Parramatta, 2016