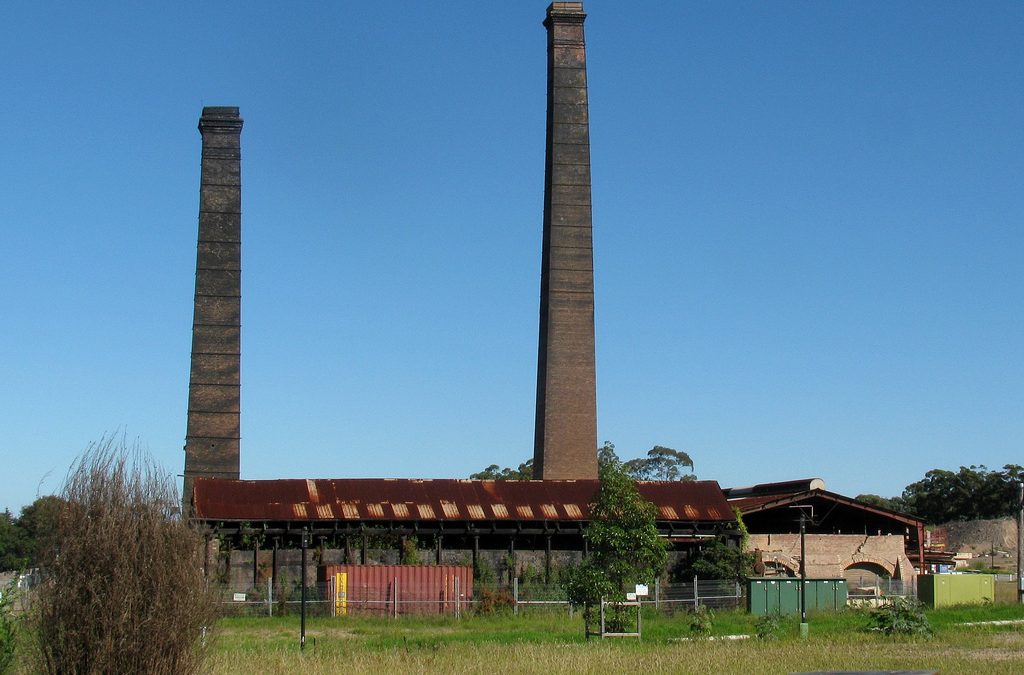 The Great Northern Brick Company Limited was registered on 1 March 1912 with a capital of £10,000 in £1 shares of which 4,500 were issued fully paid-up to Herbert S Leary and George H S Holliday to enable the acquisition of the land at Eastwood in order to commence manufacture of bricks, pottery and other building materials.
In November 1912 the Cumberland Argus and Fruitgrowers Advocate announced that the company had established a large brickworks at Eastwood and that they could now deliver all kinds of bricks. Equipment at the works included two large grinding pans in which the shale and clay were ground to fine powder and three steam-driven dry press brick machines. Power was generated by a 250 h.p. water tube boiler and a 200 h.p. Marshall cross-compound engine.  There were two kilns working with a total capacity of 600,000 bricks. The new patent kiln was the second biggest in Australia and took 900,000 bricks for its construction. The article also noted that the big 160 ft chimneystack required 190,000 bricks for its construction.
The area of the site which was once part of James Dunlop's grant, comprised 35 acres (14.7 ha) bordered by Midson Road which at that time was part of Blaxland Road. The material from which the bricks were made was 90% shale and 10% clay, which was all quarried onsite. When it closed Eastwood was the last brickworks still mining Wianamatta shale clays.
The brickworks supplied most of the bricks for the local area, being in continual production except for three years during the economic depression of 1932-1935. Some advertisements for new cottages specified the use of Eastwood bricks in the construction. In later years the brickworks were acquired by Brickworks Limited. In 2001 the company also purchased Bowral Bricks which enabled the closure of the last of its dry press brick plants in Sydney at Eastwood. Then in 2001 the site was sold to Clarendon Homes for $32m.
A new type of consolidated housing has been built on the brickworks site. A landmark within the development are the two tall chimney stacks remaining from the brickworks which have been retained within the community open space  known as  Cavanstone Park . Cavan Drive commemorates the name of the home of W A H Allworth, who was first manager of the brickworks.
References
McClymont, Beverley Sydney Journal December 2011 pp 87 http://epress.lib.uts.edu.au/journals/index.php/sydney_journal/article/viewFile/2391/2590
http://www.environment.nsw.gov.au/heritageapp/ViewHeritageItemDetails.aspx?ID=2240395
Draft master plan assessment: Eastwood Brickworks site 37 Midson Road Eastwood (2002), Local History Library LS 711.409944 DRAF
Eastwood-Marsfield: Partners in history (2009), McAndrew, Alex. Local History Library LS 994.41MCAN
Evening News 4 March 1912 p 3 http://trove.nla.gov.au/newspaper/article/113813887
Cumberland Argus and Fruitgrowers Advocate, 9 November 1912 p 6 http://trove.nla.gov.au/newspaper/article/86141895
Brickworks Limited http://www.brickworks.com.au/irm/content/history-overview.aspx

Cathy McHardy, Research Assistant, Parramatta Heritage Centre, City of Parramatta 2016