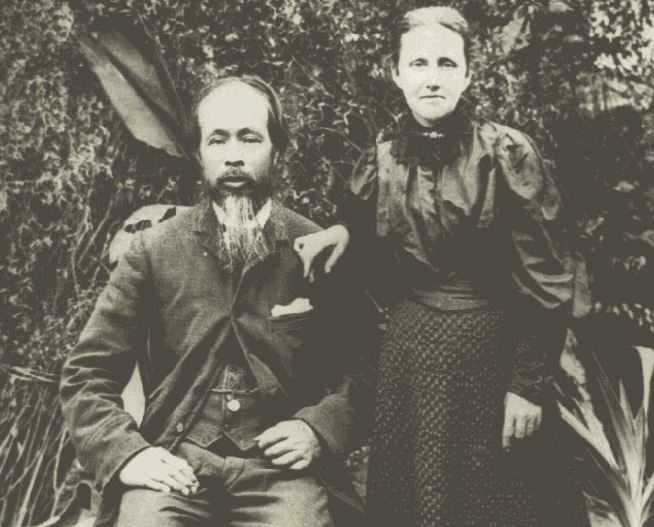 Born in Canton, China in 1843, George (Guoc) Ah Poo also known as George Harper arrived in the colony of NSW before 1862. Ah Poo was one of the many Chinese immigrants who came to Australia seeking to make their fortune on the gold fields.  Following the anti-Chinese riots at Lambing Flat in 1861, the NSW government passed the Act to Regulate and Restrict the Immigration of Chinese (25 Vic No 3). All Chinese already in NSW were obligated to to apply for a certificate before 28 February 1862 which exempted them from paying a fee of £10 leveed on any future arrivals. Ah Poo's certificate places him on the Tambaroora  diggings (Hill End) at this time.
After failing to find payable gold he first settled Braidwood  where he appeared before the Quarter Sessions charged with unlawfully wounding A Ti at Araluen and was sentenced to 12 months imprisonment in Braidwood Gaol. Perhaps attracted once again by the lure of gold, Ah Poo then settled in the Shoalhaven district. By 1876 he was employed as a farm labourer on the estate of Alexander Berry at Nambaa, west of Nowra on the Shoalhaven River.
In 1876 he married Emma Ann Lowe daughter of John Lowe and Rebecca Ann Dawkins in Terara near Nowra NSW. The couple's first four children: Elizabeth (1877), Herbert William (1878), Lily May (1880), and Jesse Louisa (1882)  were all registered  in the Shoalhaven district. By 1882 the family lived in Lake Conjola, north of Milton. Perhaps Ah Poo was the Chinaman who harvested wild tobacco after whom the nearby island was named.
In February 1883 George Ah Poo aged 40 years received his Certificate of Naturalisation and became an Australian citizen. According to the act passed in 1849, naturalisation became possible after five years residency in NSW. One of the important benefits was the right to own land.  On his certificate Ah Poo claimed to have arrived in NSW aboard the Amazon in 1862, however no ship of that name arrived that year so perhaps his mode and date of arrival will never be known.
Soon after receiving his certificate the family moved to Parramatta where Emmeline Mary (1885), Clara (1888),  Alice (1890), Arthur (1893) and Maud (1894) were born. The family lived at Rocky Hall, the estate of James Pye located near Lake Parramatta where Ah Poo and his son Herbert worked as market gardeners and orchardists. In 1896 Emma Ah Poo signed a contract for the construction of a weatherboard cottage on the corner of Betts and Thomas Streets, Parramatta. The house was later named Turon, probably as a remider of Ah Poo's life on the goldfields of Hill End.
The Chinese shopkeepers and hawkers were sometimes the target of violence and robbery. John Maloney and Daniel Breen were convicted of assaulting George Ah Poo at Parramatta. The assailants were fined and  The magistrate commented on the frequency of similar attacks and would have preferred a custodial sentence be served for both offenders however he declined to do so as the complainant, Ah Poo would have to pay the court costs.
In January 1899, George and Emma's son Herbert William Ah Poo (known as Bertie) who resided in the family home in Thomas Street was praised for his strenuous efforts in trying to save the life of six years old Maurice James Bates. Hearing cries for help coming from Murray's Mills on Hunt's Creek, he ran to assist and after locating the boy jambed between two logs he was able to free his limp body and him back to the bank. Sadly, the boy could not be revived and the inquest held at Wood's Hotel, North Parramatta returned a verdict of 'accidental drowing'. Hertbert Ah Poo was also commended on his gallant efforts to save the boy. Bertie married Dorris Louisa Stevens in 1914.
Daughter, Lily May Ah Poo married Henry Fine-Chong at St John's Anglican Cathedral in Parramatta in June 1896. The family's status in the local community was exemplified by the presence of Venerable Archdeacon Gunther who presided over the ceremony. Interestingly the other children were married under the surname Harper.
George (Gwoc) Ah Poo died in April 1923 in Forest Lodge near Glebe NSW where he was residing at Lily Fine's shop owned by his daughter Lily May and son-in-law Henry Fine-Chong. He was buried as George Ah Poo (Harper) in the Anglican Section, Zone C Section 7 Grave 354 of Rookwood Necropolis. His wife Emma was buried beside him as Emma Ann Harper  in July 1931.
References:
From Canton with courage (2010), Jack Brook
A living history of Parramatta: A tapestry of life in the cradle city (1992), Rosslyn Blay, Soroptimist International of Parramatta
Parramatta Sun-26 March 2014 –'Parramatta's Chinese history explored'
http://www.parramattasun.com.au/story/2176787/parramattas-chinese-history-explored/
Chinese Heritage Association of Australia Inc – Celestial City Exhibition VIP Launch – Brad Powe Ah Poo
http://www.chineseheritage.org.au/news.html
http://www.chia.chinesemuseum.com.au/objects/D002680.htm
http://www.familytreecircles.com/ah-poo-from-canton-41025.html
http://www.ulladulla.info/some-chinese-families-from-milton-and-other-localities
Academic article: https://chl-old.anu.edu.au/publications/csds/csds2013/csds2013_11.pdf
http://www.illawarramercury.com.au/story/3493718/campaign-to-save-historic-chinamans-island-cottages/?cs=12
The Australian Star, 15 January 1899 p 3 – 'Gallant conduct of Ah Poo' http://trove.nla.gov.au/newspaper/article/228915855
The Cumberland Argus and Fruitgrowers Advocate, 7 January 1899 p 12, The drowning case at Murray's Mills: Bertie Ah Poo's pluck  http://trove.nla.gov.au/newspaper/article/85780721
Sydney Morning Herald, 31 December 1890 p 5, Police reports http://trove.nla.gov.au/newspaper/article/13798601

Cathy McHardy, Research Assistant, City of Parramatta, Parramatta Heritage Centre, 2017
Heather Pieremont
After reading this article.
I have been looking for my grandfather for years.
This is not my grandfather but it has helped me.
My grandfather name is William Ah Poo born 1875 he also was a market gardener and was naturalisation.