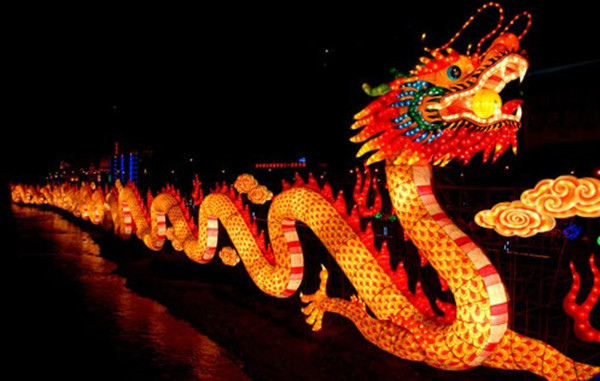 Centenary Square, Parramatta will be transformed by a dragon and lion procession, fireworks and more for Lunar New Year on the 3rd of February 2017.
Lunar, or Chinese, New Year has been celebrated in Australia since Chinese settlement. Chinese people for the most part first came to Australia during the Gold Rush in the 1850s and 1860s. About one-third of miners were Chinese.
Traditionally, Lunar New Year honours deities and ancestors, by way of a dinners, gift exchange, markets, fireworks and music.
The Chinese-Australian community is documented in print media as having honoured and praised publically Lunar New Year as early as the 1850s. The Sydney Morning Herald observed that "the Chinese New-Year Festival" was "a time when little business is generally transacted" in 1856, and again that "the Chinese new year was duly celebrated… by the Chinese shopkeepers of Sydney with ceremonies peculiar to themselves, winding up with an ample supper" in 1862.
By 1872, The Sydney Morning Herald was expositorier in its writings on Lunar New Year, perhaps evidencing sociocultural shifts. On the 23rd of January 1872 the News of the Day read:
Yesterday was the first day of the Chinese new year, and as usual the houses of the Chinese were thrown open for the purpose of dispensing hospitality to all comers. In the houses of the merchants and tradespeople tables were laid with fruit, preserves, biscuits, wines and spirits; and in those of the humbler class of Chinese there were dishes of sweetmeats and refreshments of other kinds for the benefit of all who made a call. The festival lasts about a week, the first day being devoted chiefly to an exchanging of visits amongst the Chinese themselves, the remainder of the time being allotted to the entertainment of European friends and acquaintances.
The article "The Chinese New Year" published on the 5th of February 1872 (and republished on the 8th of February 1872 in the Australian Town and Country Journal) is similarly descriptive.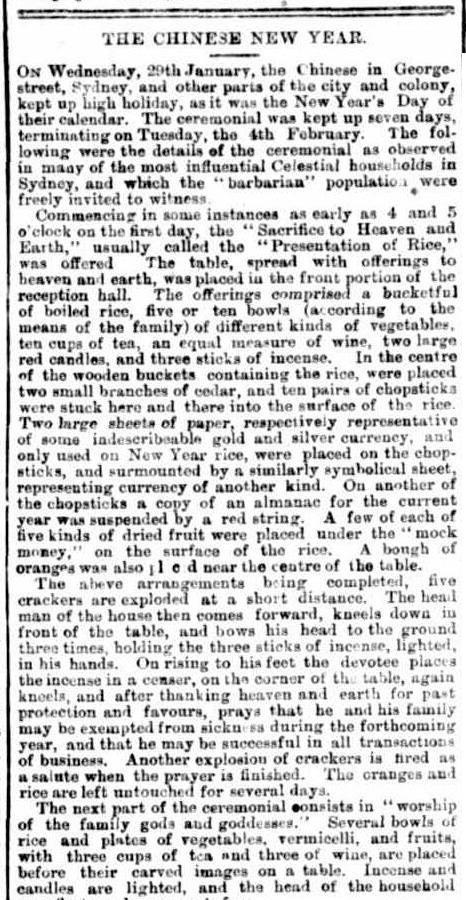 The Freeman's Journal's "Chinese New Year Festival in Sydney" (28th of Febuary 1874), prefigures cultural relativity. The article claims that the "reporter interviewed some of the most influential Chinese citizens and their families" of Sydney so as to better unpack the 'High Festival', and observes the participation of the non-Chinese-Australian community in proceedings, observing, for example, that "several Mongolians saluted the party- which had now mustered about seven or eight Europeans of both sexes".
Whilst no documentation exists on how Lunar New Year was celebrated in Parramatta in the 1800s or early 1900s, one can draw the inference that, as per George Street, Sydney, stores and places of business closed, a feast was had, and fireworks and crackers discharged~ not too dissimilar to today's celebrations.
References:
http://www.discoverparramatta.com/events/festivals/lunar_new_year_twilight_festival
http://webarchive.nla.gov.au/gov/20160615223650/http://www.australia.gov.au/about-australia/australian-story/chinese-new-year
http://trove.nla.gov.au/newspaper/article/12976841?searchTerm=%22chinese%20new%20year%22%20parramatta&searchLimits=sortby=dateAsc
http://trove.nla.gov.au/newspaper/article/13224344?searchTerm=%22chinese%20new%20year%22%20parramatta&searchLimits=sortby=dateAsc
http://trove.nla.gov.au/newspaper/article/28391977?searchTerm=%22chinese%20new%20year%22%20parramatta&searchLimits=sortby=dateAsc
http://trove.nla.gov.au/newspaper/article/63226936?searchTerm=%22chinese%20new%20year%22%20parramatta&searchLimits
http://dictionaryofsydney.org/entry/chinese
http://www.environment.nsw.gov.au/resources/heritagebranch/heritage/chinesehistory.pdf
http://trove.nla.gov.au/newspaper/article/128810224?searchTerm=%22chinese%20new%20year%22%20sydney&searchLimits=sortby=dateAsc

Eloise Maree Crossman, Research assistant, City of Parramatta, Parramatta heritage Centre, 2017