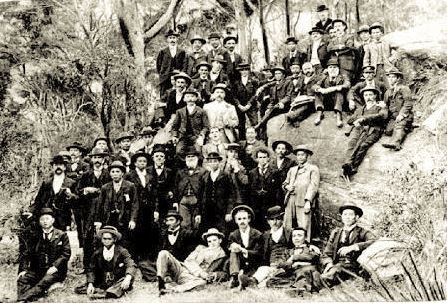 Sydney Morning Herald 13 Feb 1899 p 8, http://trove.nla.gov.au/newspaper/article/14200097
In celebration of Chinese New Year 1899 a picnic was organised by the Chinese Merchants' Association in Sydney in early February. Together with members of the Chinese merchant communities and their families, several representatives of prominent European trading companies such as Burns Philp and Co were also in attendance. Following a cruise along the Parramatta River aboard the steamer 'Brightside', refreshments were served while moored in Middle Harbour to watch the racing events held by the Johnson's Bay Sailing Club. This collaborative celebration of East and West was enjoyed by all the participants and exemplified the respect and esteem in which each was held by the other.
CHINESE MERCHANTS' ASSOCIATION PICNIC
In connection with the festivities of the Chinese New Year, which commenced Friday last, the Chinese Merchants' Association (The Lin Vik Tong) had an enjoyable harbour picnic on Saturday. In addition to the large number of Chinese present a few prominent Europeans also attended as guests of the association, amongst whom were Messrs. F. Gannon, sen., Leslie Gannon, F. S. Gannon, G. Wallis, Dr. Kerr Lockhead, Captain Green (E. and A. and A.S.S. Company), Mr. Whiteley (E. and A. Company and Gibbs Bright and Co.), Messrs. AIlison (China Navigation Company), and J.T. Thompson (Burns. Philp and Co, agents for Nippon, Yusen, Kaisha). Amongst the Chinese present were Rev. John Young Wai, Mr. Sun Johnson (" Chinese Herald "), Mr. S. Sarsen ("Tung Wah News"), Mr Yeo Hing (secretary, Xin Vik Tong), Mr Leo (Onn, Chong and Co.), and Mr. Lee (Onn, Yick and Lee). Mr. Quong Tart was unable to be present, owing to the recent death of his mother.
The Port Jackson Company's steamer 'Brightside' left the Circular Quay at noon, and after making a trip some distance up the Parramatta River, some of the beauty spots around Middle Harbour were visited, a return afterwards being made to watch the sailing races of the Johnson's Bay Sailing Club, refreshments were partaken of on board, and various toasts submitted, all of which were drunk with the customary enthusiasm, Mr. Sun Johnson, Mr. Yee Hing, and Mr. Lee being the principal speakers. The wharf was reached about 5.30 p.m., a thoroughly happy time being spent by all present at the gathering.
Australian Town and Country Journal, 25 February 1899 p 22, The Lin Yik Tong – Chinese Merchants' Association Picnic at Middle Harbour, http://nla.gov.au/nla.news-article71324240

Cathy McHardy, Research Assistant, City of Parramatta, Parramatta Heritage Centre, 2017