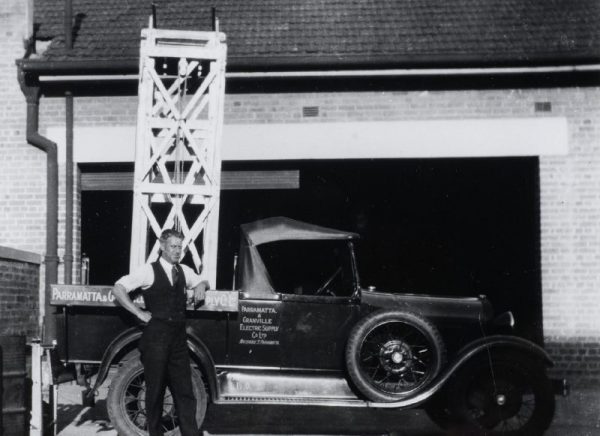 Street lighting maintenance unit, Parramatta and Granville Electric Supply Company, ca. 1928. LSP00837
The town of Tamworth in New South Wales pioneered electric street lighting in Australia in 1888, the same year that Parramatta Council's Lighting Committee accepted a tender to install an electric lighting system in the town.
When Parramatta was founded on 2 November, 1788 early convicts and settlers relied on light provided by fireplaces, candles and lamps fuelled by fat oil, known as 'slush lamps'. Kerosene lamps were placed in the main street after the formation of the Municipal Council on 2 January, 1862. The Parramatta Gas Company converted coal to gas in order to produce the first gas-powered street lights in Parramatta in 1873.
Despite Parramatta Council approving a tender provided by Kirkland and Company of Sydney for the operation of electric lighting in Parramatta, no further progress was made for 25 years until the Parramatta Electric Supply Company was formed. The company commenced operating in early 1913 with the establishment of a coal-fired power station in Macquarie Street. Nearby, on the corner of Smith Street, Prospect Electricity was to later become the retailer for electricity provided in the Greater Western Sydney region in the 1990s.
On 30 August, 1913 the first electric lights in Parramatta were switched on by the Mayoress, wife of Alderman Arthur Henry Collett, which commenced the gradual replacement of gas-powered lights across the community. [1]
The Cumberland Argus and Fruitgrowers' Advocate newspaper described the event in poetic terms:
"…the big electric arc lamps along Macquarie and Church streets shed a light that made the radiance all around something beautiful to contemplate, visually." [2]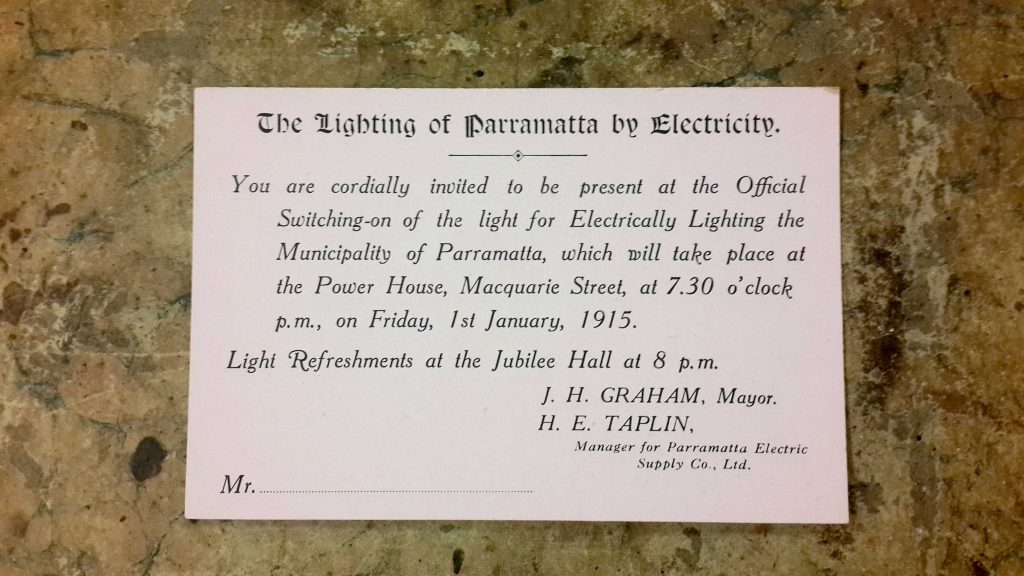 Invitation for the Switching-on of the light event for the Municipality of Parramatta, 1915. Parramatta Heritage Centre, archives
On 1 January 1915, a ceremony was conducted for the 'Official Switching-on of the light for Electrically Lighting the Municipality of Parramatta' which heralded the connection of DC (Direct Current) arc lamps in all the main streets. AC (Alternating Current) supply was introduced in 1921 to reduce costs and improve transmission across large distances, where lamps were changed to 240 volt incandescent. Fluorescent lamps, which provided low pressure mercury-vapour lighting, were introduced in 1959.
In recent times, developments in technology have lead to fluorescent lamps being replaced by energy-efficient LED lights. The City of Parramatta participated in the Light Years Ahead project, the biggest street lighting replacement project in NSW, overseen by Western Sydney Regional Organisation of Councils (WSROC)  where over 1,000 lights were replaced across the former Parramatta City Council LGA during phase one. [3]
In December 2017, the City of Parramatta Council commenced phase two of the Light Years Ahead project. Sensors will be incorporated into the new lighting to monitor a variety of conditions such as temperatures and air quality, as part of the City of Parramatta's 'Smart City' vision.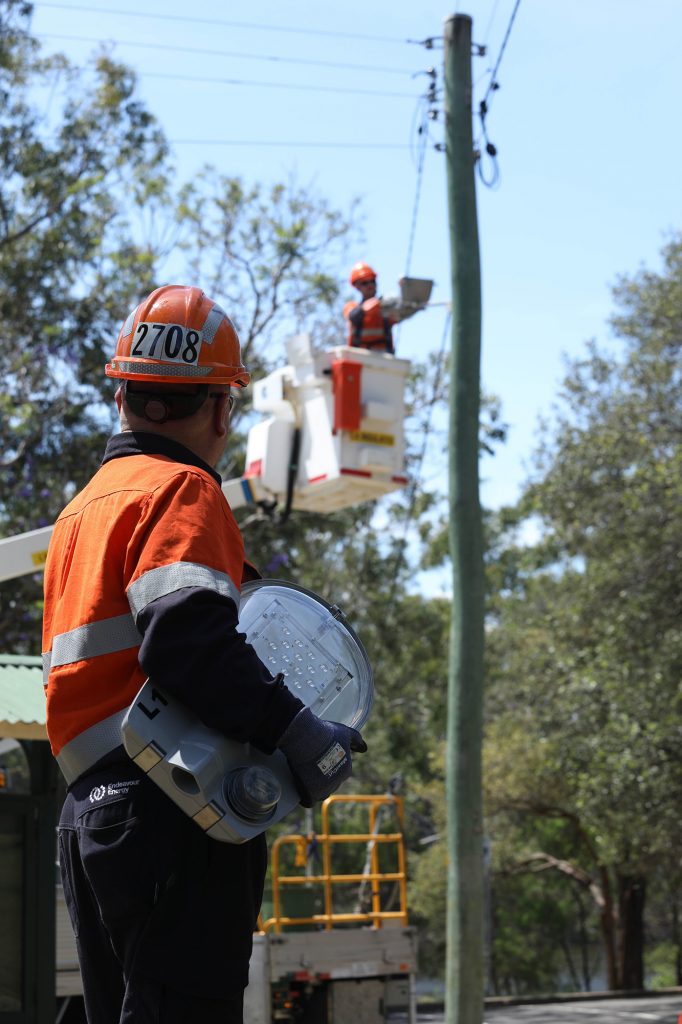 Endeavour Energy crew replacing streetlight in 2017. Photographer: Grant Turner, Mediakoo 
References
Low, RA, 1992. Switched on in the West, A History of Electricity Supply to Parramatta and the Western Region of Sydney 1890 to 1990. Parramatta and District Historical Society Inc. pp. 2, 6, 7, 13. [LH 333.7932099441 LOW]
Electric Lighting in Parramatta, The Cumberland Argus and Fruitgrowers' Advocate, 3/9/1913. Retrieved 1/2/2017 from TROVE website http://trove.nla.gov.au/newspaper/article/85974488#
Parramatta City Council switches on the lights. Retrieved 1/2/2017 from WSROC website https://wsroc.com.au/media-a-resources/releases/parramatta-city-council-switches-on-the-led-lights

Anna Namuren, Research & Collection Services Co-ordinator, City of Parramatta, Parramatta Heritage Centre, 2017