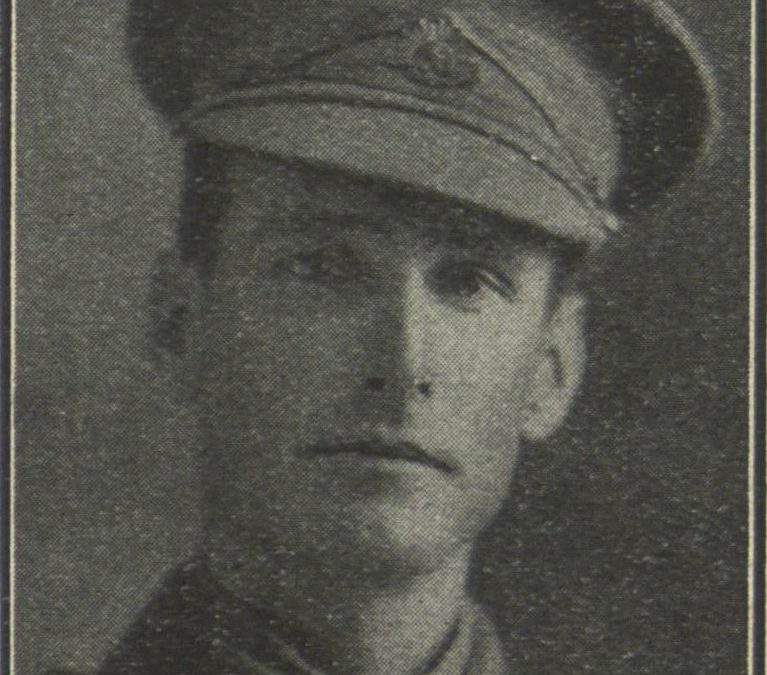 4040 Private (later Corporal) Harold Allister McDougall, copy from Parramatta Soldiers, Cumberland Argus, 1920
Harold Allister McDougall was born on 1887 at Maclean, New South Wales. He was the son of Allister and Agnes McDougall. At the age of 28, he enlisted in the Australian Imperial Force at Warwick Farm, New South Wales on 8 September 1915. Although at that time, he was living at Campbell street, Parramatta, according to the Cumberland Argus newspaper (12 August 1916, p. 6), he was working as a bank clerk at the London Bank at Taree. As he was not married, he listed his father Allister of "Dunollie", Weston Street, Harris Park, Sydney and later "Dunollie", Condamine Street, Manly as his next of kin.
On 11 December 1915 he embarked for overseas duties from Sydney aboard H.M.A.T RMS Mooltan as part of the 1 Australian Infantry Battalion, 12 Reinforcements. Taken on strength at Tel-el-kebir, Egypt on 14 February 1916, he joined the 1 Battalion in France where over the course of the next two and a half years, his division fought against the Germans on the Western Front. Their first major action was the Battle at Pozières in July 1916. Between the 22 to 25 July, Harold suffered severe gunshot and shrapnel wounds to his head, back and arm that required his transfer from the 9 General Hospital in France aboard hospital ship Aberdoia at Rouen on 27 July to Graylingwell War Hospital in Chichester in England. After 2 weeks, on 11 August, he was transferred to Woodcote Park Military Convalescent Hospital in Epsom to further recover.
By 17 December, he rejoined his Unit in Somme for winter. On 18 February 1917 he was appointed as Lance Corporal, and later (6 September) promoted to Corporal ranking. He commanded at the 1 Australian Division School of Instruction and continued to see action in France. He got wounded and admitted to hospital several times suffering from gunshot wounds to his left leg and gassed during 1917 and 1918. After Armistice was declared on 11 November 1918, Harold was detached for duty with Australian Army pay Corps from 28 January 1919. By 8 June 1920, Harold finally returned to Australia as per Kigoma and disembarked on 18 July. He was discharged on 17 October.
Sadly he passed away suddenly on 10 September 1953 at Brisbane.

Naga Durga Devi Kona, Volunteer Research Assistant, City of Parramatta, Parramatta Heritage Centre, 2016
References