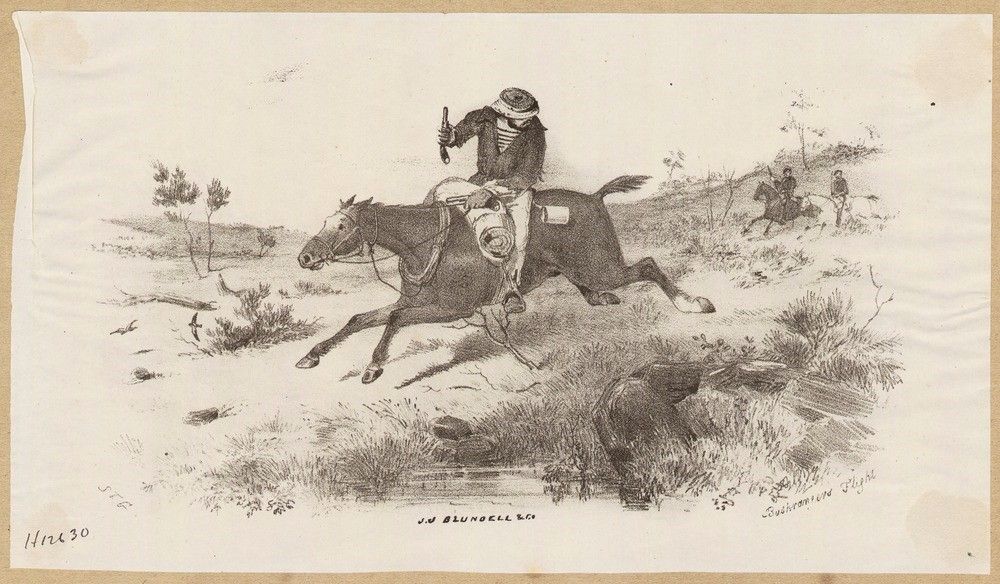 Bushranger's flight by artist S T Gill (1818-1880) published by James J. Blundell & Co. Melbourne Victoria [1856]
Throughout the first half of the 19th century bushrangers roamed the Parramatta district plundering farms and bailing up travellers along the roads linking the settlement at Sydney Cove with the town of Parramatta.
One of the most infamous after Black Caesar in the 1790s was John Murphy. By April 1806, Murphy had already earned a reputation as a 'notorious' bushranger. He was apprehended in the Back Row at Parramatta in possession of the property of Mr Williams who worked at the Commissary's Office. While in custody, Murphy also admitted to several other offences including the theft of hide from William Hibburd which was recovered, and some pigs stolen from Mr Larra. The pigs unfortunately were described as being 'past recovery'. Perhaps in an effort to lighten his sentence, Murphy apparently proffered information which could lead to the arrest of his accomplices1.
However, he proved to be difficult to confine behind bars. After spending several weeks in the lock-up in Parramatta appearing to be a compliant and co-operative prisoner, Murphy 'tripped up the heels of his unsuspecting guards, and arming himself with a reap hook, make off without further interruption'2.
Murphy was again before the courts in October 1806. On this occasion he pleaded guilty to breaking and entering the home of Michael Connor on 12 October. Judge Advocate David Collins gave him the chance to change his plea but perhaps Murphy realised the inevitability of his situation. His guilty plea sealed his fate and he was sentenced to death3.
The Sydney Gazette reported on 2 November 1806 that Murphy and three other offenders had been taken to the place of execution the previous Tuesday morning. At the last moment one of the felons, Joseph Moreton was granted clemency by the Judge Advocate in consideration of his youth. Murphy was not so fortunate and despite his demonstrated contrition and remorse he, along with the remaining two criminals was hanged that morning. While awaiting the hangman's noose, he took the opportunity to confess to a number of other crimes and to admit that he was actually a Londoner from Smithfield by the name of Crawley4.
Despite the best efforts of successive governors, by the 1820s the activities of bushrangers continued to be a persistent and widespread problem in the colony. As the prosperity and population of the colony grew, a life of bushranging became a more lucrative and successful alternative to penal servitude. A certain air of romance and adventure began to pervade newspaper reports of the bushrangers bold and daring exploits.
John (Jack) Donohoe later to be known as 'Bold Jack Donohoe' or 'The Wild Colonial Boy' was the leader of a gang which ranged widely from the Bathurst to the vicinity of Yass, east to the Illawarra, north to Wollombi and the southern areas of the Hunter and across the County of Cumberland including the Parramatta district.
Born in Dublin Ireland in about 1806, Donohoe was transported to the colony aboard the Anne and Amelia in 1825 and was first assigned to John Pagan at Parramatta. He spent several months in a road-gang before being reassigned to Major West, a surgeon at Parramatta who owned an estate at Quakers Hill5.
Accompanied by gang members John McNamara and William Underwood, Donohue took advantage of the rugged terrain around North Rocks which formed a natural labyrinth of hiding places6. Other members of Donohoe's gang which terrorised the colony between 1826 and 1830 included at various times, George Kilroy (or Kilray), Smith, Walmsley and Webber.
Donohoe's freedom was to come to an abrupt end in the Spring of 1830. Accompanied by police, a detachment of soldiers came across the bushranger and his accomplices who were encamped in the scrub near Bringelly near Campbelltown. During the ensuing exchange of fire Donohoe was shot and killed by Trooper Muggleston7. A pencil sketch of the deceased bushranger, attributed to Sir T L Mitchell is held by the State Library of NSW8.
The exploits of Jack Donohoe and his gang became the stuff of legend and poems and ballads were written telling of daring exploits, lucky escapes, eventual capture and execution. It is said that the ballad 'The Wild Colonial boy' which relates the escapades of a fictional hero 'Jack Doolan' was based on the life and times of this well-known bushranger.

Cathy McHardy, City of Parramatta, Parramatta Heritage Centre, 2017
References:
Sydney Gazette and NSW Advertiser. 13 July 1806 p 2.
Sydney Gazette and NSW Advertiser. 24 Aug 1806 p 3.
Sydney Gazette and NSW Advertiser. 26 Oct 1806 p 1
Sydney Gazette and NSW Advertiser. 2 November 1806 pp 1, 2.
Australian Dictionary of Biography. http://adb.anu.edu.au/biography/donohoe-john-jack-1985. Retrieved 22 June 2017.
Wilson, P & N. Pullen, N. North Rocks; a brief history and guided tour. The Hills District Historical Society Inc. April 2003.
Australian Dictionary of Biography. http://adb.anu.edu.au/biography/donohoe-john-jack-1985. Retrieved 22 June 2017.
State Library of NSW – Donohoe, 1830. http://trove.nla.gov.au/work/12711674?q&versionId=15024897 retrieved 22 June 2017.