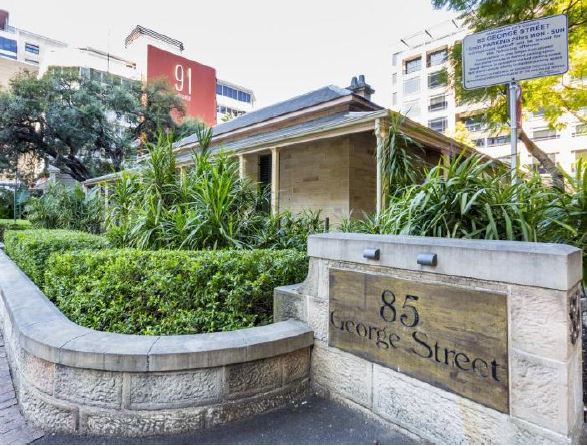 Perth House, 85 George Street, Parramatta
Perth House is aesthetically and technically significant. It is a single storey Colonial Victorian Georgian residence with a hipped roof to a central block with encircling verandahs. The verandah is paved with stone. It demonstrates a high degree of creative excellence, taste & lifestyle on a medium sized domestic architecture. Brick barrel drain runs along driveway and branches off towards St. John's Cathedral.
Perth House has 3 major items of heritage importance:
Convict Hut (c1792 to 1813) which was replaced by
Rose Cottage – a timber house (c1813 to 1823)
The brick barrel drain (1822 – 1828)
A convict hut occupied the site (85 George Street, Parramatta) from c1792 until 1813. In early 1813, Rose Cottage was constructed and occupied by William Aird, Superintendent of Public Works at Parramatta. By 1823, the allotment was labelled 'Government'. The site was then a part of the Government Lumber Yard. In 1841, Perth House was built by James Houison for pastoralist George Oakes, son of a former missionary, who became first Member of the Legislative Assembly for Parramatta.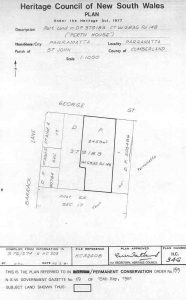 James Houison arrived in the colony as a steerage passenger, quickly established himself as an astute builder and urban land speculator and later became known as an architect and a builder. In 1864 James Houison married Fanny Eliza Roberts, and they moved into the Bond House. They raised three children, James, Annie and Martha. James married Thyra Solling and they lived in Perth House in George Street, Parramatta.
The remains of the convict building and Rose Cottage underly Perth House. Perth House used as a residence and girls school. In the 1889 – 1890s, Perth House was rented by Mrs Bell who ran a small private school in 8 rooms.
Perth House in George Street was rented by Mrs Bell who ran a small private school in late 1889 or 1890 (ML SLNSW ML PX*D 302/Vol.03/Item 25)
In 1980s Perth House was used as a funeral parlour. And in 1991-1992, Perth House was restored as commercial offices, and a large multi-storey building developed at the rear. Open area and test or sample excavation of the yard areas was undertaken by Damaris Bairstow in 1989 in advance of redevelopment. The excavation revealed the remains of the original kitchen of Perth House about 1.4m south of the house. The kitchen seemed to have been built of stone, but the brick in demolition layers suggested that there were brick partition walls. The kitchen cellar was filled in the 1930s. The excavation also revealed part of an 1822-1828 barrel drain which crosses the northwest corner of the site. Other sections of the brick barrel drain have been recovered during other excavations throughout Parramatta.

Neera Sahni, Research Services Leader, City of Parramatta, Parramatta Heritage Centre, 2017
References:
Perth House conservation plan by Howard Tanner and Associate Pty. Ltd. 1988
Perth House: Historical Archaeology Report by Damaris Bairstow for Condux Corporation Limited, 1989
The Future of Parramatta's Past. An Archaeological Zoning Plan, 1788-1844. Volume 1. Text. Edward Higginbotham. & Paul-Alan Johnson
The Future of Parramatta's Past. An Archaeological Zoning Plan, 1788-1844. Volume 2. Inventory. Edward Higginbotham. & Paul-Alan Johnson
The Cradle City of Australia, City of Parramatta, 1961
The Jubilee History of Parramatta. J.Cheyne Wharton (ed), 1911
http://arc.parracity.nsw.gov.au/blog/2014/12/03/james-houisons-bond-house-church-street-parramatta/
http://www.environment.nsw.gov.au/heritageapp/ViewHeritageItemDetails.aspx?ID=2242872
http://www.environment.nsw.gov.au/heritageapp/ViewHeritageItemDetails.aspx?ID=2240211
http://www.environment.nsw.gov.au/heritageapp/ViewHeritageItemDetails.aspx?ID=5051401
http://nswaol.library.usyd.edu.au//data/pdfs/22451_ID_Bairstow1989PerthHouseArchEx.pdf
http://archival.sl.nsw.gov.au/Details/archive/110486020?_ga=2.137578800.1247933583.1499996676-1681214681.1493605173