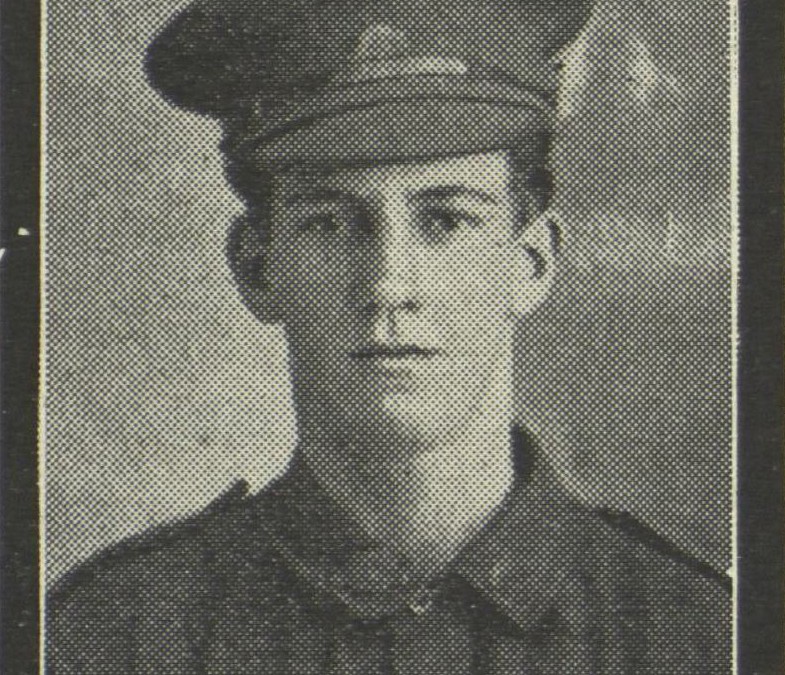 3460 Signaller George Frederick Windsor, copy from Parramatta Soldiers, Cumberland Argus, 1920
George Frederick Windsor was born in Glebe, New South Wales, the only son of Frederick Arthur and Phoebe Elizabeth Windsor. At 18 years old, four months short of his birthday, he enlisted at Warwick Farm and joined the 11 Reinforcements, 20th Infantry, on 2 August 1915. At the time he was a labourer who lived at "Aston," in Wallace Street, Granville.
On 2 November 1915, 3460 Private Windsor embarked from Sydney aboard HMAT Euripides (A14) with his cousin, Gunner Fred S. Bailey, late of Fairfield[1]. After arriving in Egypt by 11 December 1915 he was diagnosed with mumps and admitted to the 4 Auxiliary Hospital in Abbassia.
On 23 January 1916, he wrote an "interesting" letter home which was subsequently published in the Cumberland Argus[2]: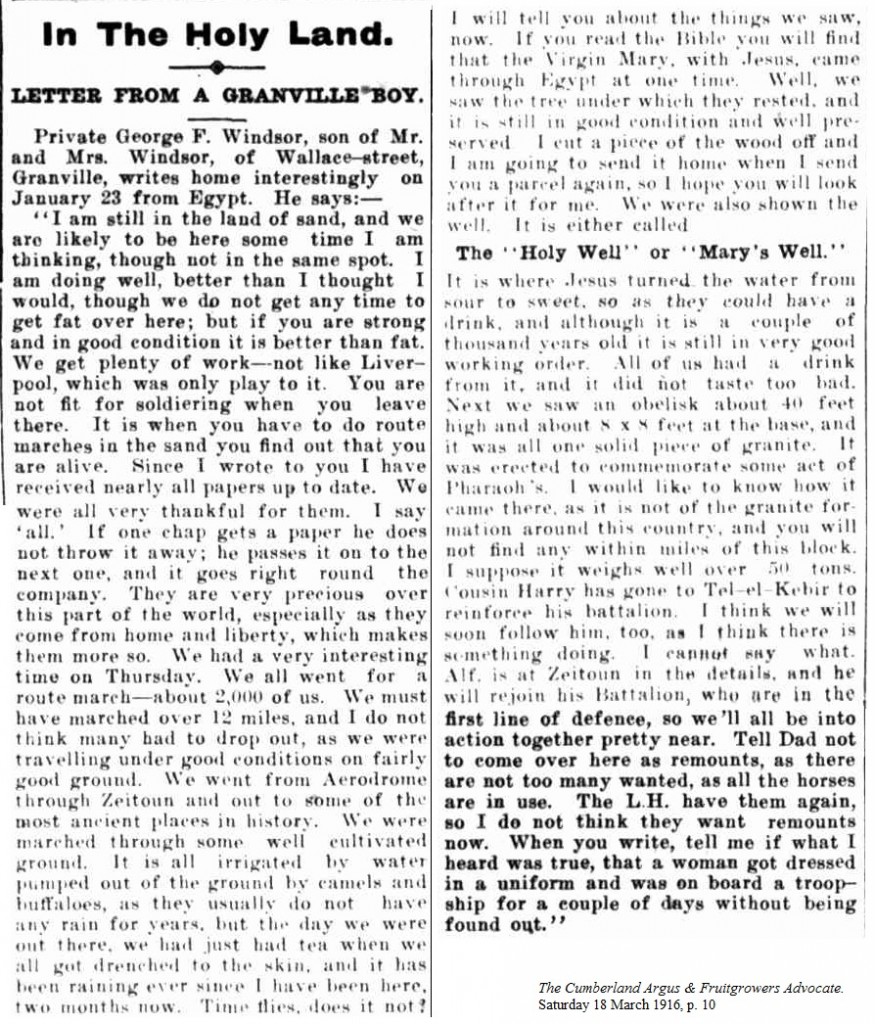 In February 1916, George was stationed in Tel-el-Kebir and taken on strength joined the 2 Battalion, a week later he was transferred to the 54 Battalion. By 16 March 1916 he was working as a Gunner for the 5 Division of the 14 Field Artillery Brigade (FAB) and posted to the 56 Battery in Moascar. On 29 June 1916, he landed in France and for a time in October, while in the field,e worked as the telephonist before again being taken on strength. He was finally transferred to the 5 Divisional Signal Company, Australian Engineers as a Sapper (Signaller) on 16 June 1917.
Nicknamed "Winds", he was described as being short [Five foot 6.25 inches (1.68 metres)] with a fair complexion, brown hair with hazel eyes. On two separate accounts he was given field punishments, the first for first using obscene language (22/09/1916) and the second time (27/06/1917) for neglecting to obey an order and going absent without leave (A.W.L.).
Sadly, on 31 July 1917, he was wounded in action during the Third Battle of Ypres in the 'Menin Road' (Ypres), offensive and died on 1 August 1918 at the 12 Casualty Clearing Station, Belgium. He was aged 19 and 9 months[3]. He was buried in the Mendinghem Military Cemetery, Belgium. Below is a photo his parents received of his original grave site. The cross was made by a "Tommy engineer" and placed by "his cousin, Gunner Fred S. Baily, of Granville, and mate Signaller H. Jones".[4]
His name is listed on the Granville War Memorial and located at panel 26 in the Commemorative Area at the Australian War Memorial.

Anne Tsang, Research Assistant, Parramatta Heritage Centre, 2014.
References
[1] Full up of Hornsby Shire. (1917, August 25). The Cumberland Argus and Fruitgrowers Advocate, p. 10.  http://nla.gov.au/nla.news-article86086803
[2] In the Holy Land. (1916, March 18). The Cumberland Argus and Fruitgrowers Advocate, p. 10.  http://nla.gov.au/nla.news-article86077467
[3] Family notices [Windsor] (1917, August 18). The Cumberland Argus and Fruitgrowers Advocate, p. 6.  http://nla.gov.au/nla.news-article86088854
[4] Sig. George F. Windsor's grave. (1918, July 13). The Cumberland Argus and Fruitgrowers Advocate, p. 10.  http://nla.gov.au/nla.news-article86205756
[5] Sympathy with Mrs. Windsor. (1918, July 13). The Cumberland Argus and Fruitgrowers Advocate, p. 2.  http://nla.gov.au/nla.news-article86205685
[6] Australian War Memorial. http://www.awm.gov.au/collection/P08624.221
[7] National Archives of Australia. Mapping our Anzacs. http://mappingouranzacs.naa.gov.au/file-view.html?b=8846348&s=B2455&c=WINDSOR%20GEORGE%20FREDERICK