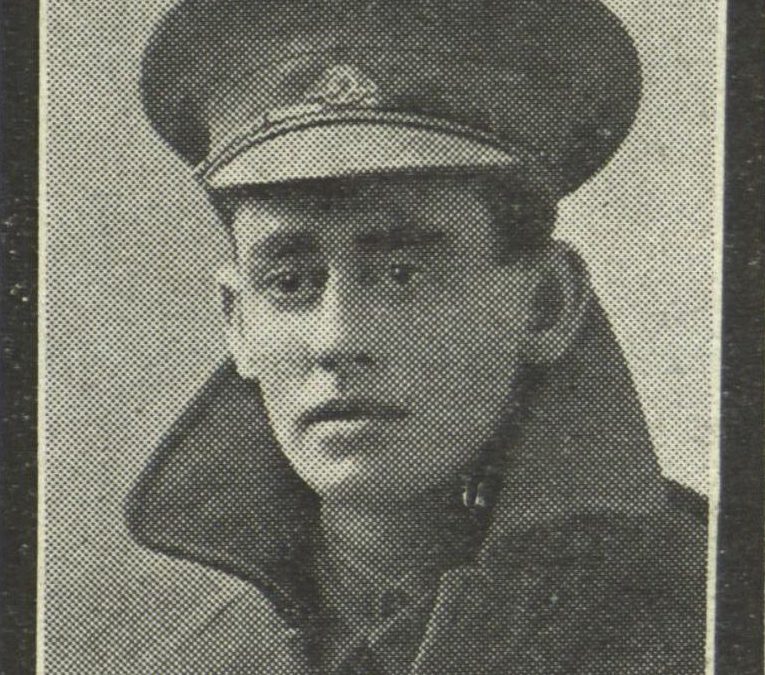 Private William Francis Walton was a 29 year old journalist living in Emmaville, New South Wales. Commonly known as either "Will" or "Billy", he was the son of Mr William James Walton, one time owner of the Narrabri "Age" newspaper and former alderman of Narrabri, and Mrs Elizabeth Walton. He was the grandson of Mrs E. Walton, an old and respected resident of Church Street, Parramatta.
He had two sisters, Mrs Claire Ellen Davies and Miss G. Walton. He was born in Parramatta and was moved to Narrabri as a small infant. As a child he was educated at the local Convent College and then St. Joseph's College, Hunters Hill. He was part of the literary staff at the Inverall "Times" for a period, before becoming a part proprietor and editor of the Emmaville "Argus". His fellow proprietor at the Argus was his uncle Mr J. D. Walton, who had previously been employed for many years at "The Cumberland Argus". Private Walton was fondly remembered by his colleagues at the Inverall Times for an incident in his younger years, in which he was being disciplined over a trifling matter by the then Editor. To resolve the matter, he left the room and turned the key in the door, locking the Editor in the room and holding him "prisoner" until he yielded.
Various newspaper accounts have suggested he was turned down for service between two and five times before finally successfully enlisting on 31 August 1916, when he was assigned to the 54 Australian Infantry Battalion. He embarked with his unit from Sydney aboard the HMAT "Suevic" A29 on 11 November 1916. On 9 July 1917 Private Walton proceeded overseas to France from Southampton. He marched out to his unit by 31 July 1917 and was taken on strength on 1 August 1917. On 1 September 1917 a report was filed, stating that an accident occurred on this date at Eblingham, Wardregan Road, France. The accident occurred during bombing instructions, and was found to be in no way the fault of Private Walton. He was sent to hospital two days later, on 3 September 1917, for treatment on an accidental in field injury. He was found to be suffering from periostitis in the left ankle and was transferred on 11 September 1917 to a hospital in Boulogne. He was transferred to a rest camp on 21 September 1917 and returned to his unit on 6 October 1917. He was given leave in the United Kingdom from 18 February 1918 to 15 March 1918. On 31 March 1918 he was charged with overstaying his leave in the United Kingdom from 7.30am 6 March 1918 to 12 March 1918. He was forced to forfeit 14 days' pay.
During his service overseas he wrote several letters and newspaper articles from the front describing his experiences. In May 1917 he wrote an article for the "Coo-ee", the official souvenir booklet of the troopship H.M.A.T. Suevic, titled "Our Glimpse of the Homeland" describing his journey out of Sydney aboard the "Suevic" on his way to England. In it he wrote:
 With light hearts we will go on to victory or defeat. But no one dare speak of defeat; our flag shall never be furled until the last man and the last shilling has been spent – but we know that we are fighting the good fight, and we must win, finally and conclusively.
On 7 June 1917 one of his letters was published in the Glen Innes Examiner, titled "Australian in England: how they are cared for." His letter was published to combat rumours that Australian soldiers were being treated poorly in British camps. In his letter he describes the conditions he experienced along with his fellow Australian soldiers while living in British camps. He describes the camps as "modern in every detail" and described the food as "good, and much better than much they served up to us in Australia." He goes on to give an example of his breakfast, lunch and dinner. For breakfast, for example, he was given "bacon and green peas, porridge, coffee, bread and margarine." He marvels at the quantity of food he received while the civilian populous are on rations. He goes on to boast about the quality of Australian made blankets, describing them as "the best of the lot" and describing the envy of other soldiers towards the Australians for their quality blankets, writing that "the boys will willingly part with three of the Imperial 'bags' for one of our own". He concludes by praising the wet canteens in the camps. These were canteens that served alcohol, in moderation, to help keep the soldiers from wandering into the nearby villages.
Whilst in a General Hospital in France, Private Walton produced another letter that was published on 17 November 1917 in the "The Newsletter: an Australian Paper for Australian People." His article was titled "Horrors of War—What Australians are Going Through at the Front" and described his personal experiences in England, France and in the field. He displayed a fondness for France, writing "the fields and scenery are glorious, and I think it is much prettier than England". He described the French churches as a representation of "everything that is beautiful, and I never tire of going through them." He continues to discuss the sight of French villages, where the women have taken up hard labour to compensate for the lack of men, as all the capable men are off fighting the war. He describes how the Australian soldiers actively help these women with their tasks, even though they are most capable with their work, as the men feel for these women and the sight of their toil brings up feelings for their own loved ones at home. He contemplates the thought of fighting a war at home compared to one abroad, writing that "a defensive war, with the enemy laying waste every place, … and using the devil's methods of war is far harder to face than a war away from our own homes like this one". He continues "people think Australia is in no danger in this war, but I really believe her destiny is in the balance, and perhaps many of them will wake up when it is too late." He continues to describe an incident on 5 September 1917 where an enemy bomb had been dropped close to the hospital he was in. His description follows:
The noise was deafening, and the dirt and shrapnel flew on top of the ward, but did not come in. I tell you the few minutes that followed the bombs in our direction were breathless for we all thought our time had come. Have you ever felt death imminent? That was how I felt, but instead of terror and panic, I was deadly calm and only thought where I would stop it, and hoping that I might get out of it with no wound. Home sweet home and the dear ones was uppermost in my mind, but the feeling was there that I would see them all again.
He continued to describe the death toll of the bombings, the women and children civilians that were dying, the hospitals being bombed, the soldiers returning to the front from the hospitals only to be killed on the way. He writes:
My heart aches for these poor souls, whose cries of agony and terror can be heard above the roar of the guns. They must be avenged, and peace should not be thought of until the retribution is complete.
He describes the condition of the Australian men in his article, writing:
Our boys are nearly worn out, but they cannot be spared until the reinforcements are greatly increased. For months on end our poor fellows have endured this living hell day and night, and you can imagine for yourself how their nerves and strength are shattered, and how weary of it all they are. Yet they have to go on, facing the dangers and the hardships.
On 16 April 1918 he was wounded in action in France, suffering a shell wound to the face. He was sent to the 55 Field Ambulance on the same day, however died of his wounds on 17 April 1918, at the age of 27. He was buried at Namps-au-Val British Cemetery, Namps au Val, Amiens, Picardie, France. His name is displayed in the Commemorative Area of the Australian War Memorial.

Kimberley Russell, Volunteer Research Assistant, City of Parramatta, Parramatta Heritage Centre, 2017