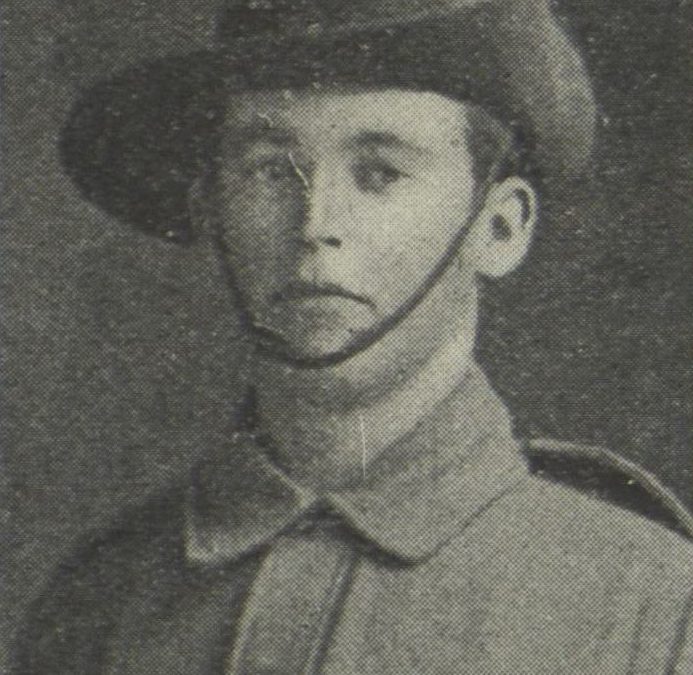 George Richard is a brother to Edward James Filby and was born in the Burwood District to George and Emily Isabel Filby in 1897. (BDM#11131/1897). He and his family were living at "Leura" Banks Street, May's Hill, Parramatta and were of the Church of England faith. George was single, working as a labourer and only 18 years old when he was enlisted on the 18th April 1915; his father signed the permission form required for his age and was his next of kin. He embarked on 16th June, 1915 in Sydney on board of the HMAT "Karoola" A63, with the 1st Battalion A.I.F 1 – 8 Reinforcements ( December 1914- August 1915).
On 7th August 1915 at Gallipoli he received a bomb wound to the upper thigh (buttock) and ankle. He was taken to port Mudros at Lemnos, a Mediterranean island in Greece, and then to a hospital in Alexandria. On 15th September, he returned to Australia on board the "Ülysses" via Suez. He returned to active duty once more on 29th December,1915, and after retraining was transferred on 24th March,1916 to be join the Lewis Gun Section of 45th Battalion.
He then proceeded to fight with the British Expeditionary Forces in France on 2nd June,1916. A few months later, on 14th October 1916 he received a gunshot wound to the right hand and was hospitalised on the 21st October when the wound became septic. On 12th January 1917, George was absent without leave for three days and was charged with "smoking in billet".
On 20th January he was appointed Lance Corporal, but at his own request, on 30th June, 1917, he reverted to the ranks. George was accused of deserting His Majesty's Service, when on active service, from 9.45 pm 28th September, 1917 to 10.35 am on 30th September, 1917 at a Court Martial held in the field, although he pleaded "not guilty" he was found "guilty" and received a sentence of ten years "total forfeiture".
On 10th November, 1917, he is admitted to No 3 Military Prison, and on 1st December, 1917, his sentence is commuted to 2 years. By 26th November 1918, the remainder of George's sentence was suspended.
Once released from prison he returned to his Unit on 7th December 1918, and re-joined the Battalion in France. Later on he returned to hospital on 8th March 1919 suffering from Tachycardia, and transferred to the Lewisham hospital in England. Finally he embarked on board the "Beltana" on 26th April 1919 to return home to Australia and arrived at Devonport 2 June, 1919. Initially he was refused his War Service Medals, but these were later restored.

By Noela Vranich, Volunteer, Parramatta Heritage Centre 2015