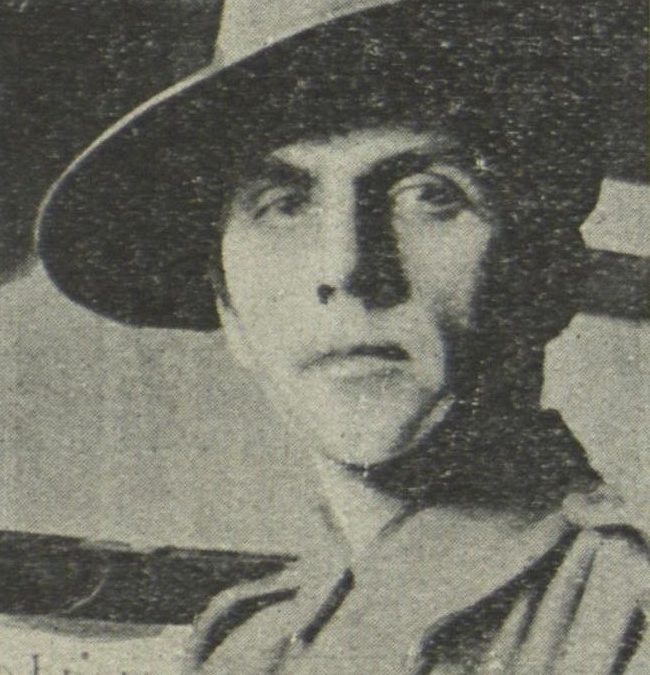 An electrician by trade, Walter Lawrence Murray aged 19 years, was living with his parents Mr. and Mrs. E. J. Murray in Phillip Street, Parramatta when he enlisted at Randwick, New South Wales on 17 August 1914. At this time, he was already a Private serving with the 19 Infantry, however, he was assigned to the 1 Brigade 1 Battalion when he embarked in Sydney aboard the HMAT 'Afric' on 18 October 1914 bound for Gallipoli. By April 1915 he had earned a promotion to the rank of Lance Corporal.
Murray suffered a gunshot wound to his left eye on 18 May 1915 and was admitted to Ras el Tin Hospital near Alexandria, Egypt the next day, before being transferred to England on 2 June. He was taken on strength and returned to active service by June 1916. In August 1917 he was transferred to Harefield Hospital, England to be fitted with a glass eye. The severity of his injury requiring hospitalisation on a number of occasions as well as the death of his brother Owen at the Dardanelles on 20 May 1915 may have contributed to his conduct over the following two and a half years.
On 22 April 1917, he was charged with being Absent Without Leave to which he pleaded guilty at the Court of Enquiry which lead to a Court Martial on 7 July 1917. For this breach he was sentenced to 28 days of detention and the forfeiture of 104 days' pay. After several other unauthorised absences from duty he was discharged from service and returned to Australia 'Persic' on the 12 February 1918.

Cathy McHardy, Research Assistant, City of Parramatta, Parramatta Heritage Centre, 2018