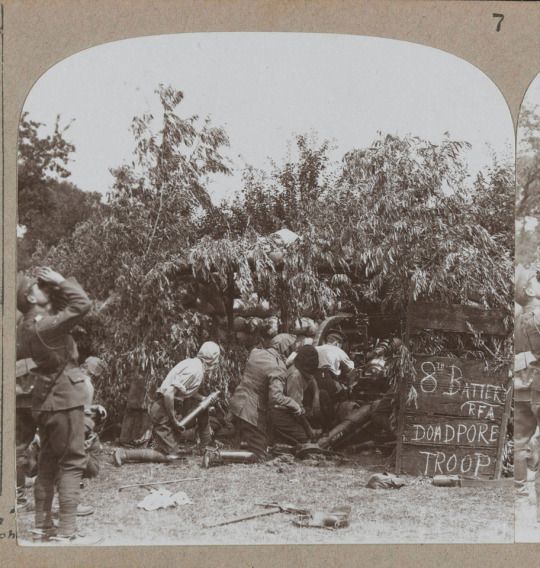 Indian gunner of the 7th Meerut Division, wearing gas masks as protection against German gas shells 1915
Two divisions of Indian troops were sent to France with their artillery and other arms. By 26 September 1914 Meerut Division and Lahore Division of Indian Troops arrived at Marseilles.
The following was the composition of Meerut Division Indian troops which left India:
MEERUT DIVISION
Lieut.-Gcneral C. A. Anderson, C.B. (late R.A.)
DEHRA DUN BRIGADE:
Brig.-General C. E. Johnson (Indian Army)
1 Seaforth Highlanders
1 Battalion 9 Gurkhas
2 Battalion 2 Gurkhas
6 Jat Light Infantry
GARHWAL BRIGADE:
Major-General H. D'U. Keary, C.B., D.S.O. (Indian Army)
2 Leicesters
2 Battalion 3 Gurkhas
1 Battalion 39 Garhwal Rifles
2 BattaUon 39 Garhwal Rifles
BAREILLY BRIGADE:
Major-General F. Macbean, C.V.O., C.B.
(late Gordon Highlanders)
2 Black Watch
41 Dogras
58 Rifles (Frontier Force)
2 Battalion 8 Gurkhas
DIVISIONAL TROOPS:
4 Cavalry
3 and 4 Companies Sappers and Miners
107 Pioneers
Headquarters Divisional Engineers
Signal Company
ARTILLERY:
Headquarters Divisional Artillery.
4, 9 and 13 Brigades R.F.A.
Ammunition Columns
110 Heavy Battery

Neera Sahni, Research Services Leader, City of Parramatta, Parramatta Heritage Centre, 2017
References
The biographical information has been researched and compiled from the following resources: