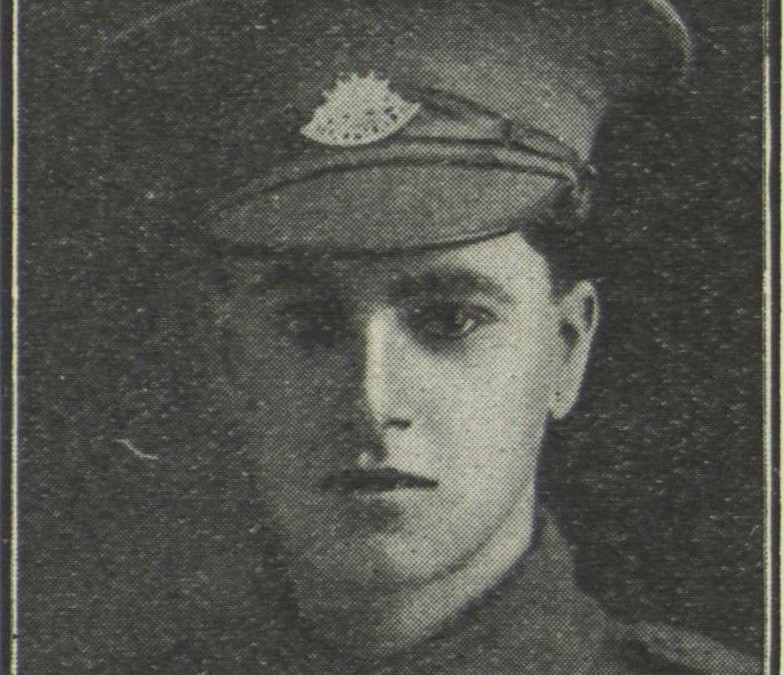 2948 Private Alfred Reginald Harre, copy from Parramatta Soldiers, Cumberland Argus, 1920
Alfred Reginald Harre was only 18 when he heard the call of duty and signed up on the 16 January 1916 in Casula, New South Wales. Originally born and raised in Camberwell, London, his family migrated to Melbourne, Victoria, Australia in 1911 before eventually settling in Granville, New South Wales. Harre was the second son (and third out of seven children) of Charles Frederick (1867-1931) and Dinah Olivia Harre (nee Pryor) (1867-1929). At the time he enlisted, he was working as a clerk and living with his family at 176 William Street, Granville.
He officially left on 9 April 1916 from Sydney to Egypt aboard HMAT Nestor A71 with the 6 Reinforcements of the 30 Infantry Battalion as a Private. He then travelled to Salisbury Plains, England where he completed his training before moving to France where he was wounded.
He was later transferred to the 8 Machine Gun Company. After the war ended he was 'effective abroad and stayed overseas'.
On 2 February 1918 he married 22 year old British spinster Winifred Mary Curtis at St. Saviour's Parish Church in London, England. Harre returned on the 14 May 1920 per "Zealandic" and was officially discharged from service on the 14 July 1920.
Upon the young couple's settlement in Australia, they lived in Dewlish, (95) Elizabeth Street, Granville right next door to Harre's older brother Frederick.
In 1936, Harre was working as a carpenter and lived at 60 Hammer's Road, Northmead. They had a son Leslie Reginald Harre. By 1949, he was living at Hilma Street, Collaroy, Narrabeen.
Alfred Harre passed away on 9 November 1968 at Concord Hospital, aged 71 and was survived at the time by his wife 'Win', son and had a great-grandchild.
Private Frederick William Harre
Alfred's older brother was Private Frederick William Harre (service number 24) of the 5 Machine Gun Battalion. He joined on the 16 May 1915, aged 23. Prior to enlisting he was working as a fitter's assistant and back when his family lived in London (before their emigration to Australia), he had served 2 years with the 4 London Howitzer, Brigade JRFA as a gunner. He embarked on 9 November 1915 aboard HMAT Beltana for Suez, Egypt. Taken on strength he was transferred to the Machine Gun Company at Tel-el-Kebir in March 1916. Around late February 1917 he was diagnosed with laryngitis and sent to hospital. By July 1917, he rejoined his company and requested to revert to Private ranking (10/08/1917). On 5 October 1917 he suffered gun-shoot wounds to his left leg while serving in France. The open fracture lead to his left leg being amputated in No 2. War Hospital in Birmingham, England on 14 October 1917. By 27 July he was discharged from the AIF and returned to Australia on 15 September 1918. In 1919 he married Annie Josephine Quinlivan (c1898-1984) in Randwick and the couple lived at Harquin, [97] Elizabeth Street, Granville. He became a member of the Limbless Soldiers Association.
On 20 November 1960, at 68 years old he passed away. At that time, he was survived by his wife Annie and their 2 children Ronald and Audrey Patricia "Pat" and their families.

Anne Tsang, Research Assistant, City of Parramatta, Parramatta Heritage Centre, 2017
References
The biographical information has been researched and compiled from the following resources: