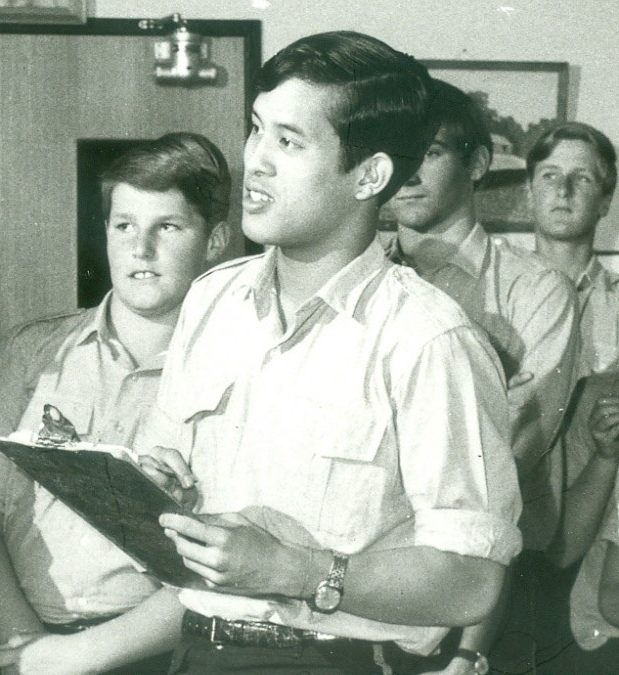 His Royal Highness Vajiralongkorn Mahidol in The King's School, Parramatta – Macarthur boarding house with other students (1970). Image from The King's School Archive Collection
His Majesty King Maha Vajiralongkorn Bodindradebayavarangkun
His Royal Highness Vajiralongkorn Mahidol was born on 28 July 1952 in Bangkok. He is the first son and second child of Queen Sirikit and King Bhumibol Adulyadej, with an older sister, Princess Ubolratana, and two younger sisters, Princess Sirindhorn and Princess Chulabhorn. [1]
Vajiralongkorn began his education in 1956, when he entered kindergarten at the Chitralada School. After completing grade seven, he was sent to the United Kingdom for his secondary school education. He completed his secondary education in July 1970. In August 1970, he moved to Australia to finish high school. [2] He was enrolled in The King's School, Parramatta. He played in The King's School 1st Soccer team in 1971. [3]
After leaving The King's School in 1972, he continued his education at the Royal Military College, Duntroon in Canberra, Australia. His education at Duntroon was divided into two parts, military training by the Australian Army and a bachelor's degree course at the University of New South Wales. [4]
He graduated in 1976 as a newly-commissioned lieutenant with an arts degree. He left the Army in December 1975 as a Corporal to get trained at the Special Air Service Regiment in Perth. He left Australia for Thailand in October 1976 and served in the Royal Thai Armed Forces. He is a qualified military pilot and helicopter pilot. [5]
At the age of 26, he was ordained as a monk at the Temple of the Emerald Buddha on the 6 November 1978. He stayed at the Temple of the Emerald Buddha for 15 days under the monastic name "Vajiralongkornno". [6]
He was very concerned about the medical care of Thai people living in remote areas. He established 21 "Crown Prince Hospitals" in various remote locations in 1977. These hospitals became community hospitals providing services of international standard to the general public by 2011. [7]
He is very passionate about education and every year he donates 42 million baht to a scholarship fund benefiting students. [8]
In 2015, he led thousands of people in mass bicycling events in Bangkok and nationwide to honour the birthdays of his parents, Queen Sirikit and King Bhumibol. [9]
King Vajiralongkorn has been married three times. One of his daughters is a well-known fashion designer in Thailand. [10]
After the death of his father at the age of 88, Crown Prince Vajiralongkorn completed his ascension to the throne as King Rama X of Thailand. He is now officially known as His Majesty King Maha Vajiralongkorn Bodindradebayavarangkun. The Thai people will mostly refer to him as King Rama X. Vajiralongkorn, 64 years old, became the oldest Thai monarch to ascend to the throne. [11]
The following pictures give some sense of the Crown Prince's years in Australia.

Neera Sahni, Research Services Leader, City of Parramatta, Parramatta Heritage Centre, 2017
References:
[1] Wikipedia (2017). Vajiralongkorn. Retrieved 19/10/2017 from https://en.wikipedia.org/wiki/Vajiralongkorn
[2] The student prince. (1970, September 9). The Sydney Morning Herald, p. 13.
[3] Yeend, P. (Ed.). ( 1990). The King's school register 1831-1990. Parramatta, N.S.W.: The Council of The King's School, sec. I, p. 265 & sec. II, p. 219.
[4] Cochrane, L. (2016, November 29). Who is Thailand's Crown Prince Vajiralongkorn, who will be king? ABC News. Retrieved 19/10/2017 from http://www.abc.net.au/news/2016-11-29/who-is-thailands-crown-prince-vajiralongkorn/8075610
[5] Wikipedia (2017). Vajiralongkorn. Retrieved 19/10/2017 from https://en.wikipedia.org/wiki/Vajiralongkorn
[6] Wikipedia (2017). List of old boys of the King's School, Parramatta. Retrieved 19/10/2017 from https://en.wikipedia.org/wiki/List_of_old_boys_of_The_King%27s_School,_Parramatta
[7] Wikipedia (2017). Vajiralongkorn. Retrieved 19/10/2017 from https://en.wikipedia.org/wiki/Vajiralongkorn
[8] Wikipedia (2017). Vajiralongkorn. Retrieved 19/10/2017 from https://en.wikipedia.org/wiki/Vajiralongkorn
[9] Cochrane, L. (2016, November 29). Who is Thailand's Crown Prince Vajiralongkorn, who will be king? ABC News. Retrieved 19/10/2017 from http://www.abc.net.au/news/2016-11-29/who-is-thailands-crown-prince-vajiralongkorn/8075610
[10] Cochrane, L. (2016, November 29). Who is Thailand's Crown Prince Vajiralongkorn, who will be king? ABC News. Retrieved 19/10/2017 from http://www.abc.net.au/news/2016-11-29/who-is-thailands-crown-prince-vajiralongkorn/8075610
[11] Blocks, M. (2016, December 1) Thailand's Crown Prince Vajiralongkorn Becomes King Maha Vajiralongkorn Bodindradebayavarangkun: 1st December 2016, Royal Central UK. Retrieved 20/10/2017 from http://royalcentral.co.uk/international/thailands-crown-prince-vajiralongkorn-becomes-king-maha-vajiralongkorn-bodindradebayavarangkun-72586
Images as they appear in the article:
His Royal Highness Vajiralongkorn Mahidol in Macarthur boarding house with other students [Photograph] (1970) Retrieved from The King's School Archive Collection
Wikipedia (2017). Vajiralongkorn. Retrieved 19/10/2017 from https://en.wikipedia.org/wiki/Vajiralongkorn
Mahidol, V. (1971, December). Crown Prince Mahidol. In B. M. Porter. (Ed.), The King's school magazine, (286), p. 20.
Overseas students at the King's school [Photograph]. (1971). In B. M. Porter (Ed.). The King's school magazine, (283), p. [21].
Yeend, P. (Ed.). ( 1990). The King's school register 1831-1990. Parramatta, N.S.W.: The Council of The King's School, sec. I, p. 265 & sec. II, p. 219.
Thailand – Crown Prince of Thailand at Duntroon [photographic image]. (1972). Canberra: National Archives of Australia. Retrieved 19/10/2017 from http://soda.naa.gov.au/item/11216765
Crowther, J. (1973). Thailand – Crown Prince of Thailand celebrates 21st birthday in Canberra [photographic image]. Canberra: National Archives of Australia. Retrieved 19/10/2017 from http://soda.naa.gov.au/item/11958349
International relations – the Thai Crown Prince of Thailand training with Australian army, Western Australia [photographic image]. (1976). Canberra: National Archives of Australia. Retrieved 19/10/2017 from http://soda.naa.gov.au/item/11624078