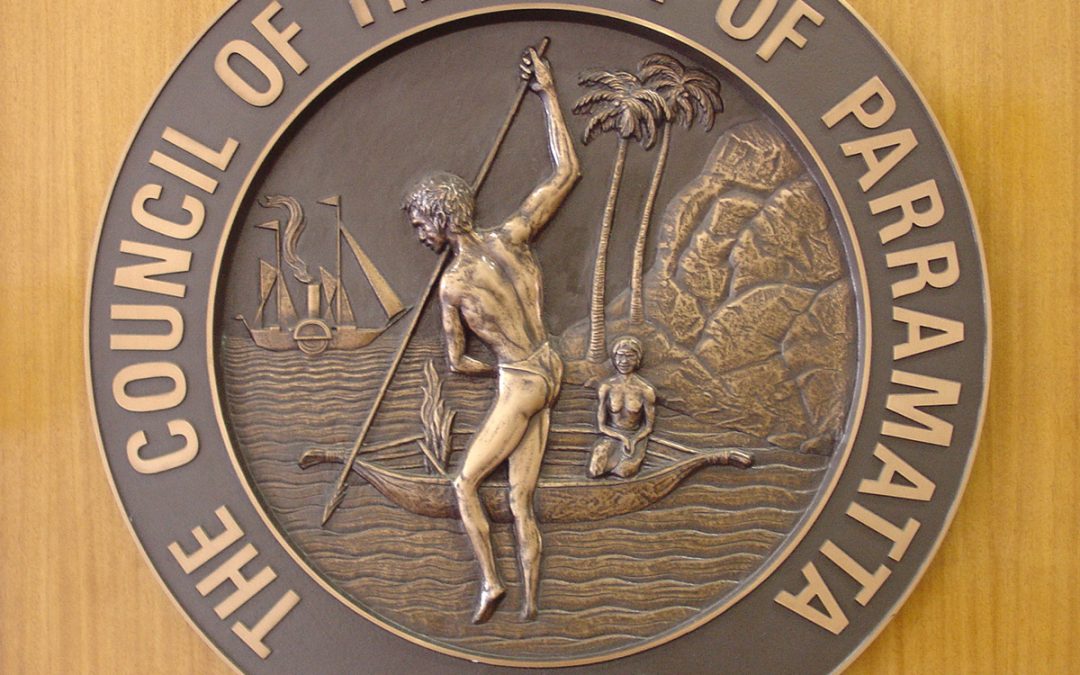 Plaque from City of Parramatta Council Chambers building. Date unknown. Parramatta Heritage Centre collections, 2006.146.
Parramatta was one of the first councils in Australia to depict Aboriginal people as a focal point for a crest which originated in 1862.
History
A crest is a component of a heraldic display and the City of Parramatta crest uses a variety of symbols to convey the rich history and identity of the local government area. [1]
The origins of Parramatta's crest began several months after the Municipality of Parramatta was incorporated on November 27, 1861. At the Council meeting in March, 1862, the Council resolved that…
"…the Mayor be requested to obtain a design for the Common Seal for the Municipal Council with as little delay as possible for the Council's approval.'' [2]
A 'Common Seal' is the equivalent of a signature used to authenticate documents and a requisite of the Municipalities Act in NSW which has evolved over time. [3] The Council commissioned an engraver to produce a decorative seal which would be used to process warrants, fines and other official documents.
Ongoing delays with the design were noted in several Council meetings throughout the year, raising the ire of Alderman James Pye in October 15, 1862 where the minutes recorded the following exchange:
"Alderman Pye asked the Mayor if the Seal was ready and said that the Council was losing a deal of money by its not having arrived. His Worship answered that it was not ready and that he had been every day for a long time past with the engraver who had been unable to finish it." [4]
The seal was finally delivered by October 29, 1862 and with several modifications since its inception, became an identity for the Council in the form of a crest which has been used in official documents, as a display in civic ceremonies, as an engraving in the Mayoral chains, and is used in the Council's corporate branding across a variety of communication channels.

Council crest designs, c. 1950 – 2017, Parramatta Heritage Centre archives, A2015/18
Symbolism
The crest features the foreshore of the Parramatta River in the early days of European settlement, with trees described as Cabbage-tree Palms in various Council reports. In an echo to the past, a grove of Cabbage-tree Palms is also featured in plans to provide shading for the public walkway of Parramatta Square which is undergoing development from 2017. [5]
In the foreground of the crest, an Aboriginal male is standing in the water preparing to use a spear with a three-pronged point to catch either a fish or an eel.
The trident spear, also referred to as a 'fizz-gig' by early British colonists, was used by Aboriginal fishermen who made the points and barbs from pieces of bird or mammal bone, stingray spines, shell, fish teeth or hardwood. The multi-pronged spear was useful for catching fast-moving fish. [6]
Eels regularly migrated at the head of the Parramatta River and 'Burra', the word for 'eel' used by Darug Nation inhabitants, was interpreted as the place name in 1791 for 'Parramatta' – 'Burramatta, the place where the eels lie down'. [7]
Elsewhere in the crest an Aboriginal woman, believed to be the fisherman's wife, is sitting in a bark canoe and may also be fishing by using a line and hook. In the original design there was a small fire in the canoe. These fires were often kept alight on a bed of wet clay or seaweed and allowed people to keep warm in winter and to cook the fish they had caught. [8]
A boat in the distance is a paddle-wheel steamer, many of which traversed the Parramatta River from 1831, carrying both passengers and goods. [9]
It's believed the Council's former corporate identity colours of blue and white originated from the regimental colours of the Lancers stationed at the Lancer Barracks in Parramatta, which in turn were taken from Australia's first independent school, the King's School colours of Cambridge blue and white. [10]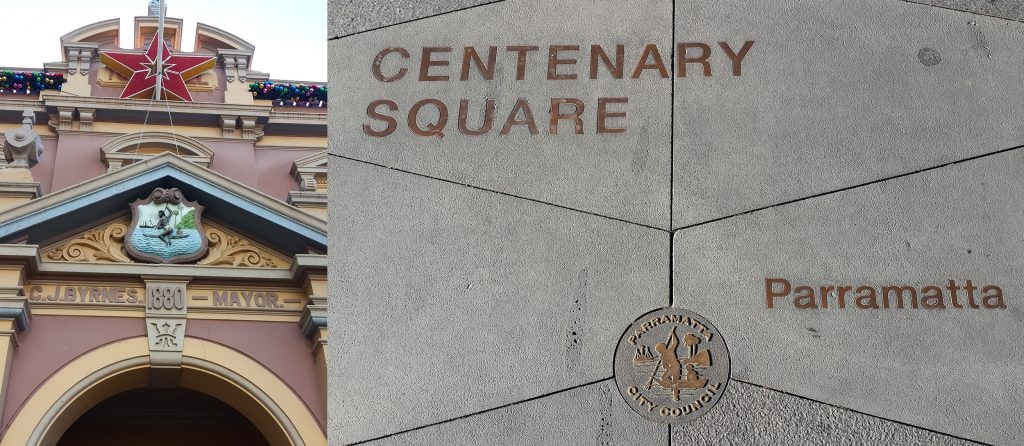 Left: The main entrance to the City of Parramatta Town Hall. Right: Pavement in Centenary Square. Image: Anna Namuren
Modernisation and influences
The crest remained largely unchanged in design from 1862 until 1939, apart from the words 'borough' being replaced by 'municipality' and 'city' after Parramatta was proclaimed a city on October 27, 1938. [11]
From 1939 to the present day, changes have included adding a red loincloth and beard to the fisherman, simplifying the landscape and elements and converting the image to a high-contrast silhouette.
The City of Parramatta crest has also inspired designs for crests, badges and logos used by local institutions, including the ship badge used to identify HMAS Parramatta from the Royal Australian Navy.  In 1913, Parramatta High School applied for permission to adopt the Parramatta Municipal Council's crest into their school badge. [12]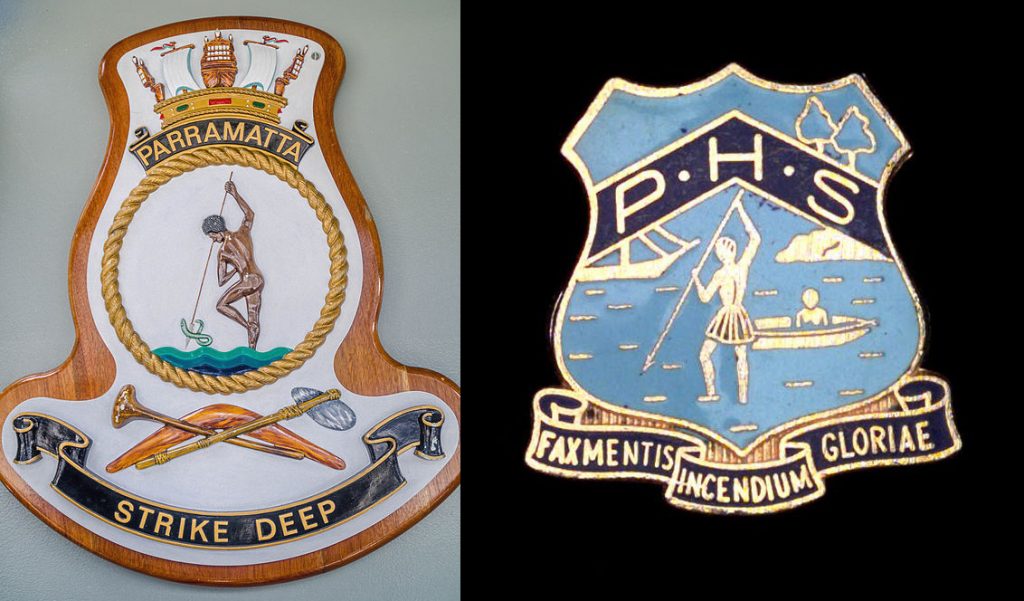 Left: HMAS Parramatta ship badge on wood. Image by Hpeterswald (Own work) CC BY-SA 3.0 via Wikimedia Commons. Right: Parramatta High School crest & motto, gilt with blue enamel. Museum of Applied Arts & Sciences (MAAS), ma.as/59962.

Anna Namuren, Research and Collection Services Co-ordinator & Anne Tsang, Research Assistant, City of Parramatta, Parramatta Heritage Centre 2017
References
[1] NSW Office of Environment & Heritage (2017). Heraldry. Retrieved on 24/11/2017 from http://www.environment.nsw.gov.au/Heritage/research/heraldryexhibition.htm
[2] Parramatta Municipal Council (1862). Meeting Minutes, Monday 31st March, 1862, p.28. Item no. PRS21/001.
[3] City of Sydney (2017). Coat of Arms. Retrieved on 24/11/2017 from
http://www.cityofsydney.nsw.gov.au/learn/sydneys-history/civic-history/symbols-of-the-city/coat-of-arms
[4] Parramatta Municipal Council (1862). Meeting Minutes, Wednesday 15th October, 1862. Item no. PRS21/001. P.77.
[5] Architecture AU (2017). Revised designs for Parramatta Square public domain released. Retrieved on 24/11/2017 from https://architectureau.com/articles/revised-designs-for-parramatta-square-public-domain-released
[6] Australian Museum (2017). Prongs of an Indigenous fishing spear, pre-1884. Retrieved on 24/11/2017 from https://australianmuseum.net.au/prongs-of-an-indigenous-fishing-spear-pre-1884
[7] City of Parramatta (2017). Aboriginal and Torres Strait Islanders. Retrieved on 24/11/2017 from https://www.cityofparramatta.nsw.gov.au/living-and-community/aboriginal-and-torres-strait-islanders
[8] Australian Museum (2017). Indigenous bark canoe from New South Wales. Retrieved on 24/11/2017 from
https://australianmuseum.net.au/indigenous-bark-canoe-from-new-south-wales
[9] Sydney, Leigh (188-?). Parramatta River: steamers & tramways guide.
[10] King's School (2015). The King's Herald, Head of the Preparatory School, Issue No. 5, p.13.
[11] Kass, Terry; Liston, Carol; McClymont, John (1996), Parramatta, a past revealed, Parramatta City Council, p.357.
[12] Trove, Parramatta Council, (1913, July 12), The Cumberland Argus and Fruitgrowers Advocate, p.4. Retrieved on 24/11/2017 from http://trove.nla.gov.au/newspaper/page/8966869