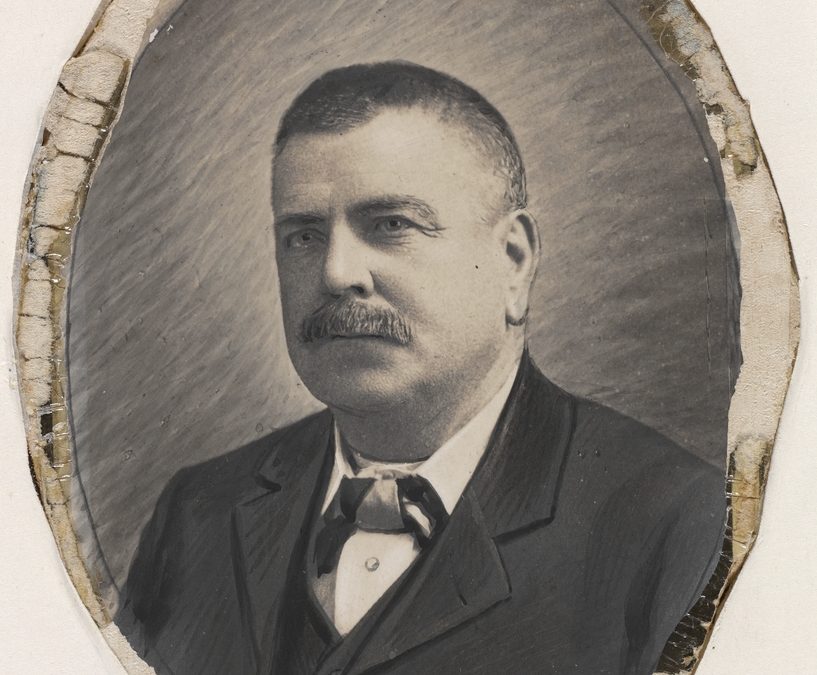 Edward William O'Sullivan, printer, journalist and politician – portrait, ca. 1895-1905 / unknown photographer. Image Source: State Library of New South Wales.
Edward William O'Sullivan was born on St. Patrick's Day, 17th of March, 1846 in Launceston, Van Diemen's Land (Tasmania) [1]. O'Sullivan's career began as a 'printer's devil', a phrase that refers to an apprentice who undertakes odd jobs in the printer's office such as maintaining ink tanks [2].
As an apprentice, O'Sullivan learned the skill of typesetting. During this time, he began to write and in 1871 he started an evening newspaper called the Tasmanian Tribune [3]. After moving to Melbourne in 1874, O'Sullivan again launched a newspaper, this one being called the Evening Tribune. Unfortunately, this paper ultimately failed and left O'Sullivan facing near bankruptcy.
He became editor of St. Arnaud Mercury in 1875 and became more involved with politics and was a supporter of Sir Graham Berry. O'Sullivan married Agnes Ann Firman who was a milliner, on 17th of December, 1878. His career also changed at this time, with him moving to the Argus newspaper in Melbourne. The couple moved to Sydney during 1882 [4]. O'Sullivan served on a number of union councils including the NSW Typographical Association on the Trades and Labor Council.
O'Sullivan went on to represent Queanbeyan for nineteen years, after being defeated for the Legislative Assembly seat of West Sydney in 1882. He survived opposition from both Sir Henry Parkes in 1887 and Sir George Reid in 1898 [5].
He served as Secretary for Public Works from 1899 and is noted for his work establishing a minimum wage for government work. His most famous work being Central Railway Station [6]. At the time The Bulletin newspaper referred to the station as having "all the salient features of the Coliseum, St Paul's, the Kremlin and a Yankee skyscraper" [7].
In 1902 on September 13, O'Sullivan visited Parramatta on the event of the official opening of the Baulkham Hills tramway. He and his party were met at the Rosehill siding by Parramatta Mayor, Edward Pascoe Pearce. The first stop for the party was the (old) Queen's Wharf in Parramatta with them heading on towards the Lennox Bridge [8]. At the Lennox Bridge the foul looking and smelling water was noted which was in stark contrast to the water seen shortly after in front of the District Hospital. O'Sullivan was noted as stating that he would do what was in his power to ensure that a sewage scheme was implemented to address the quality of the water surrounding the Lennox Bridge. O'Sullivan's visit was short as he had agreed to travel that day as far as Kellyville "on the express condition that he got back to Sydney on the 4:25 train" from Parramatta Station [9].
O'Sullivan won the seat of Belmore in 1904 through to 1906 when he represented the ward of Cook until 1910. He is also noted as being a member of the royal commission for the improvement of Sydney in 1908-09 [10].
Apart from his political achievements, O'Sullivan also a successful playwright, having had three plays produced ('Coo-ee', 'Eureka Stockade' and 'Keane of Kalgoorlie') as well as the publication of a collection of essays and a number of pamphlets [11]. It is worthy of note that 'Keane of Kalgoorlie' was made into a silent film in 1911. O'Sullivan's plays were shown at the Hippodrome in Haymarket, now the site of the Capitol Theatre, as well as the Parade Theatre in Kensington. Anna Bemrose, reviewing O'Sullivan's 'Coo-ee', wrote that he used his writing in his melodramas as an "electoral instrument" based on his nationalistic views [12]. Bemrose also notes that O'Sullivan was rumoured to have attended one of the sessions of the trial of Ned Kelly in his former role of journalist.
O'Sullivan passed away at his home on the 25th of April 1910 from blood poisoning and was survived by his wife, three daughters and son. He was buried at Waverley Cemetery [13] where a memorial in his honour was erected on Sunday the 11th of August, 1912 over his grave at Waverley Cemetery. The dedication of the memorial was attended by the Hon. A. Fisher, Prime Minister, family and friends and members of the Legislative Assembly and the House of Representatives [14].

Alysha Esdaile, Volunteer Collections Assistant, City of Parramatta, Parramatta Heritage Centre, 2018.
References:
[1] Mansfield, B. (1988). O'Sullivan, Edward William (1846-1910). Australian Dictionary of Biography, Australian National University. Retrieved November 6, 2017 from http://adb.anu.edu.au/biography/osullivan-edward-william-7931
[2] Mansfield, B. (1988). O'Sullivan, Edward William (1846-1910). Australian Dictionary of Biography, Australian National University. Retrieved November 6, 2017 from http://adb.anu.edu.au/biography/osullivan-edward-william-7931
[3] Mansfield, B. (1988). O'Sullivan, Edward William (1846-1910). Australian Dictionary of Biography, Australian National University. Retrieved November 6, 2017 from http://adb.anu.edu.au/biography/osullivan-edward-william-7931
[4] Mansfield, B. (1988). O'Sullivan, Edward William (1846-1910). Australian Dictionary of Biography, Australian National University. Retrieved November 6, 2017 from http://adb.anu.edu.au/biography/osullivan-edward-william-7931
[5] Mansfield, B. (1988). O'Sullivan, Edward William (1846-1910). Australian Dictionary of Biography, Australian National University. Retrieved November 6, 2017 from http://adb.anu.edu.au/biography/osullivan-edward-william-7931
[6] Mansfield, B. (1988). O'Sullivan, Edward William (1846-1910). Australian Dictionary of Biography, Australian National University. Retrieved November 6, 2017 from http://adb.anu.edu.au/biography/osullivan-edward-william-7931
[7] Mansfield, B. (1988). O'Sullivan, Edward William (1846-1910). Australian Dictionary of Biography, Australian National University. Retrieved November 6, 2017 from http://adb.anu.edu.au/biography/osullivan-edward-william-7931
[8] The Cumberland Argus and Fruitgrowers Advocate. (1902). Mr. O'Sullivan's Visit. Retrieved, November 6, 2017 from https://trove.nla.gov.au/newspaper/article/86202093
[9] The Cumberland Argus and Fruitgrowers Advocate. (1902). Mr. O'Sullivan's Visit. Retrieved, November 6, 2017 from https://trove.nla.gov.au/newspaper/article/86202093
[10] Mansfield, B. (1988). O'Sullivan, Edward William (1846-1910). Australian Dictionary of Biography, Australian National University. Retrieved November 6, 2017 from http://adb.anu.edu.au/biography/osullivan-edward-william-7931
[11] Mansfield, B. (1988). O'Sullivan, Edward William (1846-1910). Australian Dictionary of Biography, Australian National University. Retrieved November 6, 2017 from http://adb.anu.edu.au/biography/osullivan-edward-william-7931
[12] Bemrose, Anna. Australasian Drama Studies; St Lucia, Qld. Vol. 30, (Apr 1, 1997): 87. Retrieved November 6, 2017 from https://search.proquest.com/openview/1ef13630d92119ea58236e96fc82e09c/1?pq-origsite=gscholar&cbl=1817542
[13] Mansfield, B. (1988). O'Sullivan, Edward William (1846-1910). Australian Dictionary of Biography, Australian National University. Retrieved November 6, 2017 from http://adb.anu.edu.au/biography/osullivan-edward-william-7931
[14] Freeman's Journal. (1912). In Memory of a Great Democrat. Retrieved December 12, 2017 from https://trove.nla.gov.au/newspaper/page/12257692