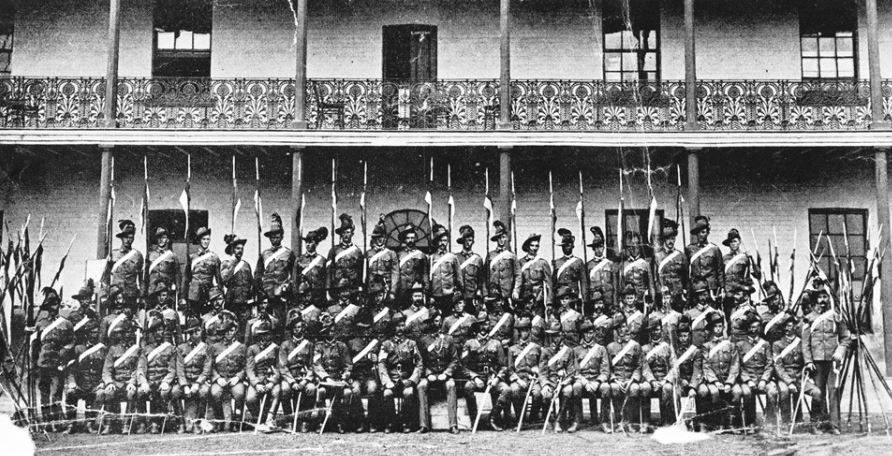 The Parramatta Lancers in front of Lancer Barracks, 1899. Source: Lancer Barracks Museum
On 4 April 1900, as Corporal Ben Harkus lay feverish and seriously ill with Typhoid in Bloemfontein Hospital, South Africa, his thoughts flew to his young family in faraway Parramatta.
The story of how Ben Harkus came to be fighting with his Parramatta Lancers comrades in the Boer War is one of talent, loyalty, injustice, bravery and tragedy. A well-known and popular young man within the Parramatta community, in the days after Corporal Harkus succumbed to his illness a comrade wrote:
You will have heard of Harkus' death. The poor fellow died the other day from Enteric Fever [Typhoid]. Since he re-joined us he has never been the same man as when he left us… His last words were to ask for his children.[1]
Rowland 'Ben' Harkus was born in 1869 in Broulee, rural New South Wales. As a young, man he worked in the local postal service. In 1892, he married Armida Zeigler and shortly after, they moved to Parramatta, taking up residence in Crimea Street.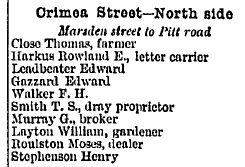 Ben Harkus listed as a 'letter carrier', living at Crimea Street, Parramatta in Sands Directory, 1895, p.377
Ben and Armida quickly settled into their new life. Ben transferred to a job at Parramatta Post Office in Church Street, where he was a popular colleague and valued employee.[2] Shortly after, the couple had two children – a girl called Dorothy in 1892, followed by a boy named Rowland after his father, though always known as 'Roy', in 1894.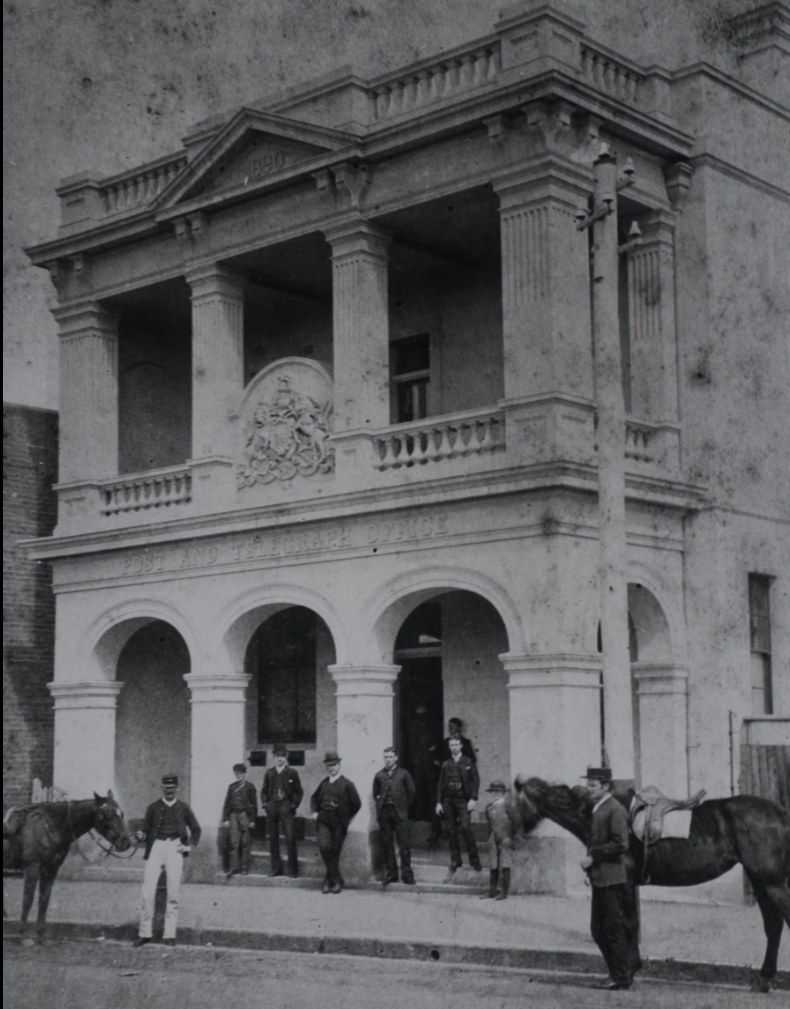 Parramatta Post Office in 1900. Source: City of Parramatta Local Studies Library, LSP00769
Ben was an excellent horseman, and in 1897 he volunteered for the Parramatta Lancers 'K' Troop, an Australian Army Reserve Light Cavalry Reconnaissance Regiment. Now known as the Royal NSW Lancers, the regiment is still Headquartered at the historic barracks on Smith Street, built between 1818-20.
Over the next few years, Trooper Harkus enjoyed considerable fame across the state and beyond as a competitor in military tournaments, representing the Parramatta Lancers in competitions such as tent pegging and spearing small objects with a lance, at full-gallop on horseback [3].
In 1897, Trooper Harkus visited Britain for several weeks with the Parramatta Lancers to participate in Queen Victoria's Diamond Jubilee celebrations. The handsome and athletic Australians, in their dashing Lancer uniforms, created a sensation in London, and they enjoyed a flood of invitations to events and society parties.[4]
At the end of the celebrations, Queen Victoria presented five Empire Gold Medals to the best tournament competitors from the Regular British Army and the various Colonial Volunteer contingents. The Lancers were awarded two, one of which was presented to Trooper Harkus, who was proclaimed as one of the finest military horsemen in the British Empire.[5]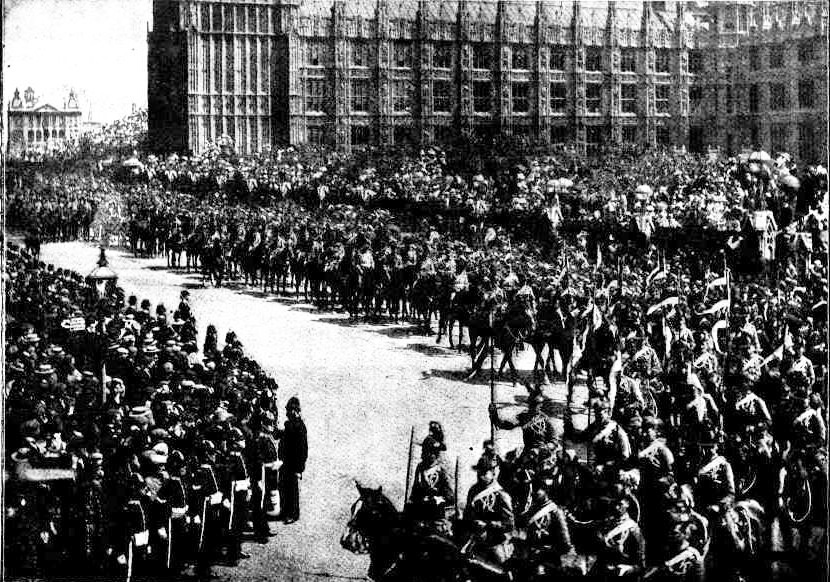 'A Colonial escort' – the Parramatta Lancers pass the Houses of Parliament in London as part of the Queen Victoria Diamond Jubilee Parade. Source: The Sydney Mail and New South Wales Advertiser, 14 Aug 1897, p 336
Trooper Harkus' reputation as a flamboyant and skilled horseman quickly spread through London, earning him considerable celebrity across the city. A scrap book compiled by his sister (now held in the Lancer Barracks Museum collection) contains many pages of newspaper clippings praising the Trooper's equestrian prowess and tournament successes.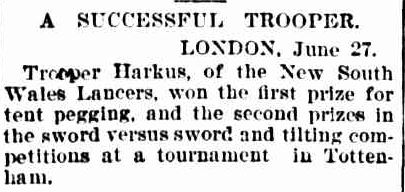 Weekly Times (Melbourne), 3 July 1897, p. 22
In 1899, Trooper Harkus returned to Britain with the Parramatta Lancers again, with his wife and children. The Regiment travelled to London at their own expense, to engage in military training and compete in local tournaments. While in Britain, their commanders volunteered the men to join British troops fighting the Boer War in South Africa.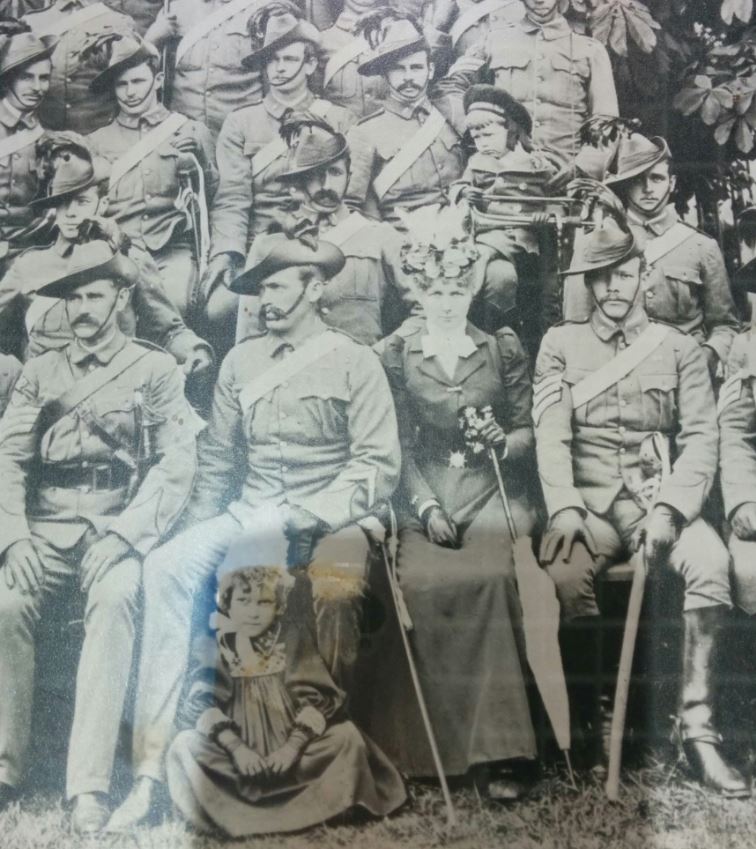 Trooper 'Ben' and Mrs Harkus (centre) with their children in Aldershot, Britain during Parramatta Lancers' visit to undertaken military training, 1899. Source: Lancer Barracks Museum
The Parramatta Lancers, a volunteer militia regiment, were not officially required to join the fighting in the Boer War. They nonetheless dutifully and bravely set off, sailing from London on the Nineveh, en-route to South Africa. Trooper Harkus had intended to embark at Cape Town with the regiment.
However, during the journey Armida Harkus fell seriously ill, and after much consideration, Trooper Harkus decided to continue onboard through to Sydney to ensure the safe passage of his wife and young children. He explained later:
I had intended going to the Front, but Mrs Harkus was very sick, and that, with other reasons, decided me to come on home, and I am pleased now that I did, as a rough crowd came on from the Cape, and you must remember we are all travelling steerage. I did what I thought best and, if wrong, must stand by it.[6]
During the journey, which took several weeks, public disappointment at Trooper Harkus' 'cowardly' decision was whipped into frenzied proportions by the patriotic Australian newspapers.
By the time the ship docked in Sydney, Trooper Harkus and his family had to be smuggled ashore in fear of retributory attacks from angry members of the public.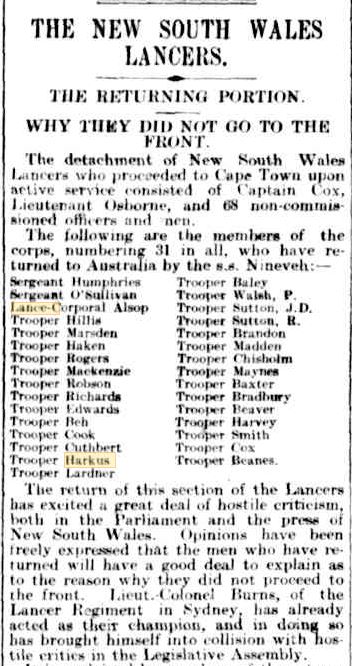 Trooper Harkus listed among the 31 'cowards' who did not go to the Front. The Melbourne Argus, 25 Nov 1899, p. 15
The unrelenting public criticism continued, with Trooper Harkus being physically accosted in the streets of Parramatta, receiving white feathers in the post, and even being criticised during a session of State Parliament.[7]
Eventually Harkus, stating "I must go as a point of honour, if I did not go, life in Parramatta would be intolerable", volunteered to return to South Africa to fight with the Parramatta Lancers. Promoted to Corporal, Harkus and the Troopers under his charge arrived in South Africa in March 1900.[8]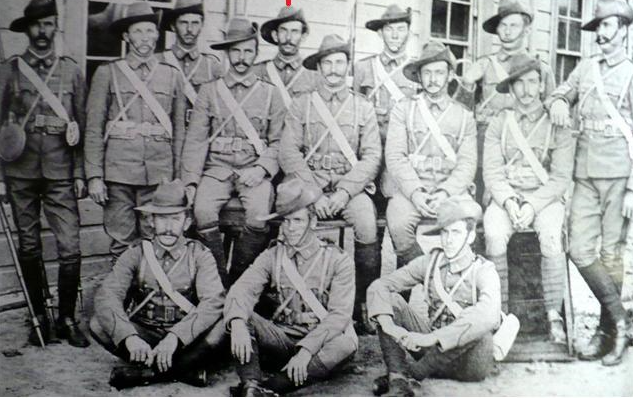 Corporal Harkus (far right) with the Parramatta Lancers draft he commanded, prior to embarking to South Africa, 1900. Source: www.bwm.org.au
When Corporal Harkus and his men arrived in Bloemfontein, South Africa, they found the township endemic with Typhoid, then known as Enteric Fever. Harkus had little chance to prove himself on the battlefield as he, and a number of his men, contracted the disease shortly after arriving and fell seriously ill.
By 3 April 1900 Corporal Harkus had been admitted to the local military hospital – he was feverish, gasping for breath and calling for his children. In the early hours of the following day, Corporal Harkus slipped into unconsciousness and, shortly after, lost his battle with the illness. He was buried in the President Brand Cemetery, Bloemfontein.[9]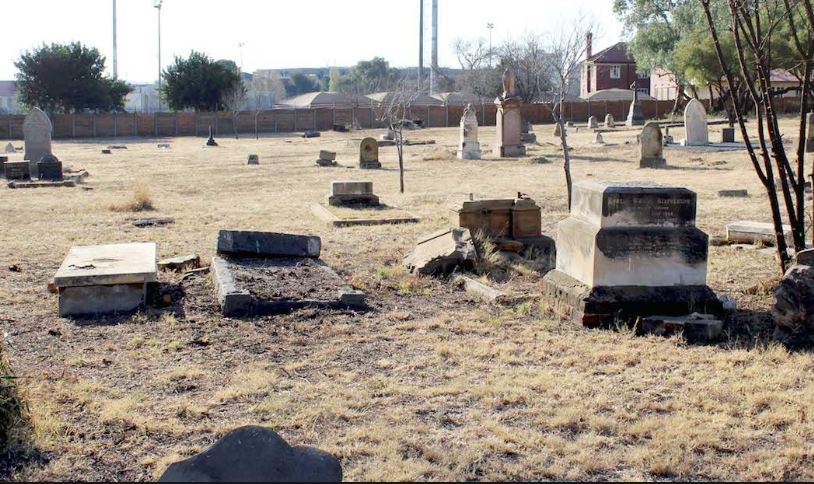 Corporal Harkus' final resting place, President Brand Cemetery in Bloemfontein. Source: www.theheritageportal.co.za
Immediately after news of Corporal Harkus' death reached Australia, public opinion swung to a mood of great remorse and regret. Newspaper articles denounced the 'Hounding of Harkus' and a song, The Return, was written in his honour.[10]
They left him where the weeping winds,

Sing dirges faint and few, and they're home!

God's light how grand the sight!

If Ben, poor Ben, marched too.
 Even in death, Corporal Harkus remained, for some time, a ubiquitous topic of public discussion and newspaper articles. A genuine desire among the Parramatta community to assist the bereaved family lead to the staging of a benefit concert in their honour on 13 June 1900 at Parramatta Town Hall (the event was so popular that many patrons had to be turned away).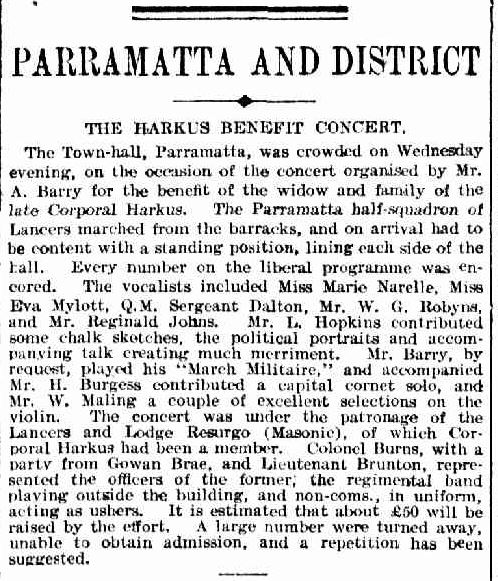 Details of the Harkus Benefit Concert held in Parramatta Town Hall. Daily Telegraph, 15 June 1900, p. 7
Despite the compassion shown by the local Parramatta community after her husband's death, shortly after the concert held for her benefit, Armida Harkus moved with her two young children to London. They did not return to Australia.
Armida remarried in 1912, though died shortly after in 1918. Dorothy Harkus moved to the North of England, where she lived until her death in the 1980s. Her brother, Roy, had pre-deceased her many years earlier, passing away in Hammersmith Hospital, London in 1948.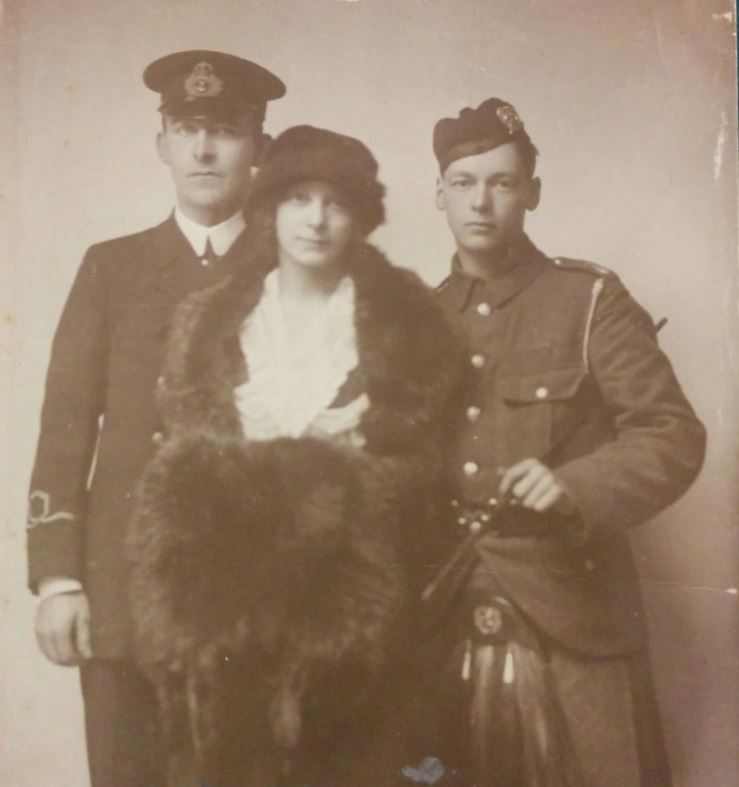 Dorothy (centre) and Roy (right) Harkus in London, c. 1914-16. Source: Harkus Scrapbook, Royal NSW Lancers Memorial Museum
Corporal Harkus' memory is still honoured in Parramatta. His name is listed with the other men of the city who lost their lives in the Boer War on a memorial standing proudly in Parramatta Park.
Boer War Memorial, Parramatta Park. (Source: Michelle Goodman, Archivist)
As the years have passed, the voices from the turn of the last century have gradually become silent. Corporal 'Ben' Harkus, a name so famous across our city at one time, is now all but forgotten. On his death, Corporal Harkus came to symbolise the unfairness of public persecution and the tragic loss of young lives of promise, cut short by war.
However, with the benefit of time passing, a more complete view of Ben now comes into focus – a tall, handsome and charming young man striding through the sunny streets of Parramatta after a day's work at the Post Office, returning to a much-loved family in a cottage on Crimea Street, and looking forward to the next time he, in dashing Lancers regalia, wows the local crowds with his dazzling horsemanship.
Michelle Goodman, Archivist, City of Parramatta, Parramatta Heritage Centre, 2018

References
[1]  Excerpt from letter written by Trooper Barclay, NSW Lancers, quoted in The Cumberland Argus and Fruitgrower's Advocate, 30 May 1990, p. 2
[2]  The Parramatta Lancers, off to England. The Cumberland Free Press, 10 April 1897, p. 5
[3] Colonel Harkus Scrapbook, held by the Lancer Barrack Museum (Ref: 2009/125)
[4] Parramatta Lancers in London. The Cumberland Argus and Fruitgrower's Advocate, 17 Jul 1897, p.12
[5]  Colonel Harkus Scrapbook, held by the Lancer Barrack Museum (Ref: 2009/125)
[6] Excerpt from a letter Corporal Harkus sent to a friend, quoted in Sunday Times, 3 dec 1899, p. 8
[7] The New South Wales Lancers – The Returning Portion – Why they did not go to the Front. The Melbourne Argus. 25 Nov 1899, p. 15
[8]  Corporal Harkus' Case. The Cumberland and Argus and Fritugrower's Advocate. 17 Jan 1900, p. 2
[9] The Last Post Ceremony commemorating the service of (67) Corporal Rowland Edward Harkus, New South Wales Lancers, Boer War, Australian War Memorial Last Post Ceremony. Retrieved from https://www.awm.gov.au/index.php/collection/C2083264, 8 February 2018
[10] A copy of the original sheet music manuscript, with an accompanying letter to Mrs Harkus, is held in the Lancer Museum collections