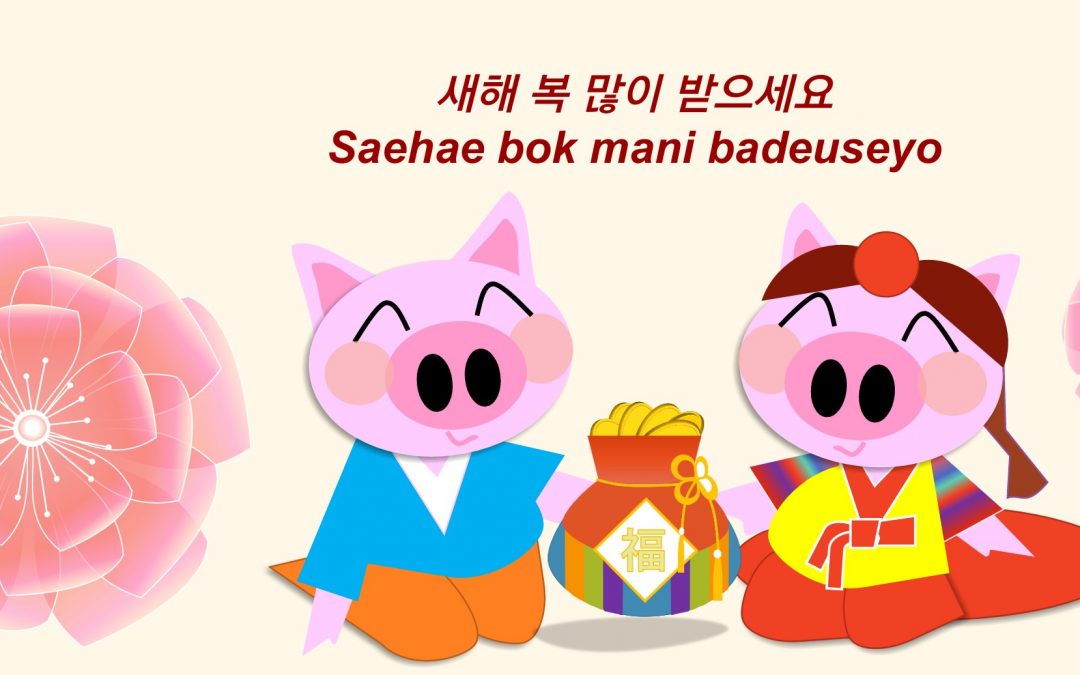 새해 복 많이 받으세요! "Sae-hae bok man-hi ba-teu-se-yo!" (meaning "I wish you many blessings this year!")
In Korea, Lunar New Year is celebrated and called Seollal or Sŏllal (설날). Based on the Lunisolar calendar, traditionally the event is celebrated over three days unlike the 15 days in China and is considered a celebration of family. It is a time when many Koreans (even those living overseas) will travel back to their hometowns to pay respect to their ancestors; to catch up with extended family and friends; and to embrace Korean cultural and culinary traditions.
In North Korea, Lunar New Year was abolished in 1953 following the Korean War but was revived in 1967.
The 12 animal gods of the Chinese zodiac are also followed and this year is the Year of the Pig. The pig is traditionally seen as a symbol of fertility and wealth. It is also the twelfth and final animal to appear in the zodiac's 12 year cycle before a new cycle begins.
A ceremony called Charye (차례, 茶禮) is performed on the first day of the lunar calendar. It is part of an ancestral ritual traditionally performed four time a year. Various foods are laid out on a table in a specific order during the ceremony with fruit in the front, vegetables in the second row, meats and fish in the third row and finally bowls of rice, soup and chopsticks in the back row.
Many Koreans will usually wear new colourful traditional Korean outfits known as Hanbok. Children will give a deep new year bow known as Sebae (세배, 歲拜) to their elders and in return they receive pocket money (in the form of fresh banknotes or now with increase use and convenience of technology – online payments) and well wishes from their elders. This is similar to the Chinese custom of elders giving young people lucky red envelops. Young people who have joined the workforce usually give envelopes of money in return to their parents as a token of appreciation during the holiday.
Shops are usually closed during Seollal. So activities the Koreans do include kite flying (or yeon-nal-li-gi) where new year wishes are written on the kites before they are flown high in the sky; playing traditional games such as Yun-nori (윷놀이), a popular traditional Korean board game played with 4 'yut-sticks'; Neol-ttwi-gi (널뛰기), Korean see-saw where Korean women and girls propel each other into the air; or Je-gi-cha-gi (제기차기) an outdoor hackey sack game played with a 'jegi' which is similar to a shuttlecock but made from paper wrapped around a small coin). Listening to old folk stories is another popular pastime.
Some of the delicious foods you will see Koreans eating during the holiday include Tteokguk (rice cake soup), Galbi Jjim (braised short ribs) and Jeon (Korean pancakes).
So once again,
새해 복 많이 받으세요! ("Sae-hae bok man-hi ba-teu-se-yo!")

Happy New Year!

Anne Tsang, Research Assistant, City of Parramatta, Parramatta Heritage Centre, 2019
References
Crump, William D. (2014). Encyclopedia of New Year's Holidays Worldwide. McFarland. pp. 134–135. ISBN 1476607486.
Lee, H. K. (2018, February 16). How South Korea celebrates the Lunar New Year — all about family, ABC News. Retrieved from https://abcnews.go.com/beta-story-container/International/south-korea-celebrates-lunar-year-family/story?id=53134759
The National Folk Museum of Korea (South Korea). (2014). Seol, In Encyclopedia of Korean Seasonal Customs, volume 1. pp. 30–46. t National Folk Museum of Korea. ISBN 8992128924.
Vandenberg, L. (2019, January 15). South Korea's 2 new year celebrations, The Diplomat. Retrieved from https://thediplomat.com/2019/01/south-koreas-2-new-year-celebrations/
Wikipedia contributors. (2018, December 19). Korean New Year. In Wikipedia, The Free Encyclopedia. Retrieved from https://en.wikipedia.org/wiki/Korean_New_Year
Wikipedia contributors. (2018, November 30). Jesa. In Wikipedia, The Free Encyclopedia. Retrieved from https://en.wikipedia.org/wiki/Jesa