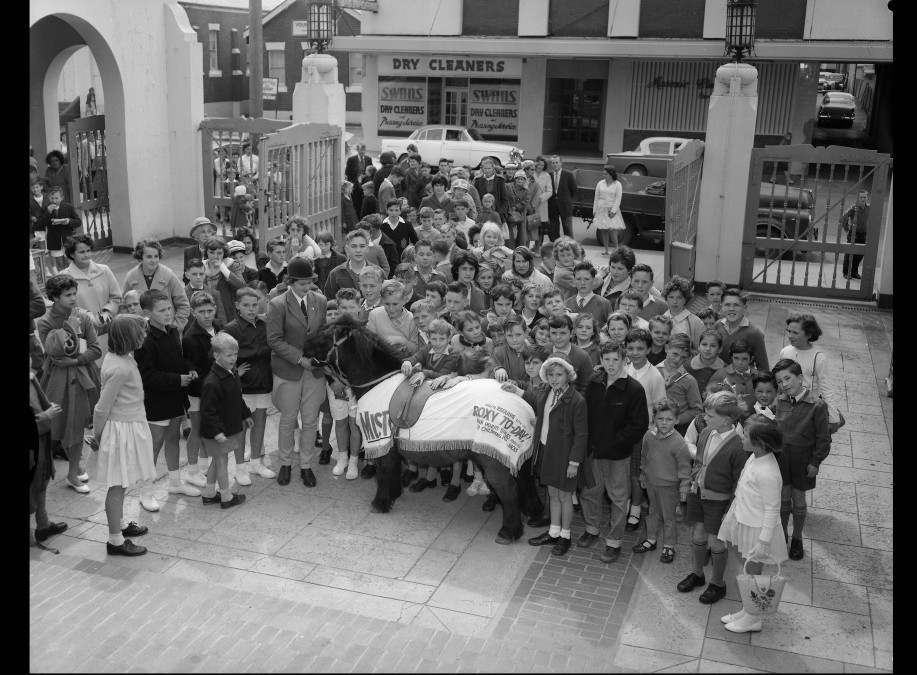 Group of children around a pony horse promotional of the film "Misty", 1961 at Roxy Theatre, Parramatta. (Source: Elton Ward Collection, Parramatta Heritage Centre ACC002/10/2)
"A new world in photography" is how Mr G. E. Edwards described the showroom at Elton Ward Studios back in November 1965. He published an extensive promotional article in The Parramatta Advocate about the new alterations and services in his shop on Argyle Street, Parramatta. In the article he emphasised constant changes in the photographic industry and his need to provide better services by true specialists in photography. As there were increasing numbers of amateurs interested in photography as well as in film making; the services that Elton Ward Studios offered were also extensive. They offered a range of photographic and cinematographic equipment for amateurs and professionals. They also continued to offer services such as portrait, social event and commercial photography. In addition they had several darkrooms available for people to use and at the same time exchange experiences with the community of professionals that gathered at the shop.
With more than 35 years of experience at that time, his studios were highly recognised in Parramatta. He used to participate regularly in publications such as the Argus Photographic and the Social sections of the The Cumberland Argus, and the Brides of the week section at The Parramatta Advertiser.
He advertised Elton Ward Studios in several papers from areas around Parramatta. Some of his articles were about tips for amateur photographer as well as recommendations of photographic and video equipment, announcing new cameras and novelties stocked at the shop.
It was Mr Thomas Edwards who first opened a small studio on Argyle Street in around 1937 and it continued to grow throughout the years. Then his son Eric Edwards who had gained experience as a photographer began to work alongside his father. In 1946, he finally took control of the family business with four staff and with time, Eric's son Barry also joined the business.
Significant changes occurred the following years; one was the addition of an adjacent building and its conversion to a big showroom area, which Elton Ward Studios then occupied at 85-87 Argyle Street, the same area that "The new world in photography" was announcing as refurbished in 1965 shown in the picture above. The article covered 9 pages of advertisements of new equipment stocked at the shop where the photographic companies extended congratulations to Elton Ward Studios for its new world in photography.

Maribel Morales Rosales, Research Assistant, City of Parramatta, Parramatta Heritage Centre, 2019
References
"Elton Ward, A new world in photography". (1965, November 23). The Parramatta Advertiser, p. 9.
Elton Ward. (2014). Elton Ward Creative: History. Retrieved on 27 June 2014 from http://www.eltonward.com.au/history.html
"Humble start in photography". (1965, November 23). The Parramatta Advertiser, p. 14.