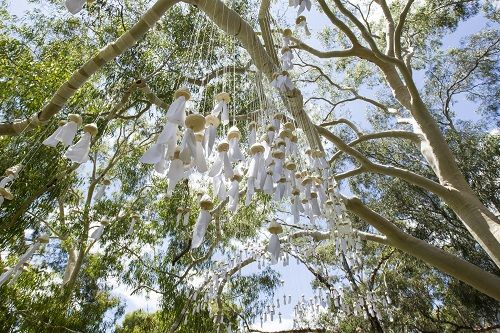 A spectacular tree in Parramatta Park (Source: City of Parramatta Council, 2012)
Trees across the Parramatta area make our surroundings more attractive and pleasant. They provide relief from heat and glare, improve the quality of the air we breathe, and help retain precious rainwater in our soil. Trees frame our memories and identity. For the traditional custodians of this land, the Darug people, trees hold particular cultural and spiritual relevance.[1]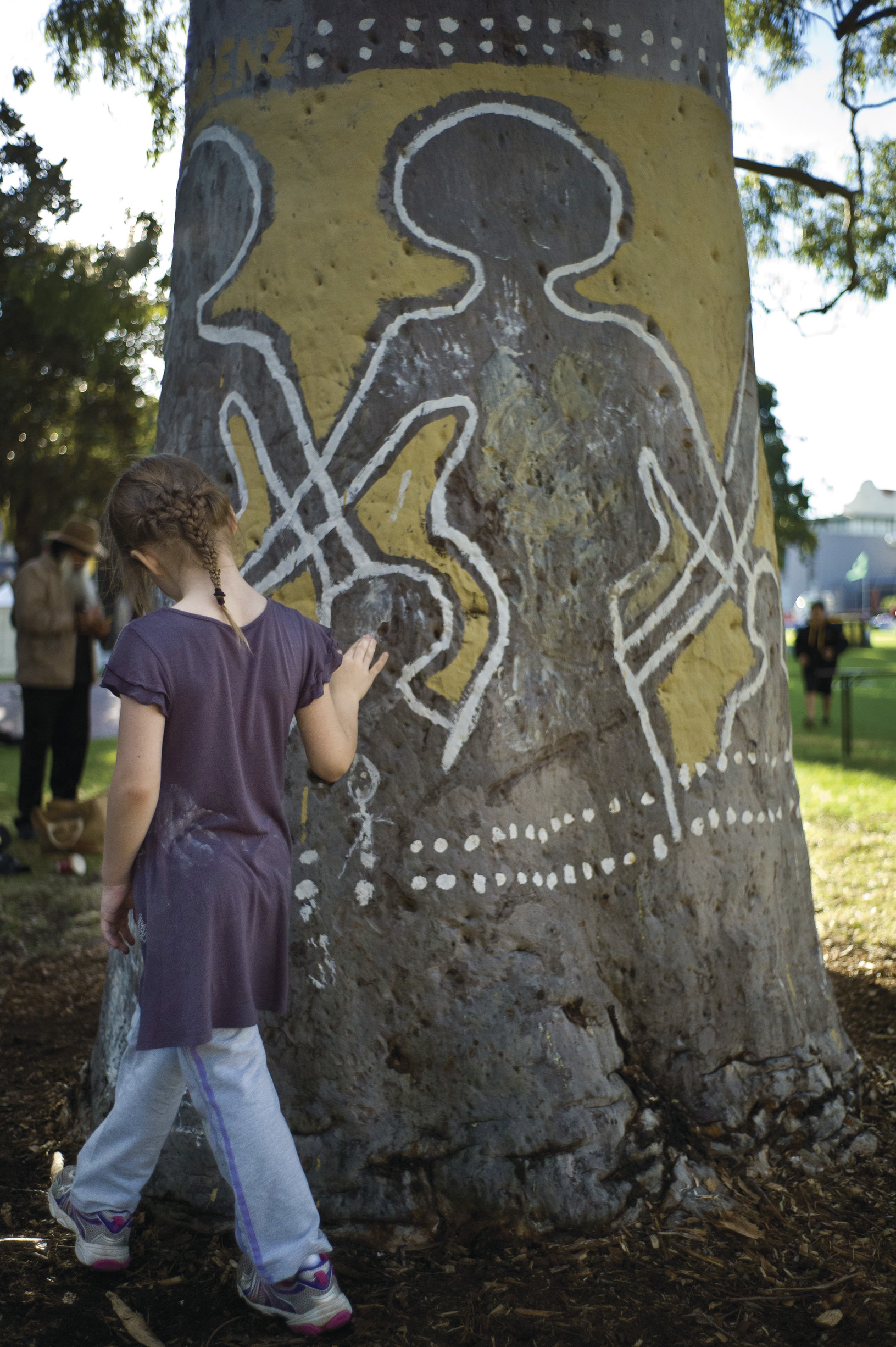 Ochre-painted tree in Parramatta Park, NAIDOC Week, 2012 (Source: City of Parramatta Council)
Parramatta is a densely populated, urban environment. Despite this, the area is also home to a surprisingly large number of trees. The lushly-wooded UNESCO World Heritage-listed Parramatta Park sits as the glorious green centerpiece of our local government area, complemented by the many small, leafy parks and reserves nestled within our neighbourhoods. Across the Parramatta area, there are also pockets of remnant bushland that "tell of life in Parramatta on the Cumberland Plains before Colonial settlement" in 1788.[2]
The variety of trees in Parramatta is extensive and broad, encompassing fine ancient native specimens as well as magnificent, introduced European trees. Parramatta also features significantly in the fascinating early history of Western botanical sciences in Australia.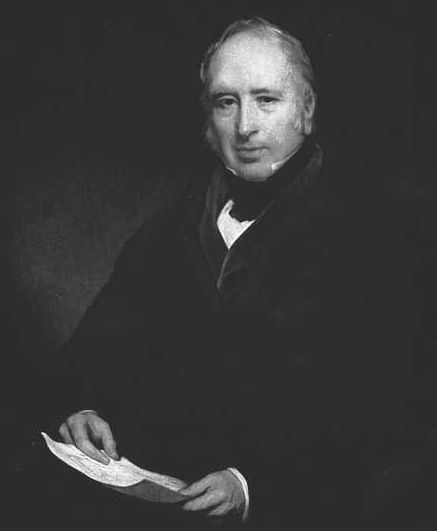 Joseph Caley, who established a Botanical Garden in Parramatta in the early years of the 1800s (Source: Alchetron.com)
What comes to mind when you think of trees in Parramatta? A silent, towering giant? A favourite shade tree in a local park? Perhaps a tree you planted in your own back yard? Listed below are some of our favourites:
Parramatta Palms
An imposing colonnade of Canary Island date palms stands in Parramatta's Heritage-listed Prince Alfred Square. Lining the Square's pathways, the palms serve as navigational markers of this urban oasis, as well as lending a touch of tropical glamour to the Northern entry to our city.
Another species of palm, once a common regional vegetation around the Parramatta area, is the cabbage palm tree. With glossy green leaves spanning 3 metres, and a trunk reaching a height of up to 30 metres, the colossal cabbage tree palm is one of the tallest Australian native plants.[3] Cabbage tree palms have featured in the City of Parramatta Council Crest since it was first adopted in 1861.

The City of Parramatta Council crest design has featured cabbage tree palms since its inception in the 1860s (Source: City of Parramatta Council)
Fabulous Figs
Following the establishment of a Colonial settlement in Parramatta in 1788, formal gardens were laid out in the grounds of many residences. The gardens usually featured introduced European species – reminders of distant homelands.
A handful of intact Colonial gardens still exist in Parramatta, in the grounds of our historic buildings. In other "remnant gardens" sometimes only a lone tree has survived, designating the location of a lost residence of historical distinction.[4] Some of the trees surviving from the Colonial era have been granted official Heritage status.[5]
Many of the Colonial survivors are magnificent fig trees. An aged Port Jackson fig stands, with an impressive range of other historic trees, in the grounds of Hambledon Cottage. Another enormous fig stands beside Brislington House, spreading its dense, cool shade across the corner of George and Marsden Streets. An impressive Moreton Bay fig stands a stone's throw from the Old King's School, and a huge, folded specimen proudly dominates the pavement outside Perth House at 85 George Street (it is believed this tree grew from seeds planted by a First Fleeter).
The Concrete Jungle
Within the frenetic urban environment of modern Parramatta, many thousands of trees co-exist on our streets and in our public spaces.
Centenary Square, in Parramatta's city centre, is framed by a handful of fine European oak trees, survivors of the Colonial era. However, the majority of trees in this space and its surrounds have been planted in much more recent times. These urban trees soften the man-made streetscapes, providing relief from the heat and glare of summer, and brightening the grey bleakness of a city winter.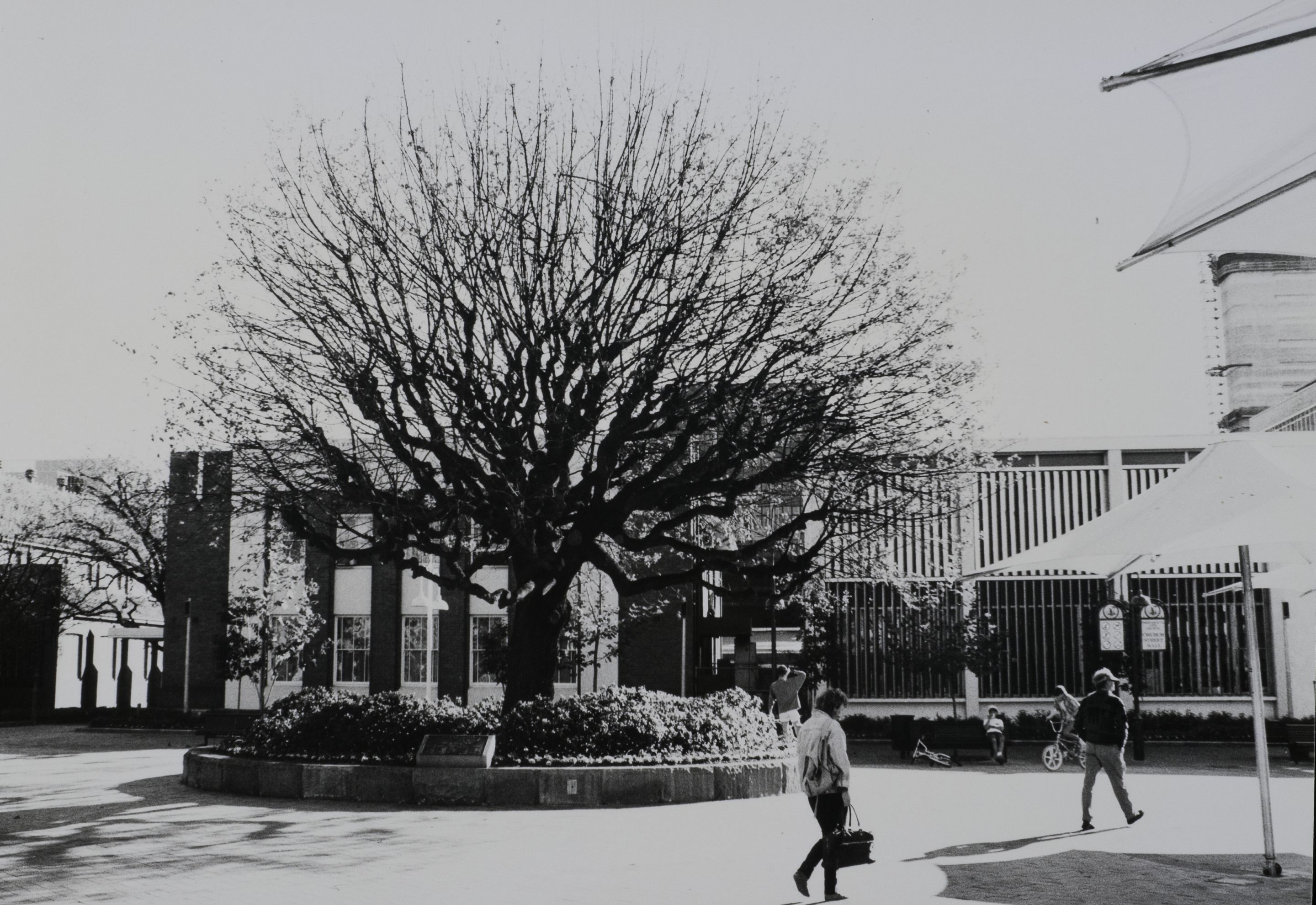 Urban tree in Parramatta CBD, c.mid-1980s (Source: City of Parramatta Council Local Studies Photograph Collection, LSP000991)
Trees of Suburbia
Of course, the City of Parramatta local government area expands well beyond the city's central business district, and trees abound in our neighbourhoods. The tree-lined suburban streets provide a network of sheltered and shady ways of passage, navigated by local residents going about their daily lives. The many popular neighbourhood parks and reserves (including Duck River Reserve in Clyde and Oaks Reserve in Toongabbie) provide calming pockets of green for exercising and relaxation (as well as vital habitats for local wildlife).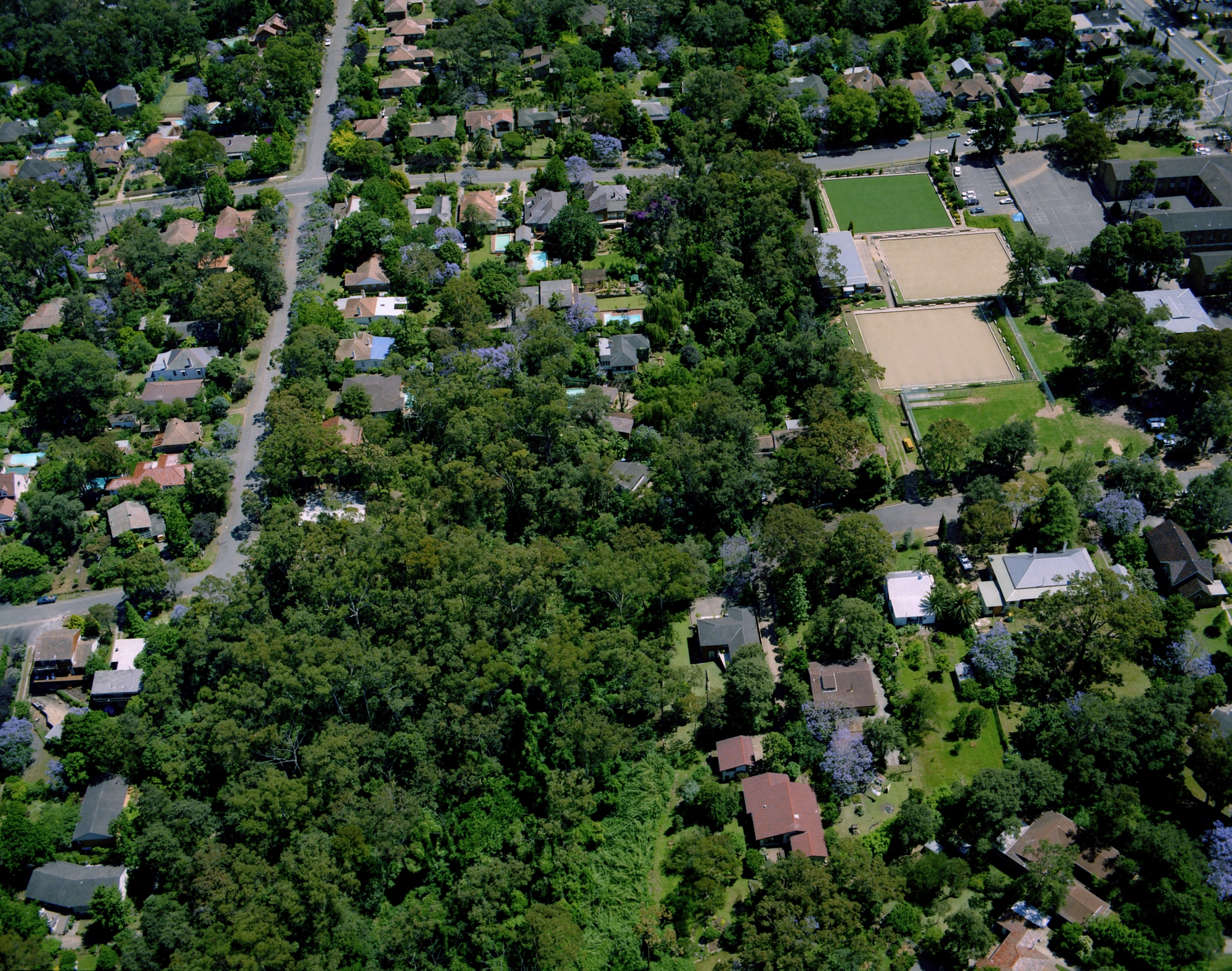 Surprisingly green – residential area, Parramatta Local Government Area, c. 1990s (Source: City of Parramatta Council Cultural Collections, ACC002/100/01)
Commemorative Trees
Due to their longevity, trees are often selected as markers of memorialisation. In Parramatta Park, an obelisk next to an oak tree commemorates the accidental death of the Governor's wife, Lady Fitzroy, when her runaway carriage struck a tree in 1847 (the current oak in the memorial enclosure, planted in 1996, is the third tree to stand there).
Meanwhile, Red Gum Walk, in Epping's picturesque Boronia Park, is dedicated to the memory of the popular and respected Parramatta Town Clerk, Alfred Kay, who passed away suddenly and unexpectedly in 1951.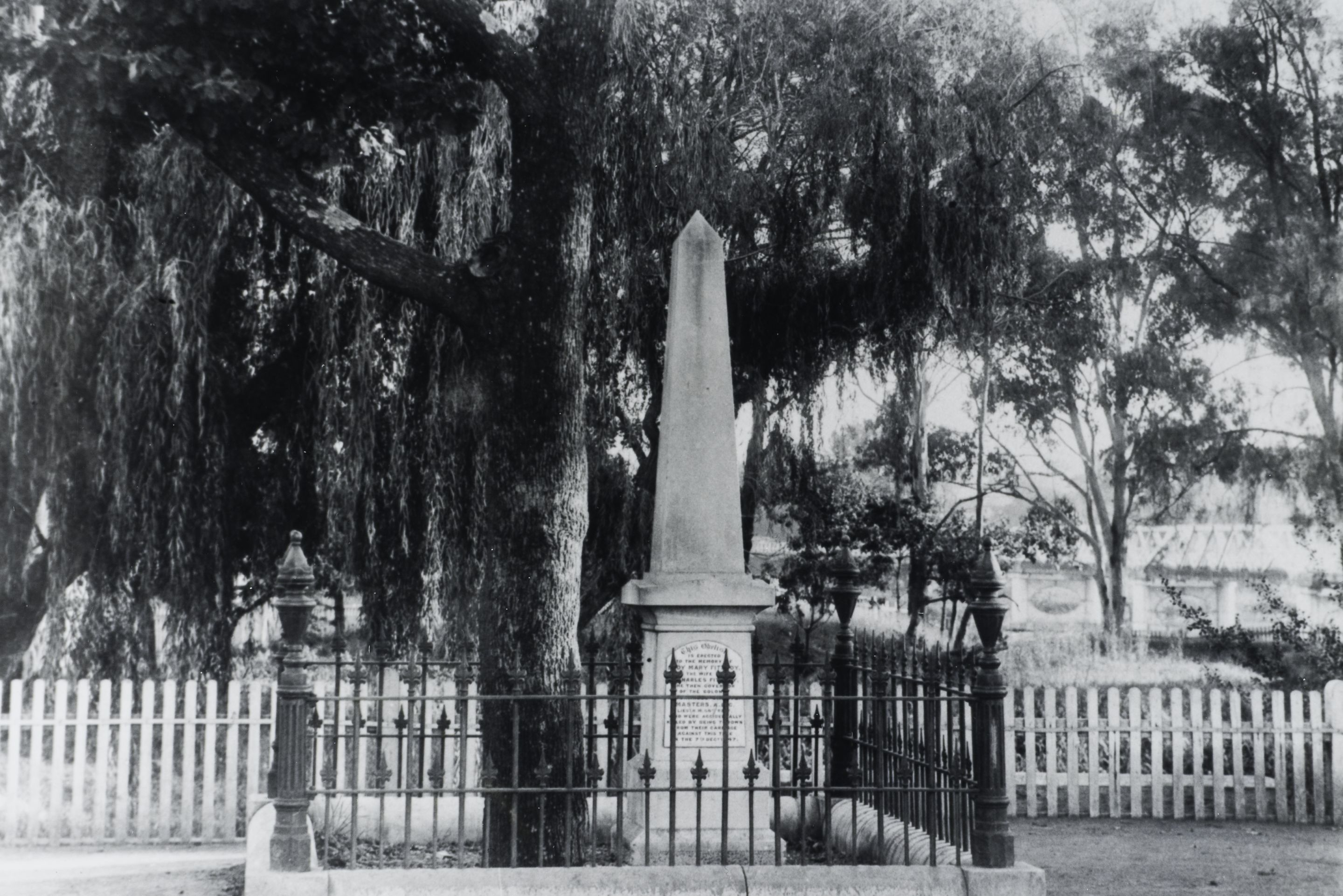 The Lady Fitzroy Monument, Parramatta Park, undated. (Source: City of Parramatta Council Local Studies Photograph Collection, LSP1014)
More happily, it is believed that the historic Bunya pines still standing in the grounds of Elizabeth Farm were planted to commemorate the birth of John and Elizabeth Macarthur's sons, more than 200 years ago.[6]
The importance of trees
Trees in the Parramatta area are important and symbolic, generously enhancing our shared spaces and connecting us with the natural world. Some of Parramatta's trees are ancient survivors of long-lost landscapes. Some, such as the scarred trees in Parramatta Park, hold particular significance for Parramatta's first peoples. Other trees are recent additions, just beginning their journey as markers of space and time.
Vast numbers of trees in the Parramatta area have been removed over past generations. Initially cleared for towns and agriculture, then transacted as a commodity of the timber trade. More recently trees have given way to accommodate spreading urbanisation. Even the cabbage tree palms, once so stongly associated with the Parramatta area they were incorporated into the Council Crest, have now all but disappeared from the local environment.
However, the strong value placed on trees by City of Parramatta Council and its local residents is reflected by many proactive initiatives introduced over recent years. National Tree Day in 2018 saw more than 9,000 trees, shrubs and groundcovers planted across the Parramatta area.[1] Every weekend, dedicated Bush Care groups volunteer their time to protect and renew our green spaces. Also, in a fitting acknowledgement of the past, a grove of cabbage tree palms features in plans for the greening of Parramatta Square, which is currently undergoing development in the heart of our city .[7]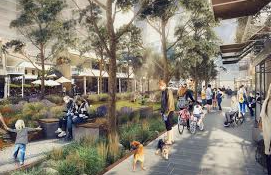 Trees feature in the public walkway design for Parramatta Square, 2017 (Source: City of Parramatta Council)
Do you have a much-loved tree in Parramatta? Let us know the details, and we may add it to our list of favourites!
By Michelle Goodman, Council Archivist, 2019

References
[1] Hendriksen, G (Ed.) Memory of Trees: the life, meaning and significance of trees in the Parramatta region. Parramatta Heritage Centre, 2012. p. 12
[8] Hendriksen, G (Ed.) Memory of Trees: the life, meaning and significance of trees in the Parramatta region. Parramatta Heritage Centre, 2012. p 1
[8]   https://www.nationalparks.nsw.gov.au/plants-and-animals/cabbage-palm
[2] https://www.cityofparramatta.nsw.gov.au/about-parramatta/news/media-release/volunteer-for-national-tree-day
[3] Architecture AU (2017). Revised designs for Parramatta Square public domain released. Retrieved on 24/11/2017 from https://architectureau.com/articles/revised-designs-for-parramatta-square-public-domain-released
[4] Hendriksen, G (Ed.) Memory of Trees: the life, meaning and significance of trees in the Parramatta region. Parramatta Heritage Centre, 2012. p. 4
[5] Hendriksen, G (Ed.) Memory of Trees: the life, meaning and significance of trees in the Parramatta region. Parramatta Heritage Centre, 2012. p. 1
[6] https://www.environment.nsw.gov.au/heritageapp/ViewHeritageItemDetails.aspx?ID=2240204 and https://www.environment.nsw.gov.au/heritageapp/ViewHeritageItemDetails.aspx?ID=5052762, retrieved 26/10/2018
[7] : https://www.nationalparks.nsw.gov.au/plants-and-animals/cabbage-palm, retrieved on 26/10/2018
[8] Hendriksen, G (Ed.) Memory of Trees: the life, meaning and significance of trees in the Parramatta region. Parramatta Heritage Centre, 2012. p 1