Recent years of the rat are: 2020, 2008, 1996, 1984, 1972, 1960, 1948, 1936, 1924, 1912, 1900.
2020 is the Year of the Rat according to the Chinese zodiac and this year will be the Year of Metal Rat, starting from the 2020 Chinese New Year on 25 January 2020 until the 2021 Lunar New Year's Eve on 11 February 2021.
The Year of the Rat marks the start of a new Chinese zodiac cycle which comes around every 12 years. According to Chinese mythology, in the Great Race competition held by the Jade Emperor of the Heavens to decide the order of the zodiac animals for the Lunisolar calendar, the quick-witted rat asked the diligent ox to take him on a ride to cross the river and jumped down before the ox crossed the finish line, so the rat won the race and became the first of the zodiac animals. The 12 zodiac animals are, in order: Rat, Ox, Tiger, Rabbit, Dragon, Snake, Horse, Goat, Monkey, Rooster, Dog, and Pig.
There is a belief in Chinese people that, as the Spring Festival is the start of a new year, what you do then will affect your luck in the coming year. Here are some dos and don'ts that Chinese people may practice to get through the new year.
Lead up to Lunar New Year Celebrations (23rd-29th of the 12th Lunar month) = Cleaning the house and New Year shopping
New Year's Eve (30th of the 12th Lunar month)

Putting up New Year's decorations and spring couplets. Based on a wordplay, the "fu 福" character (meaning good luck and happiness) is hung "upside down" (that is, "dào 倒" which sounds like "to arrive" "dào 到") on houses in belief that good fortune will literally descend down upon a dwelling.
Ancestors "eat" first. Chinese people will make offerings (meat, wine and joss paper) and place incense sticks on their ancestors' shrines or graves to shows respect and piety. It is believed that through worshipping ancestors, they will protect their descendants and help them become prosperous.
Enjoy a family reunion dinner with "lucky foods) including fish, dumplings, nian gao (glutinous rice cake), longevity noodles, spring rolls, fruit and tang yuan (sweet rice balls).
Adults will give red envelopes known as hóngbāo, 红包 (or lucky money) to children.
Stay up late to watch the broadcasts of the festivals in China.
Some Chinese people will go to large squares or temples to listen to bells to ring in the New Year at midnight
Chinese New Year's Day

Set off firecrackers and fireworks to ward off evil spirits. Offer sacrifices to ancestors. Putting on new clothes – usually red is seen as a lucky colour while black and white are colours to avoid. Attend public celebrations at parks and temple fairs. Watch Lion and Dragon Dances. Visit relatives, friends and neighbours to "Bài Nián" 拜年 or to wish them a Happy New Year. Extending New Year Greetings "gongxi" 恭喜 'respectful joy', meaning 'greetings' or 'best wishes'), wishing each other good luck and happiness in the New Year.
Day 2 to Day 7 = "Kai Nian 開年" or start of the new year. On the second day of the new year, it is also a time to make an official visit to the in-laws.
Day 8 – Most people go back to work on the eighth day as "eight" is the luckiest number in China, most businesses like to reopen on day 8 of the New Year.
Day 9 to Day 11 = More Lunar Festival events, programs and food. In Sydney and surrounding suburbs, locals have the option to head to their local Chinatown to watch Lunar New Year parades, lion dances and dragon boat racing. See Destination NSW website for details of Lunar New Year events happening around Sydney
Day 12 to Day 14 = Preparing for the Lantern Festival
Day 15 (Lantern Festival 元宵節 yuán xiāo jié– CNY period ends) – Celebrating the Lantern Festival, eat sweet dumplings known as "tang yuan 湯圓" which sounds like "reunion" in Chinese "tuán yuán 團圓" and more fireworks to end celebrations with a bang
Below are some common DON'Ts and taboos to avoid during Chinese New Year and the Spring Festival season: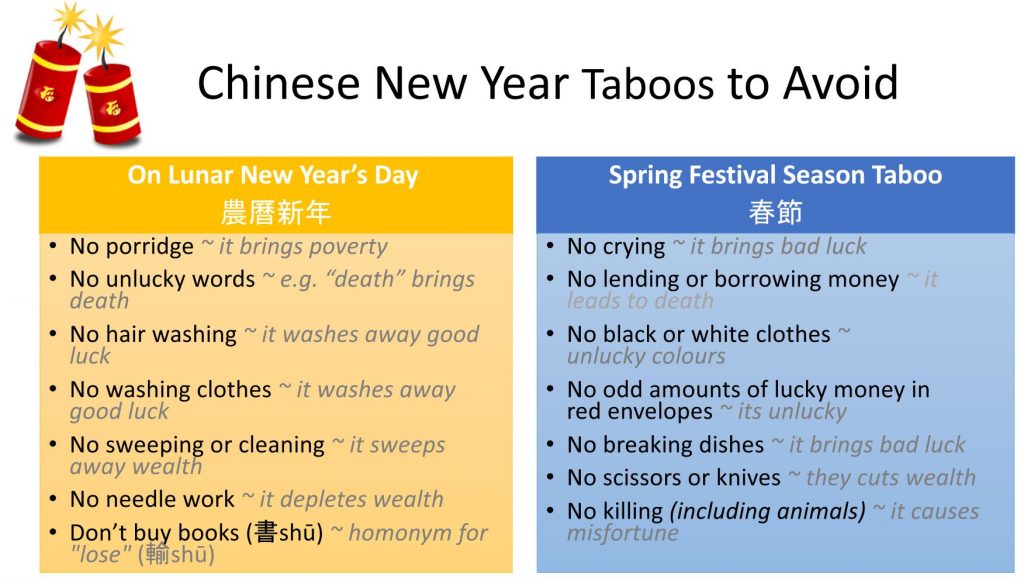 #Parramatta Lunar New year
To celebrate this occasion and the Year of the Rat, the City of Parramatta has scheduled a culture-filled program with delicious food, entertainment and free activities for the whole family to enjoy at Parramatta's Centenary Square which will end with a fireworks display. The event has been postponed until further notice. For the latest details, please see https://discoverparramatta.com/lny
Anne Tsang, Research Assistant, Parramatta Heritage Centre, 2020.

Further References